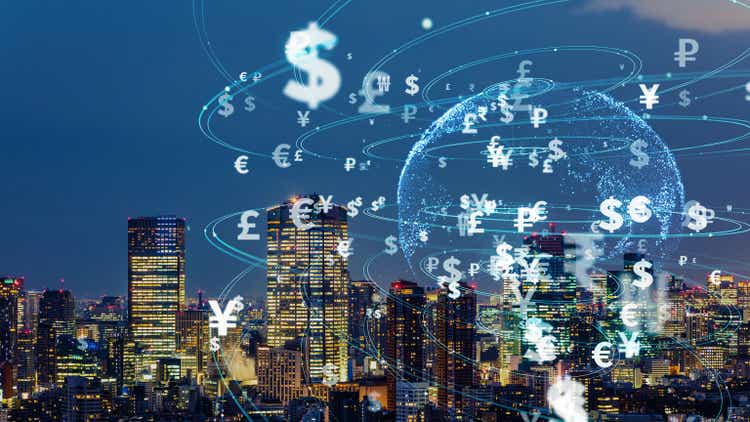 "Money is nothing more than information."
"Money is just zeros and ones."
How long have I been writing about the nature of money and finance and the fact that money and finance is nothing more than zeros and ones?
A long time.
And, here we are talking about the movement of Artificial Intelligence into banking and finance. See the article by Laura Noonan in the Financial Times: "Bank Chiefs Relish Prospect of AI Boost to Productivity."
"It's the most profound opportunity for our industry, and for Deutsche Bank, to drive efficiency and to drive automation…as well as a significantly better customer engagement experience," says Deutsche's chief technology, data, and innovation officer Bernd Leukert.

"We are clearly ambitious and put this front and center of our strategy."
John Hinshaw, the chief operating officer of HSBC argues that:
"AI is well placed to bring together the mountains of 'legacy technology' that most banks have, and to harness its mammoth piles of data."
This, and the movement into the digital world at the same time?
Wow!!!
What are banking and finance going to look like in five years? In ten years?
Well, different.
But, be more specific.
Well, that is a hard question for bankers to answer.
Why?
Well, according to Mike Abbott, head of Accenture's global banking practice, "banks are in the 'first inning' of their journeys."
However, the large language model capacity of banks and other financial institutions is growing at "a rate of 10 [times] a year."
That means, "big potential gains for those who choose to move quickly."
Banking and finance is… numbers and paper. There are rule books, legislation, regulatory guidance and enforcement, information technology and human resources, credit risk and credit risk models, investment banking and bank safety efforts like fighting money laundering.
Right now, the article cited above states that Deutsche Bank has 8,000 to 10,000 engineers "writing code every day."
This is serious business.
The ultimate goal… productivity gains.
Deutsche Bank is hoping to achieve "double-digit' percentage productivity gains over the next five years.
"This [embracing of AI] is not about job elimination, it's about… doing more with the same number of people and having a more fun place to work in a lot of ways."
And then there are digital currencies and the like.
All over the world, digital currencies are being introduced.
Digital currencies are the future.
Whereas the use of AI in banking and finance may be "early innings," with respect to digital banking and finance, new innovation has been introduced all over the world.
Countries are going to have to go digital because of the competition and banks are going to have to be sure that they are a member of the crowd.
The issue is… can all existing members of the industry achieve the future?
My big question is… how many commercial banks will exist in the United States in five years? In ten years?
My basic feeling is that because of the ability of financial institutions to "scale up" building platforms and networks, a lot of institutions are really going to lose their "reason for being."
The bigger banks… the larger financial networks and platforms… will just not need to worry about the smaller institutions.
These "other institutions" will just be like the fly on the elephant. They will just become insignificant.
And, how will their former customers be served?
I don't have a complete answer right now… but, I am perfectly convinced that everyone will be served… and served better than they are served at the present time.
Yes, I have a very optimistic view of the future of banking and finance.
Behind that optimistic view is the understanding of how changes in technology increase information and the spread of information. History is a story of the growth and spread of information.
Information is not going to stop growing and spreading in this era.
If anything it will continue to grow faster, and it will continue to spread faster.
That is the future of banking.
This future was bound to come sometime. Now it is here.
Investors. This is what you should be looking for.
Investors. I will be writing more and more and more about this in the future.
Stay tuned. I think it is going to be quite a ride.