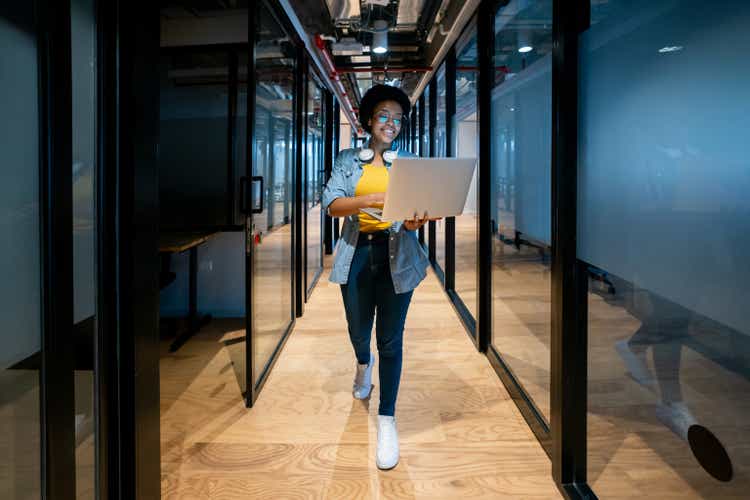 Investment Thesis
I decided to take a look at Extreme Networks, Inc. (NASDAQ:EXTR) after its very good performance YTD in terms of share price appreciation. It seems that the company has finally become profitable and is in a great position to keep growing tremendously for the foreseeable future due to robust growth and fantastic adoption rates of the cloud, coupled with high demand for AI/ML-enabled solutions. But because of the AI hype, I believe the company is slightly stretched in terms of valuation and I would like it to come down slightly to a better risk/reward profile in my opinion, therefore, I'm giving the company a hold rating.
Outlook
The company's core industry-leading Cloud Networking Program is in my opinion going to benefit greatly from the enterprises' digitization initiatives. As you'll see in the Financials section, the company has benefited from the pandemic quite a lot as more and more businesses were able to switch to a hybrid business model. Many enterprises realized we were at that point in technology where it is enough to have a stable Internet connection and a laptop to do everything, and a proper cloud platform is the answer to keep workers satisfied by letting them work from home sometimes, and for enterprises to become more efficient in the future.
The adoption rates of the cloud have been outstanding. Enterprises are investing a lot of money to have their data stored securely on the cloud. Over 60% of corporate data has been stored in the cloud as of 2022, according to the chart below.
Over 90% of enterprises are using cloud services one way or another, with the global cloud computing industry reaching a market size of over $480B as of '22, while it is projected that the U.S. cloud market cap will reach $258B by '23. What is even more interesting is that the growth rates are not going to stop any time soon, as it is projected that the global cloud computing market is going to reach 16.3% CAGR through '26, which means the market will grow to close to $1T. (The research article is here for all the mentioned numbers above.)
Coupled with this robust growth with the AI boom that we saw recently, the company is poised to perform phenomenally because of the demand for its AI/ML-enabled products in the cloud segment.
Financials
As of FY23, Extreme Networks, Inc. had $234m in cash against $187m in long-term debt. How dangerous is this debt? Well, the interest expense on debt was around $18m for the year while EBIT stood at around $108m, meaning the interest coverage ratio was at around 6x. Debt on books is not an issue since EBIT can cover annual interest on debt 6 times over. For reference, many analysts say that 2x is a healthy ratio, while I think 5x is more appropriate because I'd like to be on the conservative side. Safe to say, the company is at no risk of insolvency.
The company's current ratio has been at around the minimum acceptable, which is 1. I would like to see a 1.5-2.0 range, but as long as it's above 1, I'm okay with it, as it can cover its short-term obligations, and the company has no liquidity issues.
Over the last couple of years, the company's ROA and ROE have been on the rise due to the company's turnaround in net income, which came in positive finally after many years of losses. It seems like it's the beginning of a turnaround story.
The company also managed to achieve a very high return on invested capital recently and has seen a nice positive trajectory since FY21. If this is sustainable, only time will tell, but I like what I see. ROIC is well above my minimum of 10%, which tells me that the company has a competitive advantage and a moat in the sector.
In terms of revenue, the company grew at a very respectable growth rate of 10.8% CAGR over the last decade. Analysts are still assuming double-digit growth for the next 6 years at least, however, analysts are far and few between, so I will not take any of the growth rates after FY25 too seriously since these will no doubt change as we get more information over time.
In terms of the margins, the company finally saw profitability after FY20, and it seems to have maintained it ever since. Can these be sustained, time will tell, however, the company is heading in the right direction and seems to become a profitable business after all these years.
Overall, I see a company that is finally becoming a profitable business after all these years in operation. If it can keep at it, the company will be worth an investment in the long haul. Now, let's see what I would be willing to pay for the company.
Valuation
For the revenues for the base case, I decided to stick with the company's long-term growth. It could be higher due to the AI boom and all that, but I rather be on the conservative side, since we don't know where this AI boom is going to lead in the future and whether it's going to be sustainable. I went with around 10% CAGR for the next decade for the base case, which is just slightly under the company's average. For the optimistic case, I went with around 14% CAGR, while for the conservative case, I went with around 8% CAGR to get a range of outcomes that all seem to be very reasonable in my opinion.
For the margins, I decided to improve gross by around 3% over the next decade, while improving operating margins by 4%. This will bring net margins from 6% in FY23 to 12% in FY33. I believe that the company is going to achieve its cost-cutting initiatives and will be able to reduce operating expenses by much more than what I assumed, coupled with tech advancements, the company should be able to be profitable going forward.
And since the company is newly profitable, I would expect a lot of fluctuations in operating results, which will bring more volatility to the share price, I decided to add a 25% margin of safety to the final calculation. I believe that 25% is a good cushion for me, which will reflect my risk/reward appetite and give me a reasonable entry point for the company. With that said, Extreme Network's intrinsic value is $20.31 a share, meaning the company is currently trading at a 16% premium to its fair value, in my opinion.
Closing Comments
Extreme Networks, Inc. seems to be exhibiting consistent profitability in the last couple of years, which gives me hope for the company's future performance. For me to start a position in the company, I would like it to come back down a little bit, as I believe it has overextended slightly YTD, which I assume was brought on by the AI boom and the fact that it has continued to perform well.
The risk/reward profile at these prices is not very attractive to me, therefore, I will give the company a hold rating and wait for a pullback that may or may not come in the near future. Nevertheless, I will add the company to my price alerts at around $20 a share and revisit the analysis to see if anything needs to be reassessed.
There is a bright future for companies like Extreme Networks in the cloud business and I am sure the company will continue to perform well for many years to come.