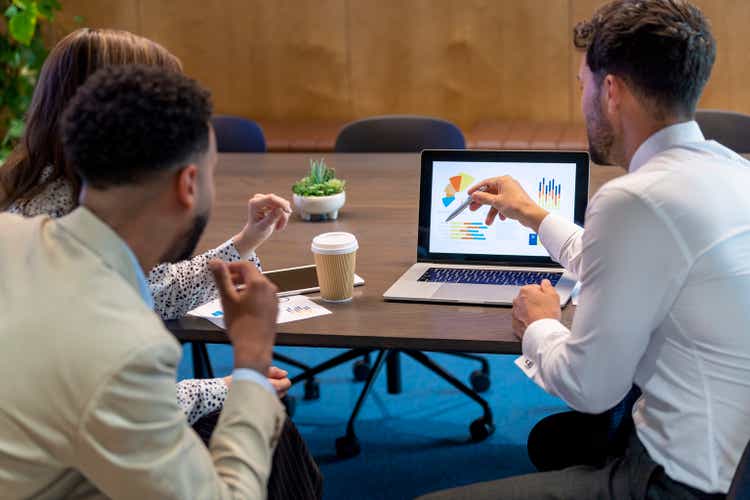 A Quick Take On Unisys
Unisys Corporation (NYSE:UIS) provides various enterprise computing and cloud infrastructure services and software to mid-sized and large enterprises worldwide.
I previously wrote about Unisys with a Hold outlook.
While 2023's expected revenue drop is less than 2022's decline, client decision delays continue to hurt management's efforts to return to revenue growth.
I remain Neutral [Hold] on UIS.
Unisys Overview And Market
Unisys was founded in 1986 and is based in Blue Bell, Pennsylvania. UIS delivers a wide array of IT solutions to global organizations across a variety of industry verticals.
The firm is led by Chairman and CEO Peter Altabef, who formerly held positions as president and CEO of MICROS Systems, president of Dell Services, and president and CEO of Perot Systems.
Unisys primarily offers the following services:
– Digital Workplace Solutions.
– Cloud Applications and Infrastructure.
– Enterprise Computing Solutions.
Unisys competes within the growing digital workplace market by acquiring customers through its direct sales and marketing efforts, partner referrals, and channels.
A 2021 report by Grand View Research estimated the digital workplace solutions and software market to be worth $27.3 billion in 2021, with projections reaching $167 billion by 2030.
This indicates an impressive forecast CAGR of 22.3% between 2022 and 2030.
Key factors driving the anticipated growth include increasing demand for hybrid workplaces due to the global pandemic necessitating more flexible work environments and a desire by workers post-pandemic to retain at least some aspects of flexible work arrangements.
Also, the chart below shows a very strong historical and projected future growth potential of the digital workplace market in the U.S.: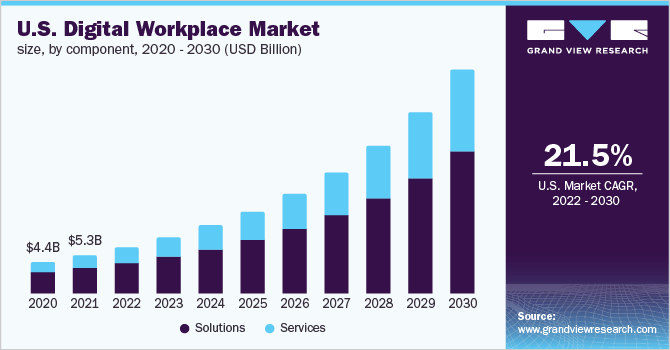 Numerous industry participants include a wide variety of firms serving various market segments, with some shown below:
IBM.

Accenture plc.

Atos SE.

Trianz.

Capgemini.

HCL Technologies.

Infosys.

Tata Consultancy Services.

Mphasis.
Unisys' Recent Financial Trends
Total revenue by quarter has produced uneven results; Operating income by quarter has deteriorated below breakeven in the most recent quarter: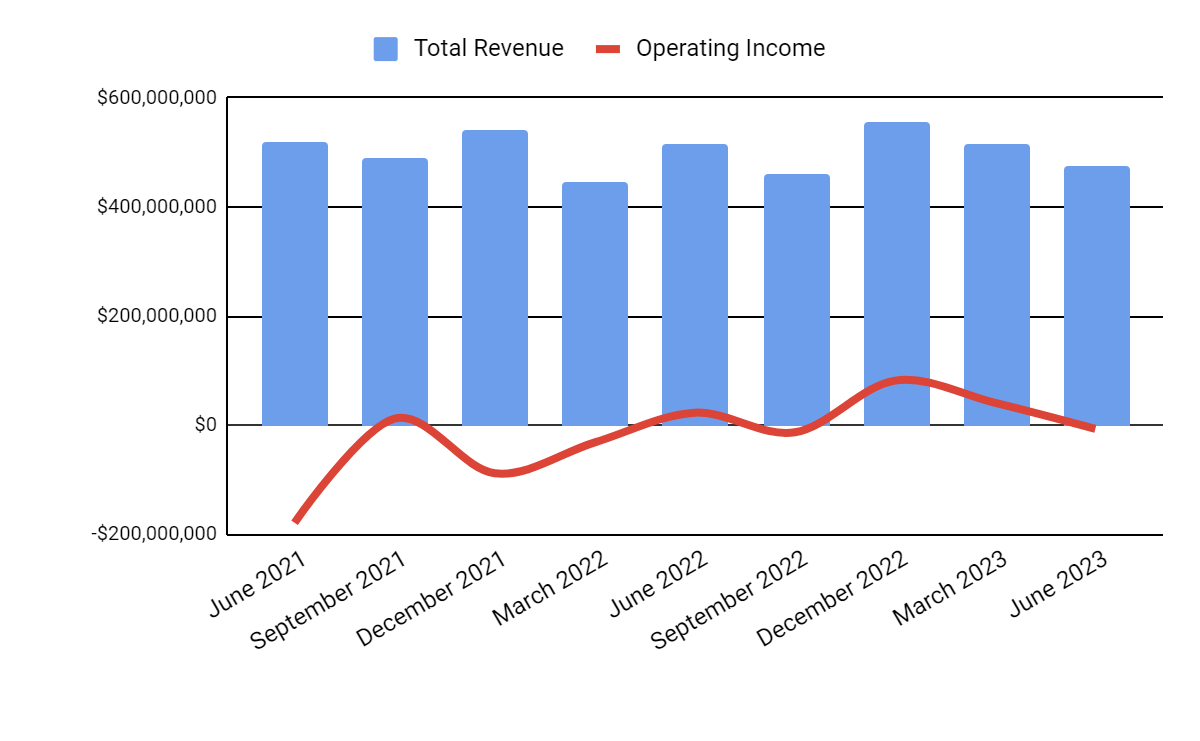 Gross profit margin by quarter has dropped in the recent quarter; Selling and G&A expenses as a percentage of total revenue by quarter have generally trended lower more recently.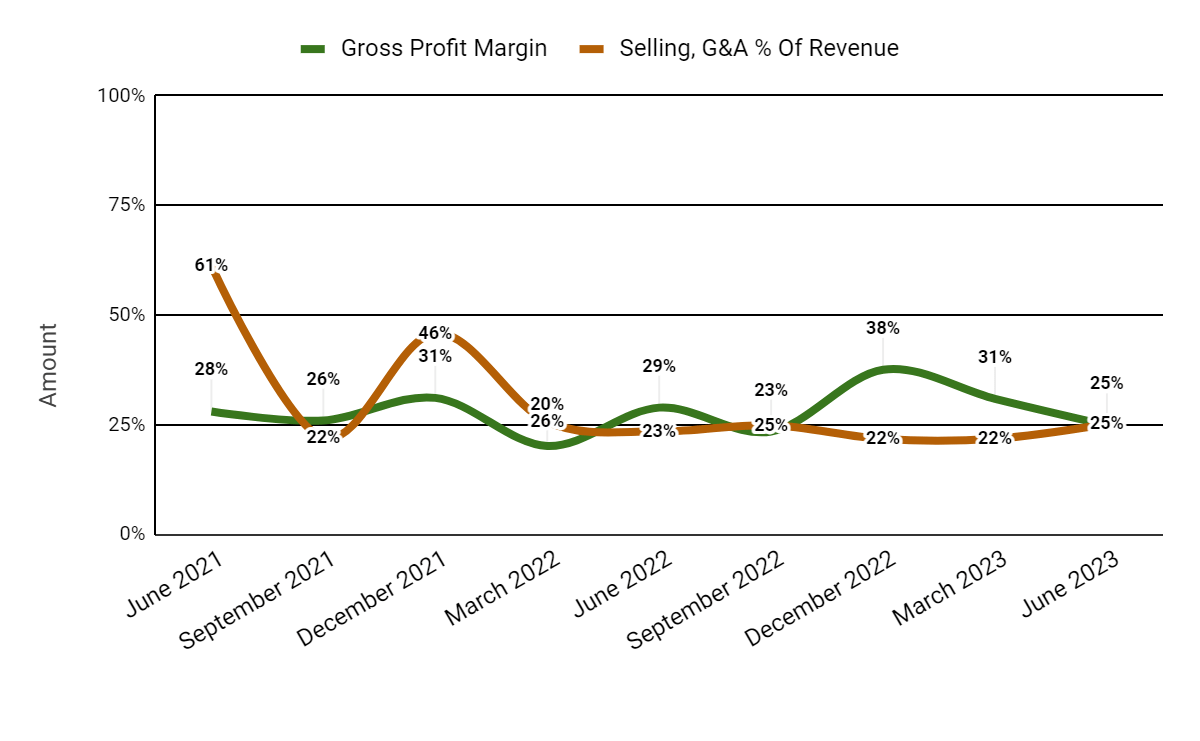 Earnings per share (Diluted) have been highly volatile and mostly have remained heavily negative in recent quarters, as shown below: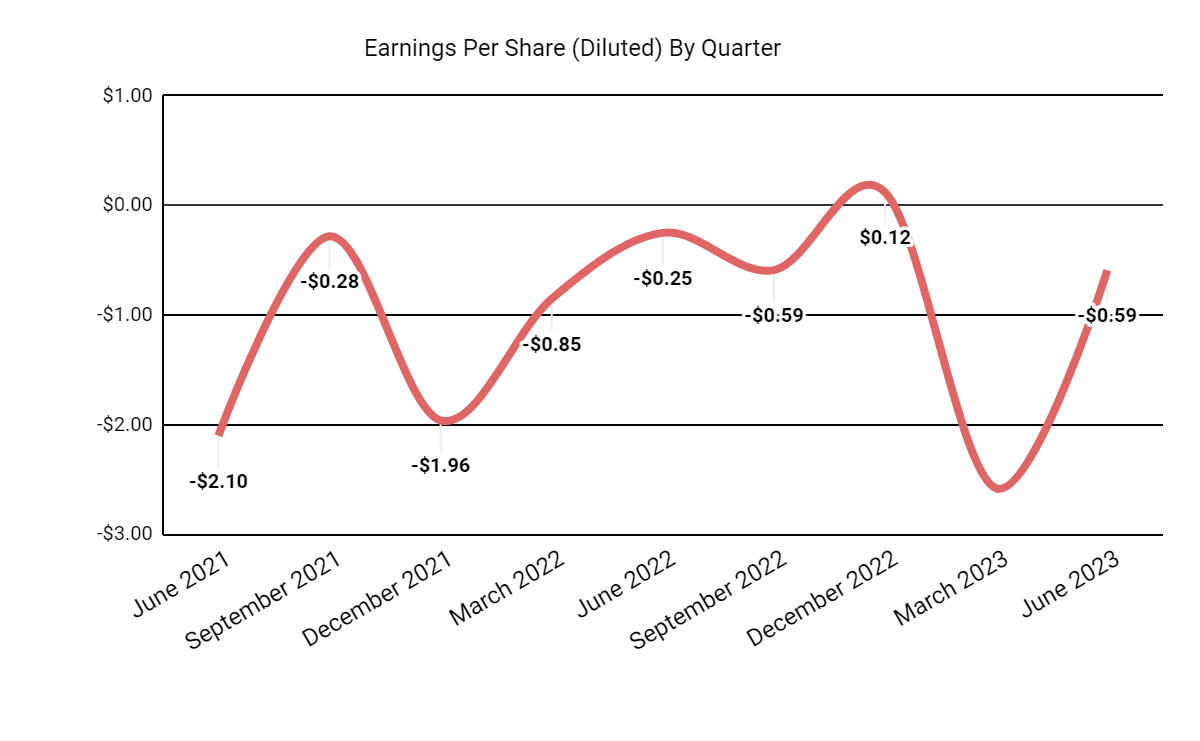 (All data in the above charts is GAAP).
In the past 12 months, UIS's stock price has fallen 62.34% vs. that of the SPDR S&P Software & Services ETF's (XSW) rise of 13.99%:
For balance sheet results, the firm ended the quarter with $423.2 million in cash and equivalents and $487.8 million in total debt, none of which was categorized as the current portion due within 12 months.
Over the trailing twelve months, free cash flow was $105.8 million, during which capital expenditures were $28.9 million. The company paid $18.6 million in stock-based compensation in the last four quarters.
Valuation And Other Metrics For Unisys
Below is a table of relevant capitalization and valuation figures for the company:
| | |
| --- | --- |
| Measure [TTM] | Amount |
| Enterprise Value / Sales | 0.2 |
| Enterprise Value / EBITDA | 2.4 |
| Price / Sales | 0.1 |
| Revenue Growth Rate | 1.1% |
| Net Income Margin | -12.3% |
| EBITDA % | 7.9% |
| Market Capitalization | $230,170,000 |
| Enterprise Value | $372,670,000 |
| Operating Cash Flow | $134,700,000 |
| Earnings Per Share (Fully Diluted) | -$3.64 |
(Source – Seeking Alpha).
Compared to the Seeking Alpha IT Consulting & Other Services industry average EV/EBITDA multiple of 14.65x, the firm is currently being valued by the market at a multiple of 2.4x, a fraction of the industry index.
While the firm posted trailing twelve-month revenue growth of only 1.1%, the IT Consulting & Other Services index averaged 8.2%.
So, the company is being valued by the market at a reasonable discount to the industry index, given the firm's comparatively low revenue growth rate.
Sentiment Analysis
The chart below shows the frequency of various keywords in the firm's most recent earnings conference call: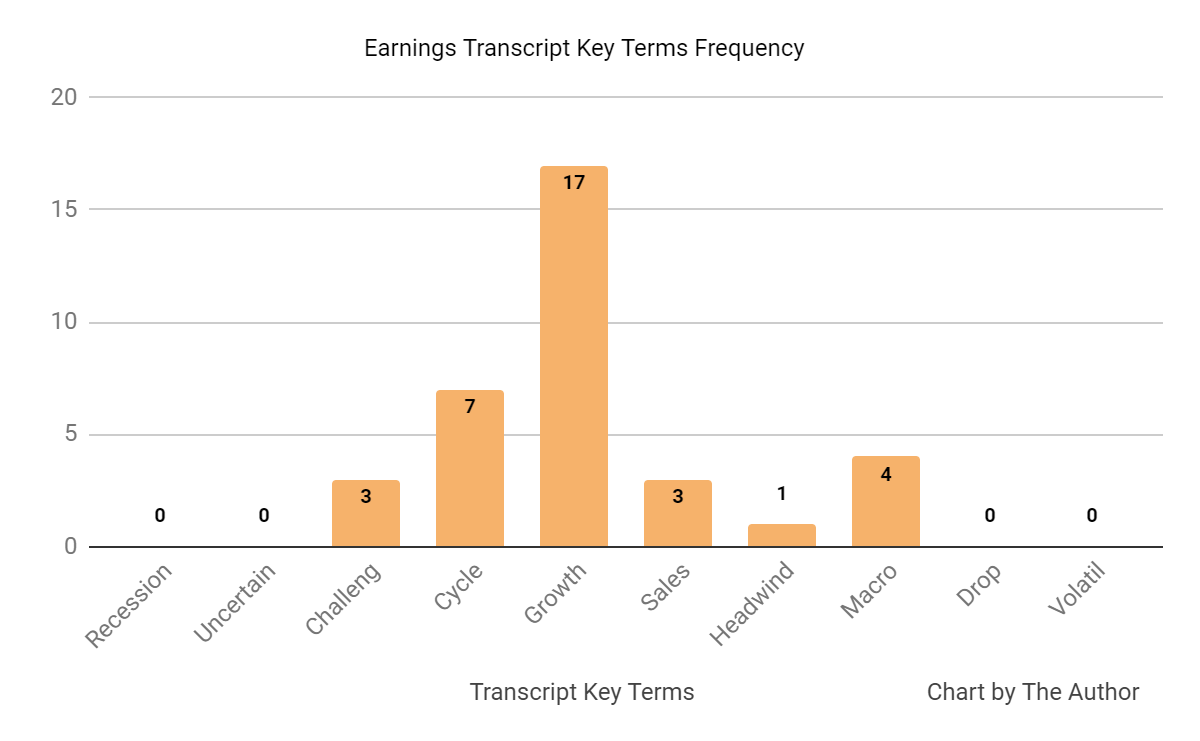 The chart indicates some stress by the company due to macroeconomic issues, i.e., outside its direct control.
Analysts questioned management about its pipeline and employee productivity.
Leadership responded that the $1 billion increase in its pipeline was due to increasing customer demand for its Next-Gen Solutions and better sales and marketing execution.
Employee productivity improved due to automation, re-skilling, and other factors; management believed there was more improvement ahead.
Commentary On Unisys
In its last earnings call (Source – Seeking Alpha), covering Q2 2023's results, management highlighted growth in its pipeline amid continued expansion in its service offerings.
However, financial service industry "clients remain cautious" and commercial sector clients "are slow to make decisions on new investments due to lingering concerns around inflation and macroeconomic conditions."
This has resulted in a slowdown in new logo wins and put a damper on the potential for revenue stabilization in the near term.
Management didn't provide any customer or revenue retention rate metrics.
Total revenue for Q2 2023 dropped 7.4% YoY and gross profit margin fell 4.0%.
Selling and G&A expenses as a percentage of revenue rose 1.7% YoY, indicating reduced efficiency in operating costs and operating income turned negative for the first time since Q1 2022.
The company's financial position is reasonably strong, with excellent free cash flow over the trailing twelve months.
Looking ahead, consensus estimates for 2023 revenue are for a drop of 3.5% versus 2022.
If achieved, this would represent a decline in revenue decrease versus 2022's decline of 7.3% against 2021.
So, UIS is reaching for less of a revenue decline than 2022's decline, which, while technically an improvement, isn't anything to get excited about.
Given worsening macroeconomic conditions and continued client hesitancy to spend on discretionary projects offset by increasing interest from the firm's Next-Gen Solutions, my outlook on Unisys Corporation is still Neutral [Hold] in the near term.