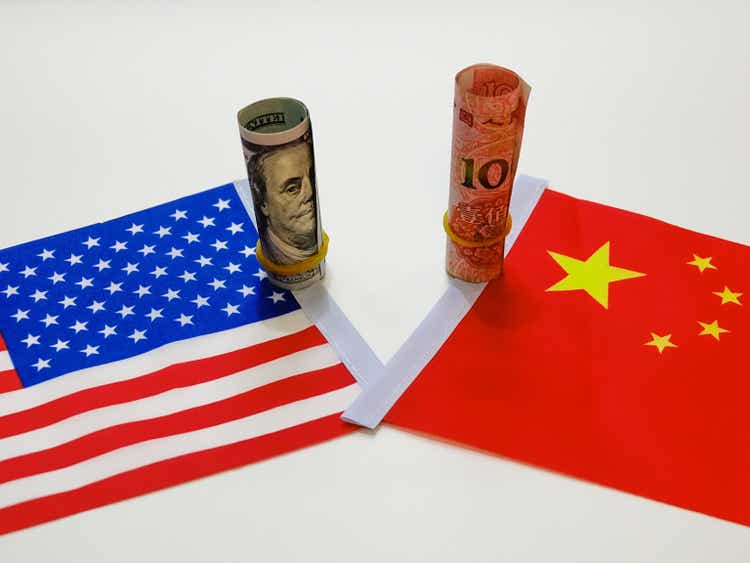 Increasing tensions between the U.S. and China are fueling concerns about a possible decoupling of their economies. Greg Bonnell speaks with Haining Zha, Vice President and Director at TD Asset Management, about the broader market implications.
Transcript
Greg Bonnell: Increasing tensions between the United States and China are stoking concerns that the world's two largest economies might decouple. Well, our guest today says that poses a major risk to the markets. Joining us now to discuss, Haining Zha, Vice President and Director of TD Asset Management. Haining, great to have you back on the show.
Haining Zha: Thanks for having me.
Greg Bonnell: So the word decoupling became part of our market vocabulary this year, US-China, rising tensions. What does it actually mean if you see these two economies, the world's two largest economies, start to pull apart in a meaningful way?
Haining Zha: Right. I know for many people that focus on development market, inflation is the number one enemy. And it's on the top — on the headlines every day. But from medium to longer term, the decoupling between China and the US is actually a bigger threat. So to put it into perspective, if you think about the last four decades, it's basically the biggest two countries, generally, get along really well. And that creates two forms of dividend.
Number one is economic dividend because, for US corporations, they find cheaper source of labor. They find cheaper source of product. And they find a vast market. And for Chinese, they were able to attract more capital, build their manufacturing base. And they were defined — able to find the end market for their product as well. So that is generally a win-win situation.
The second form of dividend is the peace dividend. So although there are always some kind of conflicts here and there in the world, but generally, you don't — they don't threaten the major economic interests for an extended period of time. So if you look at the past fantastic return, these two form of dividend, they are actually the major sources. So it will be complacent to think we can kind of repeat history and repeat that fantastic return.
Greg Bonnell: It seems to be a lot of the tensions are on the technology front. And you talk about the United States being wary about having technology go to China in terms of artificial intelligence and chips. But in the real world, we've actually seen some headlines recently where it's right down to, can I take an iPhone to work in China? In some cases, no.
Haining Zha: Yeah, that's exactly the case in point. Many people don't feel the tangible impact of geopolitical tension. But Apple (AAPL) is one great example. Before they roll out their new phone, the Chinese government guided the government employees not to use iPhone for security reasons. And it actually also coincided with Huawei rolling out their new phone as well. That caused a hit to the Apple share price, about 7-8%.
Greg Bonnell: So we're talking really about intellectual property in the end. And both countries having their intellectual property in each other's markets, how far could that battle go in terms of people pulling back?
Haining Zha: Right. It certainly can go for a very long time. And right now, we are not seeing the geopolitical tension in the technology area really alleviate anytime soon.
Greg Bonnell: If we do end up in a situation where the situation doesn't get better. You talked about the impact that there was dividends to be paid from the world's two largest powers, two largest economies playing nice together. If they're not going to play nice going forward, well, what does it mean for investors? What should they be looking for?
Haining Zha: They have to be prepared to accept a much lower return. And they have to be really nimble and watch for black swans. And this will be an era for many, many black swans down the road.
Greg Bonnell: And the hard thing about the black swan, of course, is you don't really see it until it's on your doorstep. So interesting dynamics there. We do know in terms of China's economy that it's been faltering. At the beginning of this year, the idea was, OK, they've dropped the COVID restrictions. The world's second-largest economy is going to be game on for everybody. It really hasn't played out that way. I think they've made further moves even just today in terms of trying to shore up the economy. What are they doing? And is it enough?
Haining Zha: Right. Generally speaking, so there are different areas, for example, the monetary policy, the fiscal policy, the policy around real estate. But so far, none of the policies have been enough to give investors the confidence boost they need. That's why the market is still kind of lackluster. And we can talk about each different areas.
For example, in the monetary policy area, for example, the central government cut the reserve, reverse repo rate, twice, cut MLF twice, together, total about 20 to 25 basis points. And also, they — usually, how the monetary policy works is once you cut the key rate, it will naturally spread to the LPR, called the Loan Prime Rate, which is directly linked to the mortgage rate and corporate lending rate.
But when they cut the LPR, they only cut on the one-year tenure, not on the five-year tenure. The reason why is they want to protect the banking profit. So this highlight the amount of constraint they are facing when they are doing the policy easing. So on the monetary policy front, so far, it has been below investor expectation. And in the future, they might need to do more.
Greg Bonnell: Well, that's the monetary policy side. What about the fiscal policy side? If you're trying to stoke an economy, traditionally, the monetary policy can play a role, but then the fiscal stimulus, getting more money into people's hands in hopes that they put it back into the economy.
Haining Zha: Right. On the fiscal front, we heard even less news because there have been some whispers that the Chinese government might do the special Treasury issuance, about 1 trillion RMB, to support the spending. That didn't happen. And also, investor, like you said, expect the government to directly handing money to the household to support consumption. That didn't happen either.
So the only real progress happened on the fiscal front is for the local government financing vehicle, now they will try to consolidate that debt into the provincial debt. So the reason why they want to do that is for those local government funding vehicle, the interest rate financing cost is relatively higher, about 1% higher than the provincial. So by doing that, they can save the 1% interest rate cost. But for many of those provinces, their debt load is also very high. So by consolidating into an entity where the existing debt load is high is really not confidence boosting.
Greg Bonnell: Given the fact that they've taken these moves, and you said it really hasn't been confidence boosting, is there a sense that they will do more on the fiscal or the monetary side? Or where are we at this point? China has to know that the economy is a bit in trouble here.
Haining Zha: Right. I think we are, and all of the investor, are in wait-and-see mode. I think, typically, the government want to maintain some kind of stability, and even the policy stability. So it will be very unusual for them to, all of a sudden, exceed market expectation. Usually, it's the economic situation getting worse and worse, and press them to do something, and then they will respond. So right now, what we are seeing is they are in the reactive mode rather than in the proactive mode.