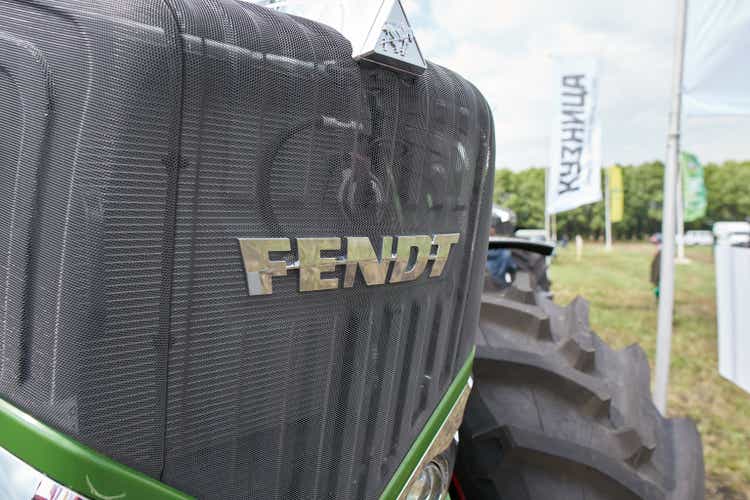 Introduction
It's time to talk about a company that makes me mildly nervous. That company is the Georgia-based AGCO Corporation (NYSE:AGCO). Its much larger peer, Deere & Company (DE), is one of my favorite and largest dividend growth holdings.
While I stick to everything I've ever written in my Deere articles, it needs to be said that AGCO is turning into an increasingly strong competitor that deserves recognition.
The company owns some of the world's best tractor brands.
It is catching up in the race for cutting-edge technologies.
While its dividend yield is slightly below 1%, special dividends tend to provide a juicy total yield during favorable economic times.
Over the past five years, AGCO stock has returned 140%. Deere has returned close to 200%. While I continue to believe that Deere is the way to go, it needs to be said that AGCO is a fascinating company that is about to become a serious player in the North American agriculture industry.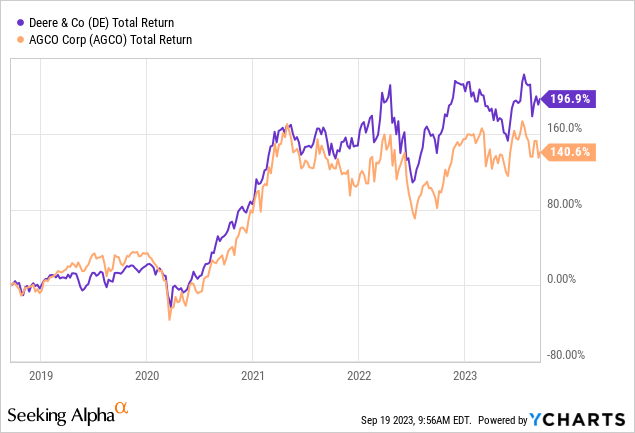 In this article, we'll talk about the company's increasingly impressive growth strategy, agriculture fundamentals, and some of the company's comments during the most recent Morgan Stanley Annual Laguna Conference on September 12.
So, let's get to it!
AGCO Is Impressive And Aggressive
In general, I would make the case that there's no reason why anyone absolutely needs to invest in agriculture.
Personally, I am investing in agriculture for two reasons. The secondary reason is that it's my passion. I'm fascinated by agriculture and the importance of the agriculture supply chain.
The primary reason does not come with a bias. Companies selling top-tier agriculture equipment (the ones with a wide moat) tend to be terrific tools for outperforming capital gains – especially during times of elevated inflation when farmers see rising farm income.
Since the year 2000, both Deere and AGCO have outperformed the S&P 500 by a wide margin, unfortunately with (expected) elevated volatility.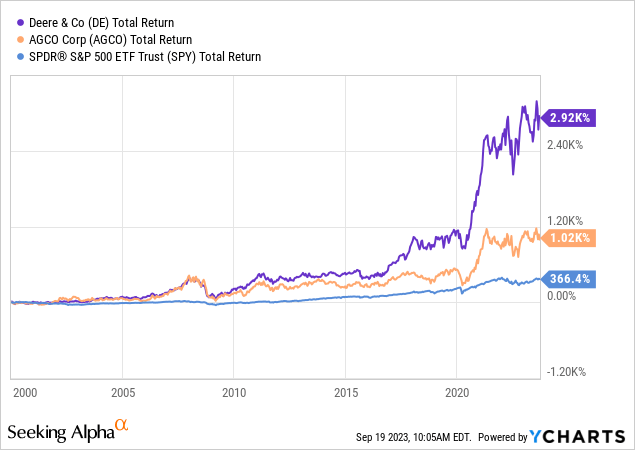 Most people are familiar with Deere. I have heard countless country songs about the company. It's also by far the biggest tractor company in the world, with a market cap more than 10x larger than AGCO's $9 billion market cap.
AGCO, although smaller, is still a significant player in the industry. The company is the owner of Fendt, Massey Ferguson, Valtra, and Challenger.
Additionally, AGCO also owns smaller brands like Gleaner and companies such as GSI that specialize in building crop storage solutions, among other things.
While these companies are large in their home markets (Massey is British, Fendt is German), the company is launching a full-scale attack on North and South American markets.
With that said, like its peers, the company benefits from a number of tailwinds.
Agriculture Tailwinds
During the recent annual Morgan Stanley Laguna Conference, the company highlighted the robust long-term fundamentals driven by global population growth, expanding middle class, and increasing demand for protein.
The current stocks-to-use ratio in grains (ex-China) is at a multi-decade low, suggesting that we need multiple good crop years before supply and demand conditions normalize again.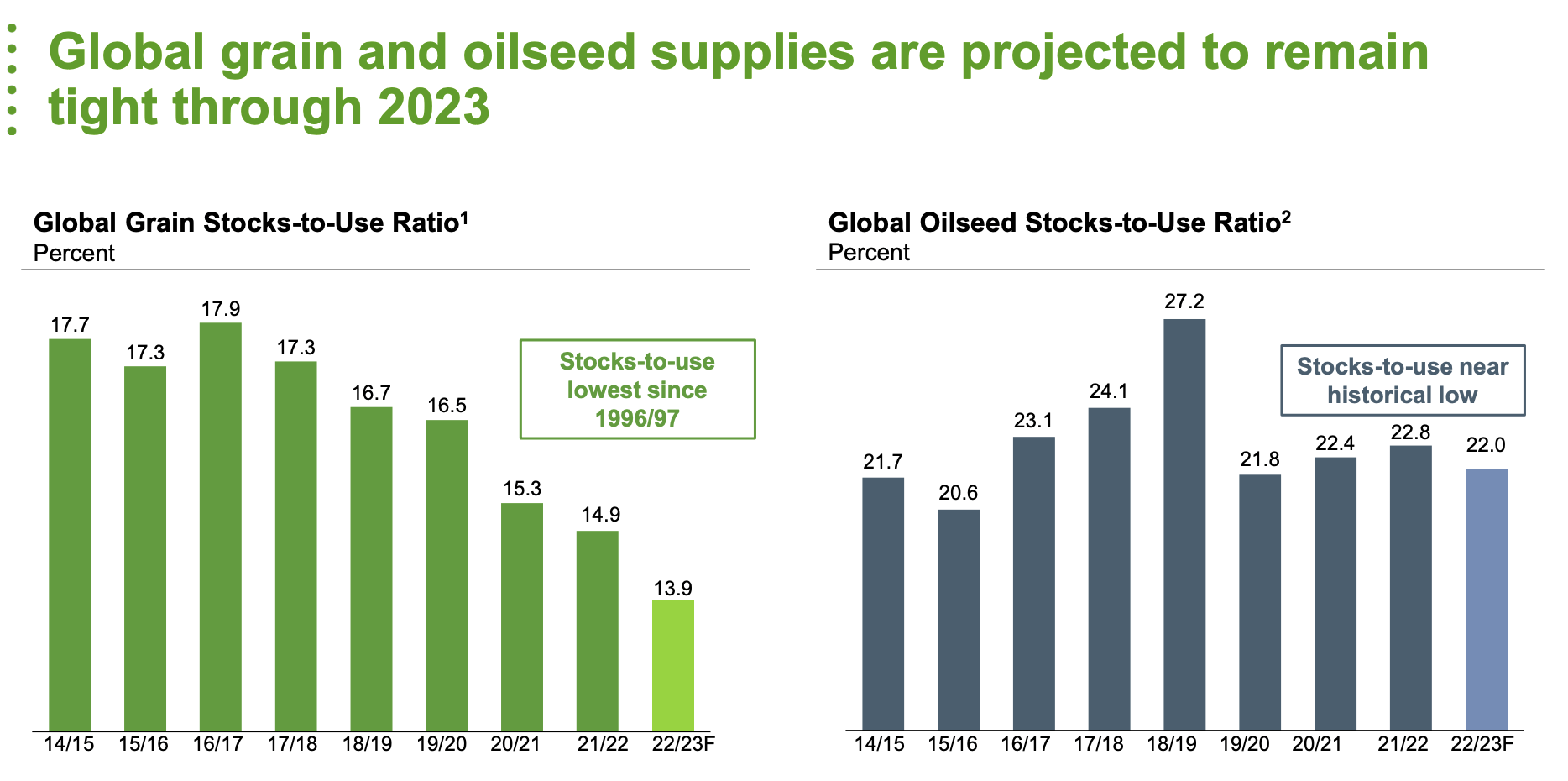 It also highlighted the impact of biofuels on grain demand and profitability in the farming sector.
The war in Ukraine has influenced crop challenges and elevated grain prices, encouraging farmers to invest in modernizing their equipment.
Moreover, the age of the average farmer fleet presents an opportunity for equipment upgrades, further fueled by advancing technology.
The overall industry dynamics suggest a positive demand outlook leading into 2024.
Despite a decline in key crop prices (like corn, soybeans, and wheat), demand remains strong, as visible in the company's order books.
If I look at North America, we opened up our early order program for our seasonal products a couple of weeks ago. So that's our sprayers, our planters, our tractors for model year '24, which sort of goes from now through a year from now. We've sold out on that.

[…] If I look at Europe, which is half of our business is European based, we go into early 2024 in our orders there. The order book 6 to 8 months, again, relative to historical standards, double what it historically was. So again, good fundamentals of what we're seeing on the order book there. – AGCO Morgan Stanley conference transcript
Furthermore, there are two other major tailwinds.
The company is seeing rapidly improving supply chain health. During the Morgan Stanley conference, the company said that the progress in supply chain stability and manufacturing efficiency is projected to continue into 2024, resulting in better delivery times for farmers and dealers.
Residual equipment prices are elevated, coupled with subdued inventory levels. Despite a slight decline from peak prices, the current scenario suggests a positive outlook for AGCO in 2024.
On top of this, the company is focusing on precision equipment as part of its aggressive expansion strategy.
An Aggressive Expansion
The precision equipment segment includes equipment like planters, sprayers, and whatnot that are able to operate with extremely high precision. This lowers input costs (like fertilizers) and often boosts yields significantly.
By 2025, the company aims to do $1 billion in precision sales. Using analyst estimates, precision sales could account for almost 7% of total sales.
The company has also achieved substantial success by retrofitting precision technology into the aftermarket, distinguishing itself by being OEM-agnostic.
AGCO's approach allows retrofitting on competitors' products, expanding its market reach. This is a genius strategy, as it somewhat applies a modular approach to agriculture.
I also believe that this is a smart way of potentially grabbing market share.
Speaking of market share, the company has a major focus on expanding the Fendt market share in North America and South America.
The company targets achieving $1.5 billion in Fendt sales by 2025, aiming to outpace industry growth by 4% to 5% annually.
AGCO believes that Fendt's premium technology and high fuel efficiency have positioned it as a leading product, capturing market share by appealing to growers seeking advanced technology and performance.
The strategy involves offering a full line of Fendt products, including tractors, sprayers, combines, and planters, allowing dealers to provide comprehensive solutions to customers.
As part of a potential pricing war, the company will not lower prices on premium Fendt products but use Messey Ferguson to target farmers looking for lower-priced products.
It will also make its dealer network more efficient, which has been a reason why Deere has dominated the North American market.
We have a clear plan with our dealer network on how we're rolling out Fendt in North America. And in South America, we have the plan on the Massey Ferguson dealers on where we're headed there.

So I think for the most part, I see more opportunity to get better and get faster when it comes to things that AGCO can control and influence. – AGCO Morgan Stanley conference transcript
So, what about the dividend?
AGCO's Dividend Is Special
AGCO has a special dividend – literally.
The company currently pays a $0.29 per share per quarter dividend. The yield is 0.97%.
While this is low and nothing to get excited about, there's good news.
The dividend is protected by a <10% payout ratio and loads of free cash flow (more on that later in this article).
The 5-year CAGR is 12.4%.
AGCO started using special dividends to distribute excess cash.
On May 5, the company announced its highest special dividend ever of $5.00 per share. This brings the total annualized dividend to $6.16, which translates to a 5.1% yield. In other words, AGCO could be a high-yielding agriculture stock if it sticks to this policy!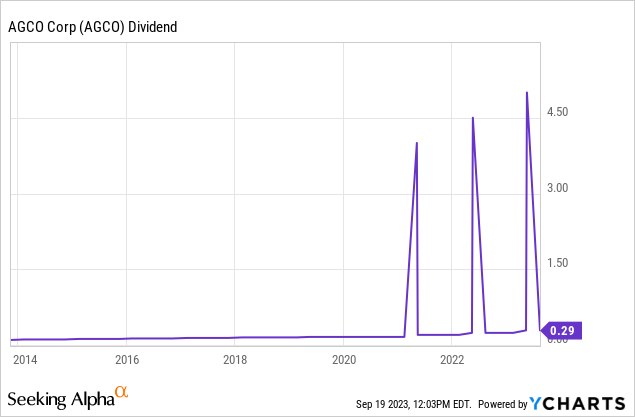 Furthermore, the company's net leverage ratio is just 0.2x EBITDA. Next year, the company is expected to end up with more cash than gross debt.
The company has a BBB- credit rating.
So, what about the valuation?
Valuation
This is the tricky part. According to analysts, the company's growth streak is expected to end next year. I disagree with that, as I do not believe that the company is about to see two consecutive years of contraction – not unless we enter a steep recession with severely subdued crop prices. Or if rates remain so high that farmers are unable to buy new equipment. Rising rates are a major problem.
Having said that, expectations are that free cash flow remains close to 10% of its market cap. This means that high special dividends are very likely unless the company engages in M&A or decides to further enhance its already healthy balance sheet.
With regard to the valuation, rising EBITDA and an unchanged stock price since early 2021 have caused the valuation to drop to just 6.3x EBITDA.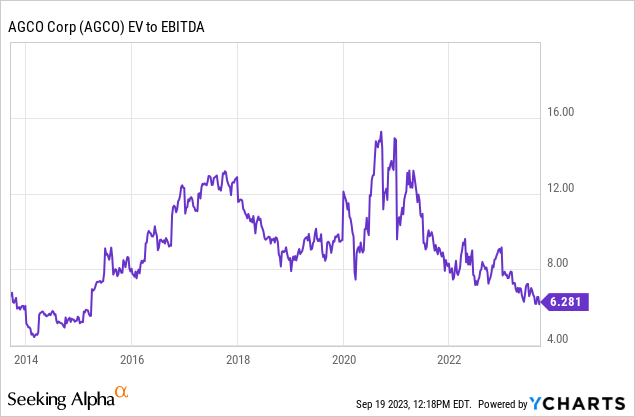 Currently, a lower valuation makes sense, as investors aren't willing to buy machinery stocks when global growth is in decline.
However, AGCO benefits from strong secular tailwinds, close to zero construction exposure, and a solid strategy to gain market share.
Longer-term, I do not believe that AGCO should trade below 8x EBITDA.
This would put the fair value at almost $190 per share, 60% above the current price.
Please note that this is based on very conservative analyst estimates! I would argue that the company could see 10% to 20% higher EBITDA in 2025.
Although I do not believe that AGCO will start this uptrend anytime soon, on a longer-term basis, the stock remains extremely undervalued.
Knowing a bit about its top brands like Fendt, I have no doubt that the company is in a great spot to take away market share. I'm not sure that a lot of it will come from Deere, but in general, AGCO is an increasing force to be reckoned with.
Takeaway
While Deere & Company remains my favorite dividend growth holding in the agriculture space, AGCO has emerged as a competitor deserving of recognition.
Boasting top-tier tractor brands and advancing technologies, AGCO is ready to take away market share from its peers.
Despite a dividend yield slightly below 1%, the company offers juicy total yield potential, especially during favorable economic times.
With a strong growth strategy and a focus on precision equipment, AGCO is aggressively expanding its market share, aiming for $1 billion in precision sales and a significant foothold for Fendt in North and South America.
The company's special dividend policy further enhances its appeal, presenting a potentially significantly undervalued high-yield investment.