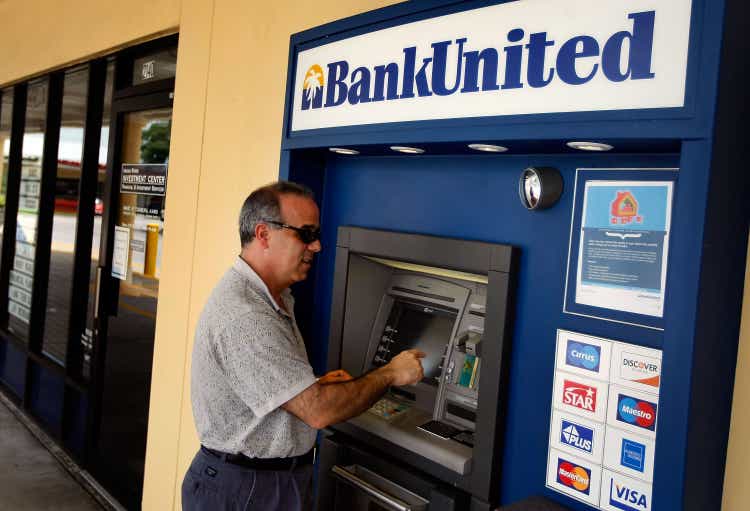 BankUnited (NYSE:BKU) is a young bank incorporated only 14 years ago and is headquartered in Miami Lakes, Florida.
In this article I will highlight the most relevant aspects of its operating business and also focus on shareholder compensation. The current dividend yield is 4.37 percent, 47 bps higher than the industry average; but is it really worth investing in?
Future Perspectives
BankUnited's future prospects are strongly related to the Fed's monetary policy decisions. The upper bound Fed Funds Rate has reached 5.50%, a value not seen in decades, and as a result both loans and deposits have seen their rates gradually adjust.
Currently, the average 30-year fixed rate mortgage is 7.41%, the highest value in the past 22 years. So, it is logical to expect that until rates are cut, it will not be easy for BankUnited to make new loans.
The loan portfolio has shrunk by $263 million, of which $184 million is related to residential real estate. By the end of the year, a further reduction of $450 million is expected. BankUnited restricted the origination of new loans and consequently was unable to replace maturing loans.
The company's current stance seemed to me to be rather conservative, in fact they want to avoid lending at too high interest rates, as then the credit risk would increase. At the same time, the FHLB was repaid and the loan-to-deposit ratio was reduced, again for precautionary purposes.
We don't want to run the bank over 100% loan-to-deposit ratio. I've been very vocal about that. We're happy we've created a little more breathing room for ourselves this quarter. But if I can create even more breathing room, that's even better, right? We don't need to be at 80%, but I don't want to get close to 100% or over 100%.
The main goal is to make the financial structure more flexible so that it can take advantage of every opportunity the market provides and not rely on the FHLB. In addition, it is necessary to improve quality of deposits, because if too expensive, it becomes complex to improve the net interest margin.
The current cost of total deposits is 2.60%, lower than the Fed Funds Rate but far higher than last year. In general, this is not too expensive bank funding given the current macroeconomic conditions, and it is mainly due to the high percentage of non-interest bearing deposits to total deposits, about 28.30%.
Since I do not believe there will be any major changes in key rates, I expect that the final part of this 2023 will still be marked by the narrative of the moment: net interest margin stalling or slightly declining; cost of deposits rising a bit more; difficulty in originating new loans without risking higher non-performing loans. Street estimates support my thesis.
As can be seen, EPS is expected to be down until Q1 2024, and then improve in Q2 2024. It is no coincidence that the estimates are positive for mid-2024, as at that time the market expects that the Fed may begin to cut interest rates. At that point, on paper, banks will be able to breathe again.
Personally, I find myself in agreement regarding the estimates for the next two quarters, but I have some doubts about the recovery in mid-2024. Historically, the moment the Fed starts cutting rates, there has almost always been a recession, which makes me doubtful about BankUnited's medium-term performance.
During a recession it is unlikely that any bank will perform well since banking is extremely cyclical. In any case, should there be one, I consider BankUnited better positioned than its peers because of its approach to various banking risks.
The bank's approach to various risks
Let's start with the minimum capital requirements imposed by the Basel Committee.
BankUnited has a CET1 higher than that of peers, albeit slightly, and well above the 6.50% threshold. Moreover, if we deduct from CET1 the unrealized losses of AFS securities we are still well above the minimum threshold. Let us now look at credit risk.
When it comes to credit risk, analysts tend to focus on CRE loans since they are the most fragile during a recession. A business is less important than a place to live, which is why residential real estate tends to be less cyclical.
BankUnited has significantly less exposure to CRE than peers; in fact, only 23 percent of loans belong to this category. What is more, the difference is also evident with the CRE/ Total risk based capital ratio. The reduced exposure to this category reduces the overall risk of the loan portfolio; but of course so does the return.
Going into more detail we can see that the most common type of property in the CRE portfolio are offices, about 32 percent. Typically, offices tend to be more volatile than other property types, which is why they are riskier. In any case, there are a number of aspects that reassure me here:
Offices account for 7.51 percent of total loans and have an average LTV of 66.20 percent. The exposure is not insignificant, but the low average LTV presents a good margin of safety should office prices collapse.
CFO Leslie Lunak said during the last conference call that BankUnited has no plans to sell any of the office loans even though over the past few quarters some banks have done so. In short, there is the utmost confidence toward the office portfolio. Certainly, management could be wrong, but if there were even any doubts they would probably have already sold some loans at a discount. Let's turn now to the residential portfolio.
74% of borrowers have a FICO credit score above 759, meaning that ¾ of the loan portfolio is low risk. 16% have a FICO credit score between 720-759, still a very good level. In addition, 60% of loans have an LTV below 70%. In short, the average BankUnited customer has an excellent credit score, a 30-year fixed-rate mortgage with an LTV around 70%.
Obviously, since the risks related to these loans are low, their yield will be equally low. The current yield on loans is 5.35% while the net interest margin only 2.47%. Finally, I briefly show you the liquidity risk.
Cash on hand is 1.67 times greater than uninsured and uncollateralized deposits. The latter, account for 34 percent of total deposits. After the shock in early March with the bankruptcy of SVB, management preferred to keep as much liquidity as possible to cope with sudden difficulties. In fact, as we have seen previously, LTD will remain under control and new lending is slowing down.
In recent years BankUnited used to buy a large amount of its own shares, but for now this type of shareholder remuneration is suspended: it is necessary to maintain liquidity in the balance sheet.
We stopped our buyback back in March. I think we may have a little bit left in the authorization, but we're not buying back stock. We will discuss with our Board as we do in the ordinary course. I think the Board meeting is in a month or so. And we've gone through some pretty volatile times. So I think it was the right decision to hold. And at some point in the future, the Board will decide to reengage, but not right now.
Dividends and valuation
In this final section I would like to discuss both the dividend and the possible fair value of this bank. Let's start with the dividend.
The first thing we can notice is that the dividend per share has been flat for several years and only in the last 2 it has increased. In any case, the increase was not driven by higher cash outflow but by the reduction of outstanding shares. In fact, compared to 2019, the dividend per share increased by 20 cents but both shares outstanding and dividend cash outflows decreased; -$19.31 million and -$6.50 million, respectively.
It would seem that increasing the dividend is not a priority for this bank, but that it prefers to remunerate shareholders by purchasing its own shares. From a fiscal point of view, this strategy makes sense.
In any case, as we saw earlier, buybacks are suspended for the time being, so the only form of remuneration remains the dividend. Currently, the dividend yield is 4.37 percent, 47 bps higher than the industry average.
As for the sustainability of the dividend, in my opinion there is no problem with that. The dividend per share is less than 1/3 of EPS, and historically BankUnited has never had a serious concern in this respect. The low payout ratio is justified by the fact that buybacks are very frequent.
Finally, let us turn to valuation.
Expected EPS for 2023 is $2.98; multiplying this figure by the 10-year average P/E of 12.51x, the fair value results $37.27 per share.
The current Tangible Book Value/ Share is $32.90; multiplying this figure by the 10-year average of Price/ TBV per share of 1.35x, the fair value results $44.41.
In both cases BankUnited is highly undervalued, especially considering its Tangible Book Value. So, I rate this bank as a buy.
Overall, I rate this bank positively and I believe that the current price per share is already discounting future issues regarding EPS growth: there is little room for deterioration but ample room for improvement. I would not be surprised if it can make up some of the lost ground in the coming months, but my doubts remain regarding mid-2024.