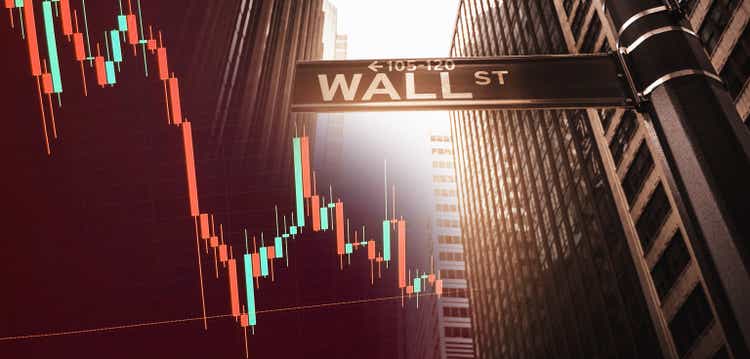 Exscientia investment summary
In the last coverage on Exscientia plc (NASDAQ:EXAI), I noted the following points:
"Just as profitability and return on invested capital are heralded as the economic moats investors are in search for, innovation, and speed of innovation are equally as attractive.

Within the field of drug discovery and development, persistent challenges to the paradigms underlining the broad process align with this principle. AI is the next frontier in medicine and health, and we look to embrace this via the publicly listed corporate securities of the companies aiming to provide breakthroughs in this domain."
Back then, I rated the company a buy based on these principles. Fast forward 8 months, and EXAI has further cemented its industry positioning in this regard. It announced a collaboration with pharmaceutical giant Merck KGaA (OTCPK:MKGAF) to discover new drugs in complex disease segments, using its proprietary AI–based platforms. The market's reaction was clear to the announcement today, as seen in the 60-minute chart in Figure 1. The company's longer-term price returns are noted in Figure 2.
Based on the latest developments, I continue to rate EXAI a buy for long-term positioning. Again, this is a pre-clinical name, but the latest developments firm up the company's position at the center of the AI drug discovery market. Net-net, reiterate buy.
Figure 1.
Figure 2.
AI emerging as a beacon for drug discovery
Given that AI has infiltrated just about every single industry, it is no surprise to see its capabilities put to use in drug discovery. More specifically—drug discovery in complex disease segments. This has the potential to create medical breakthroughs in these conditions.
And it is gaining considerable steam too. According to recent studies conducted by Morgan Stanley (MS), the majority of healthcare companies (n=94%) had incorporated AI/ML capabilities into their various operations. Projections also put the AI drug discovery market at a value of $909Bn by the year 2030. Additionally, the healthcare industry is expected to increase its capital allocation for these technologies from ~5.5% in '22 to 10.5% in '24. This has been in the pipeline for some time too. As far back as 2021, the number of drug and biologic applications submitted to the FDA that feature AI/ML had already grown from 14 to 100, a staggering increase in anyone's view.
Figure 3.
Critically, the use of AI is changing the way drugs are discovered, making the process quicker and more efficient. This is a significant shift. Oftentimes, companies plough capital into R&D and clinical programs, a process that can cost billions, and take years. Not to mention the risks involved, as nothing is a given. In fact, it would appear the application of AI has the potential to revolutionize almost every aspect of drug discovery, making the economics of new clinical programs more attractive uses of capital. In my view, this could enforce a positive feedback mechanism, much like in the metals/resources industry when new technology makes some kind of ore more easily extracted, at a faster pace, and at a lower cost.
The main uses of AI in drug discovery to date include:
Identifying targets and designing new drugs. This includes identifying disease and drug targets. Not only the identification—but speeding up the process of designing the drugs in the first place.

Predictions, predictions, predictions. AI can test and forecast things like toxicity, pharmacodynamics and efficacy. This is a big one as this could reduce the need for large population studies, potentially getting drugs to market faster.

Similar to point (2), AI is being used extensively in simulations. AI's role in molecular simulations is notably reducing the need for physical testing of candidate drug compounds. These molecular simulations are conducted through computational modelling and are more cost-effective than chemistry-based methods.
Uncovering synthesis pathways. One of the more interesting factors AI is promoting in biopharma is the potential to improve manufacturing processes as well. This relays back to point (2), but extends to the actual end-stages of commercialization, which could improve the profitability of new compounds as well. In terms of attracting investment to R&D and so forth, this could be a powerful lever in my view.
It is clear AI has multiple inflection points in the biotech/biopharma industry, and already the capital allocations are starting to ramp up in scale. EXAI's collaboration is clear evidence of this in my view.
Tailwinds to EXAI—Merck partnership for AI drug discovery
EXAI and Merck are partnering to discover innovative small molecule drug candidates in the fields of oncology, neuroinflammation, and immunology. Often, the conditions present here are complex in nature, and patients often suffer poor outcomes.
The collaboration will take advantage of EXAI's AI-powered precision drug design technology and Merck's deep networks in oncology and neuroinflammation—not to mention the behemoth's commercial reach. This is a multi-year collab. that would see both parties benefit in my opinion. As is typically the case in these kinds of arrangements, Merck would reduce its pipeline risk by employing EXAI's services, whereas EXAI, if successful, reduces the execution risk to get its drugs to market. It's a symbiotic relationship. The major difference here, is that the AI-discovered compounds have the potential to be completely novel and differentiated, along with the 4 benefits described earlier.
In accordance with the agreement, Merck will make an upfront cash payment of $20mm to EXAI. Additionally, EXAI stands to benefit from a slew of discovery, development, regulatory, and sales-based milestone payments. All up, if all 3 initial programs are met, this could provide EXAI with $674mm in cash from the pharmaceutical giant—more than its current market cap.
As to the payment breakdown:
A substantial portion of these potential milestone payments, amounting to $113mm, is attributed to the discovery phase, with the upfront payment of $20mm as mentioned.
Should EXAI successfully: (i) discover a compound, and (ii) Merck successfully commercialize the compound, EXAI will be entitled to tiered royalties based on product sales, ranging from "mid-single-digits to low-double-digits."
This would create a lengthy tail of asset returns for EXAI if it all works out. This should be heavily considered in the investment debate.
The initial phase of this collaboration will focus on 3 potential targets. Moreover, it's not just restricted to oncology, immunology and so forth. It allows for other research programs to take place. EXAI's portion of the heavy lifting involves identifying new targets, and, if successful, it will take on the execution of target validation—including the drug design.
I'd also suggest that the accounting is important here. Critically, the $20mm upfront cash injection is anticipated to be reflected in EXAI's financials in the back end of '23. It will be booked as a cash inflow to start, then recognized revenue as the collaboration matures.
In short
Drug discovery is one of many in the list of exciting applications of AI. EXAI's industry positioning is a major catalyst here, and in my view, it's the reason why Merck, and other pharma players, have gravitated toward the company's technology. In the last analysis, I noted the potential for these kinds of agreements to take place, especially given the potential efficiencies and cost reductions on offer. Merck's offering to EXAI is a testament to this in my opinion. The pharma juggernaut did $59Bn in sales last year [Figure 4] and has capital to plough into these programs, so if EXAI exceeds expectations here it's not unreasonable to foresee more collaborations of this nature on the horizon.
Net-net, I continue to rate Exscientia plc a buy, eyeing further AI–based collaborations downstream with either Merck, one of its existing partnerships, and/or new collaborators.
Editor's Note: This article discusses one or more securities that do not trade on a major U.S. exchange. Please be aware of the risks associated with these stocks.