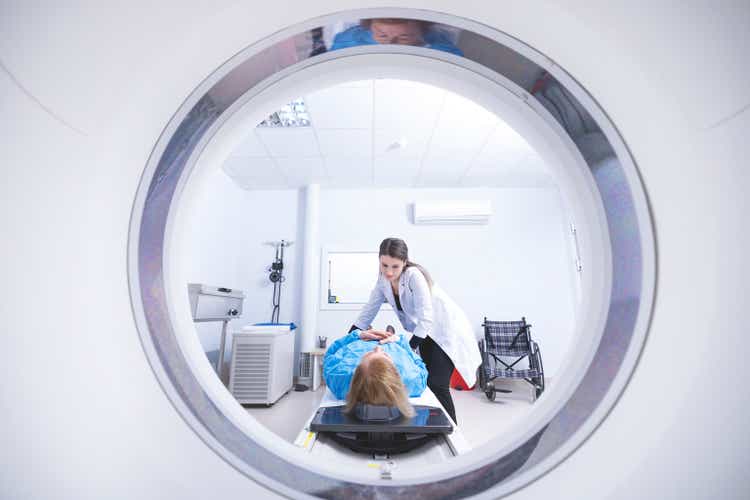 Investment Thesis
GE Healthcare (NASDAQ:GEHC) was spun off from General Electric (NYSE:GE) nearly a year ago. The stock was an outstanding outperformer in the first few months, but the shares have been on a rocky path since May.
However, we believe the current fall represents a very attractive opportunity to get in. GEHC is facing several industry tailwinds, is growing revenue in the mid-single digits, has room to increase margins, and it's trading at very depressed multiples. We think shares can compound at a 22% CAGR over the next 3 years.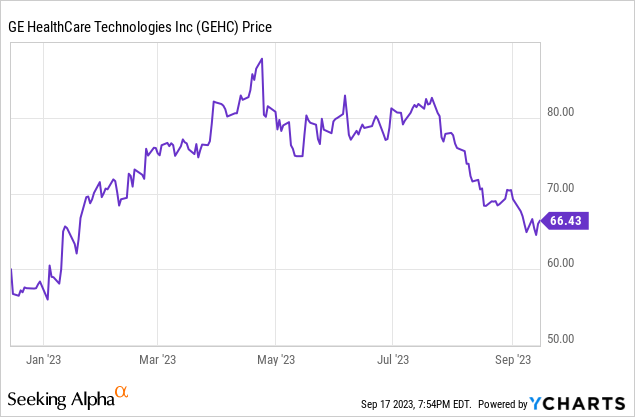 Overview
GEHC is a leading supplier of equipment, tools, and services for the healthcare industry. The company holds a dominant position in the imaging industry, which has been consolidating over the past few years, effectively reducing the market to just two other major players: Siemens Healthineers (OTCPK:SEMHF) and Philips (NYSE:PHG). GEHC also develops, produces, and sells ultrasound medical devices and solutions. Furthermore, under its Patient Care Solutions business, it provides medical devices, consumable products, services, and digital solutions that complement clinical expertise. Finally, its Pharmaceutical Diagnostics segment supplies diagnostic agents to the global radiology and nuclear medicine industry.
GEHC's TAM is poised to grow at a mid-single-digit CAGR during the next three years, reaching more than $100 billion. This growth is driven by factors such as the aging population, increased productivity, and the expansion of alternative sites of care.
What's great about GEHC's business is that more than 50% of revenues have a recurring nature, primarily derived from machine servicing, spare parts sales, and consumables. Moreover, it operates in a recession-resistant market, as healthcare is prioritized regardless of the economic environment.
For a long time, the company has been run within the larger GE conglomerate and milked for its cash flows, with GE's investment priority being its Aerospace business. Now, as a newly independent entity, GEHC can concentrate on its core business. It has a fully independent and aligned management team that has already started to deliver.
Financial Results
GEHC reported Q2 2023 financial results on July 25. Revenue came in at $4.8 billion, an increase of 7% YoY reported and 9% YoY in an organic basis. This growth rate is similar to the one it had the last 4 quarters, although we expect it to fall slightly to 4%-5% in the medium term. The fastest growing segment was Pharmaceutical Diagnostics, with revenue up 20% YoY on an organic basis. However, this is also the smallest segment of the company. Orders grew 6% YoY organically, which demonstrates ongoing strong demand for GEHC products.
The adjusted operating income(EBIT) margin stood at 14.8%, which is 120bps lower than a year ago but 70bps higher than in Q1 2023. Margins were impacted by inflation and investments, partially offset by price increases, higher productivity, and higher volumes. EBIT margins have been in a downtrend since Q1 21, when they were at +16%. We expect that as inflation pressures ease, they will pick up again.
For the three months ending on June 30, 2023, GEHC EPS reached $0.92, down $0.13 from the prior year(although the comparison is not entirely fair given that they were impacted by standalone interest expenses). Cash flow from operating activities was $(67) million versus $(19) million a year ago. These items, coupled with increased capital expenditures, also impacted Free cash flow of $(136) million, which was down $58 million year-over-year. Despite this, the company recorded positive free cash flow the last 4 years, with a conversion rate in the range of 80%-100%.
However, what the market really liked about the report was that they raised guidance for the full year. They now expect organic revenue growth to be between 6% to 8% and adjusted EPS to grow 9%-14%.
Valuation
We believe that GEHC valuation is very attractive. The stock is trading at 13.8x EV/EBIT and 17.5x P/E, and when compared to its peers, we can see a sizable difference:
| | | | |
| --- | --- | --- | --- |
| (All forward measures) | P/E | EV/EBIT | EV/EBIDA |
| Thermo Fisher Scientific (NYSE:TMO) | 23 | 23 | 20,8 |
| Danaher (NYSE:DHR) | 35,5 | 29,7 | 22,8 |
| Agilent (NYSE:A) | 21,4 | 19 | 17,7 |
| Mettler-Toledo (NYSE:MTD) | 28,7 | 22,5 | 21,8 |
| Siemens | 22,1 | 21 | 16,2 |
| Phillips | 17 | 14,4 | 9 |
| Average | 24,6 | 21,5 | 18 |
| GE HealthCare | 17,5 | 13,8 | 10,9 |
As you can see, the discount is very steep. However, we don't think GEHC deserves it as the company is executing as well as, or better than, its peers.
We also decided to model GEHC's financials for the coming years. We expect that they will generate approximately $3.5 billion in EBIT in 2026, which represents a 15.7% operating margin. If we assume that total debt and shares outstanding will remain constant(although it is highly unlikely given that they will generate over $6 billion in levered free cash flow during that timeframe) and assign it a 19x EV/EBIT ratio, the stock should be valued at $129. This represents a 22.3% CAGR for the next three years.
Risks
Part of the reason why GEHC trades at a discount is because it is a new company, and there is still some skepticism regarding management execution. One of their targets is to increase EBIT margins from the mid double-digits to the high-double digits. We believe they have room to execute, as Siemens' Imaging segment generates EBIT margins in the low 20s percentage range. However, there are still some execution risks associated with it, and management should deliver over the next quarter for the market to believe them and re-rate the stock.
GEHC also faces intense competition from its competitors, despite operating in concentrated industries. GEHC may have to increase its investments in R&D and capital expenditures to continue innovating and developing superior products, potentially affecting its ability to grow margins and free cash flow. This may signal that the market is more competitive than we thought and that achieving high double-digit margins may not be achievable. This is something to monitor closely.
Conclusion
For an extended duration, the company functioned as an integral part of the larger GE conglomerate, predominantly generating cash flows, with GE's primary investment focus centered on its Aerospace division.
Nonetheless, it still maintains its promising growth outlook. We optimistic about its potential for revenue increase and margin expansion. Coupled with its reasonable valuation, these factors collectively render it an appealing investment option.
Editor's Note: This article discusses one or more securities that do not trade on a major U.S. exchange. Please be aware of the risks associated with these stocks.