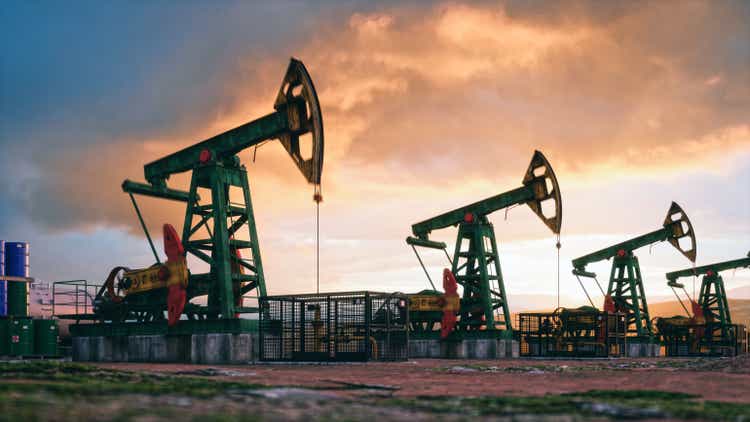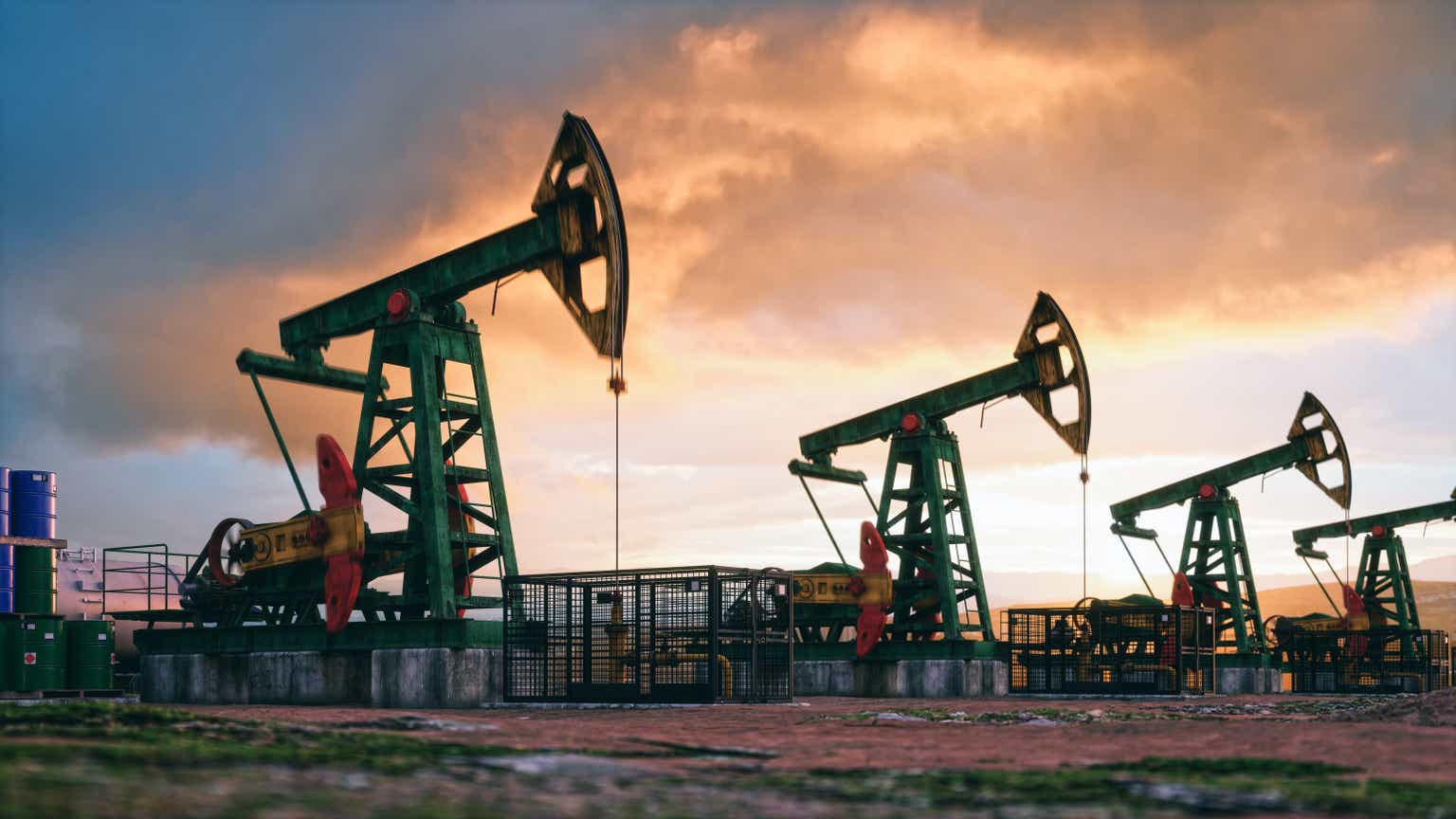 The OPEC Monthly Oil Market Report (MOMR) for September 2023 was published recently. The last month reported in most of the OPEC charts that follow is August 2023 and output reported for OPEC nations is crude oil output in thousands of barrels per day (kb/d). In many of the OPEC charts that follow the blue line with markers is monthly output and the thin red line is the centered twelve month average (CTMA) output.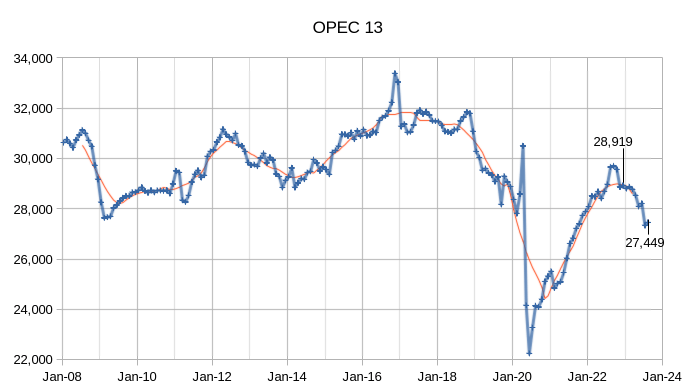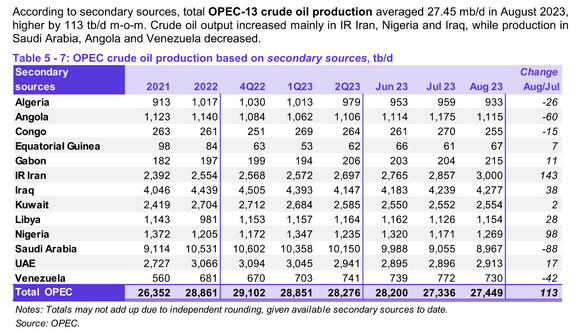 OPEC crude output was revised higher in July 2023 by 26 kb/d compared to last month's report and June 2023 OPEC crude output was revised higher by 54 kb/d. When the World was at its CTMA peak for C+C output in 2018, OPEC crude output was about 31300 kb/d and by August 2023 OPEC crude output had fallen to roughly 3851 kb/d below the CTMA peak in 2018. The OPEC 13 crude output in December 2022 and August 2023 are noted on the chart, with OPEC 13 crude output falling by 1470 kb/d in the past 8 months. In the Saudi Arabia chart below we find that output fell from December 2022 to August 2023 by 1507 kb/d so that the OPEC 13 cuts during 2023 mirror the Saudi cuts (with the Saudi cuts actually being 37 kb/d more than the cuts by the rest of OPEC combined.)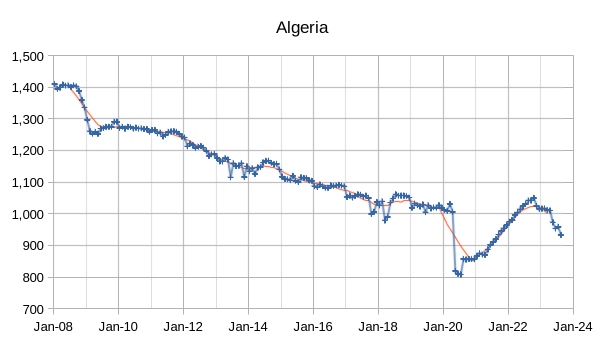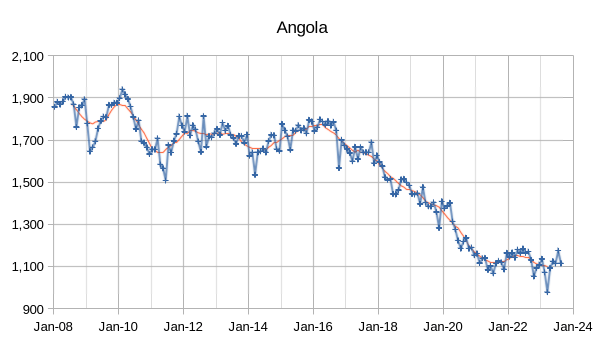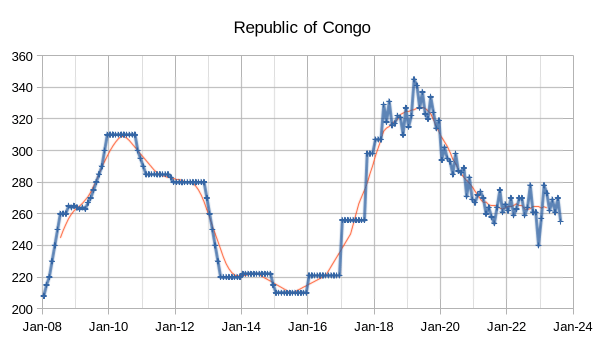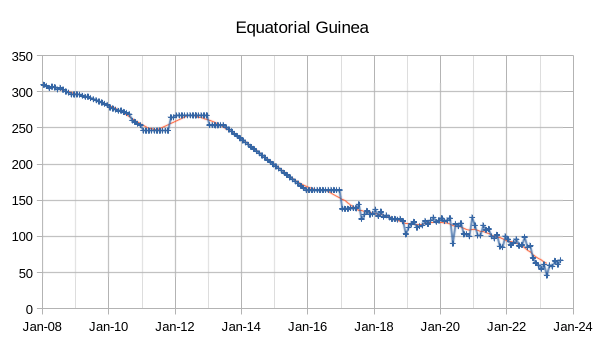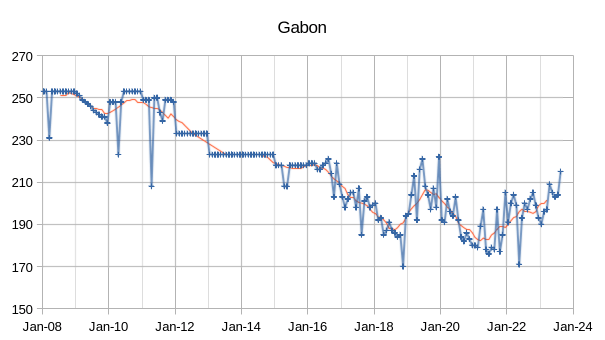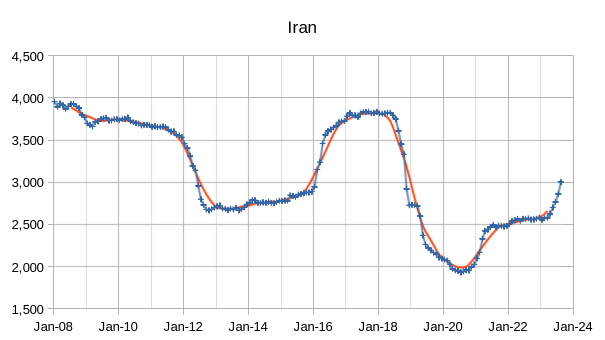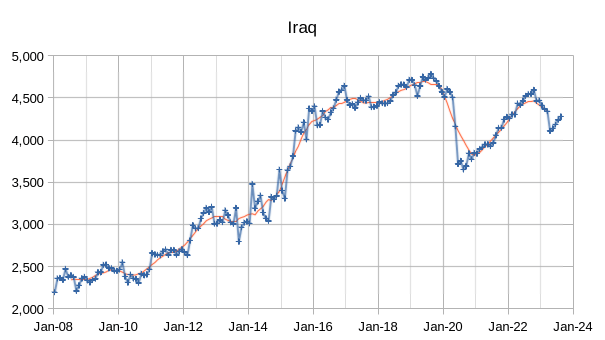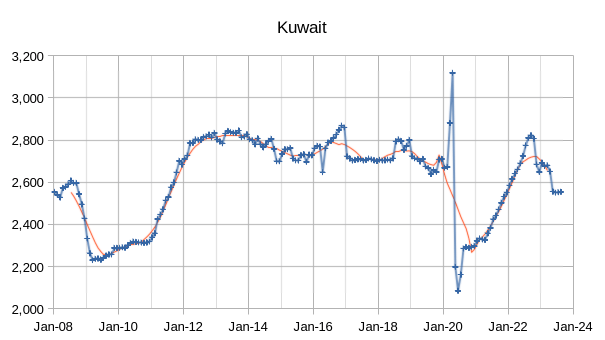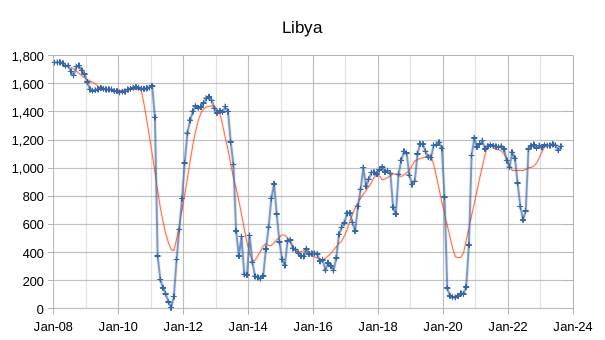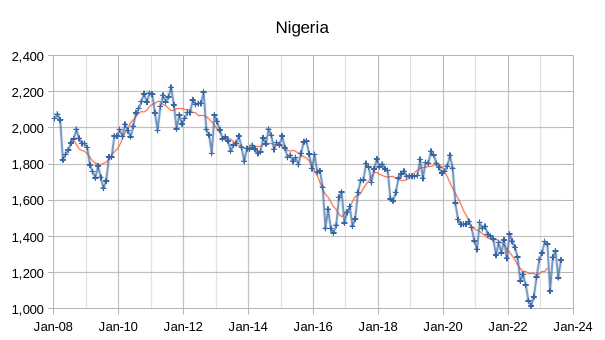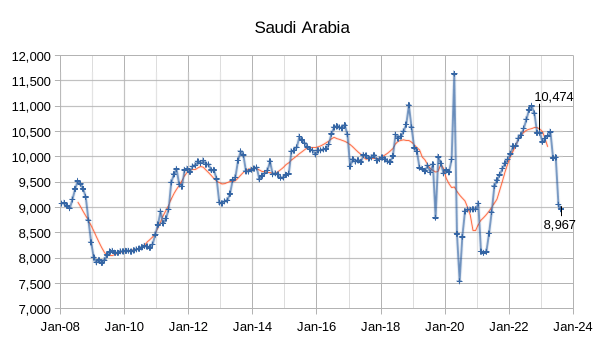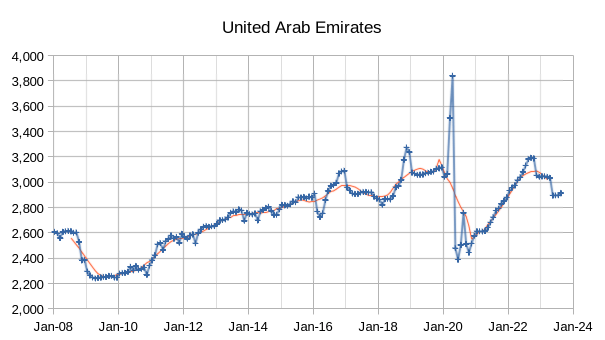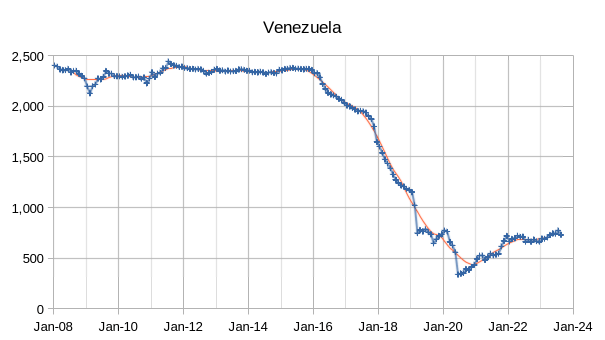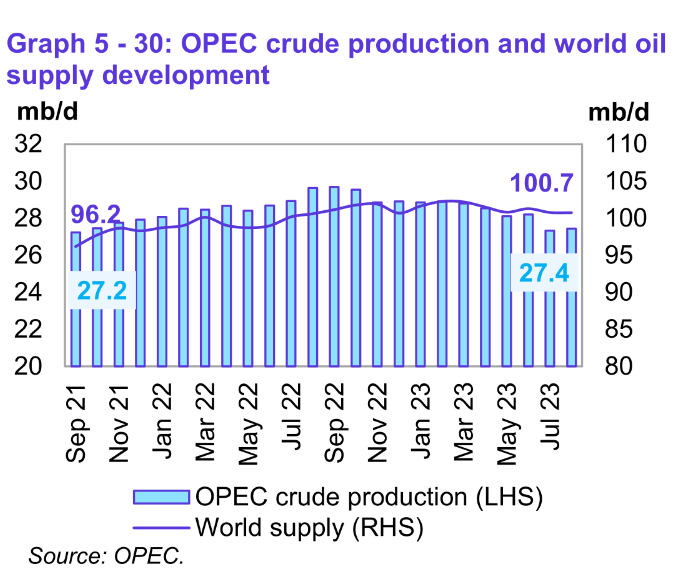 Preliminary data indicates that global liquids production in August was unchanged from last month and averaged 100.7 Mb/d. World liquids output increased about 3.5 Mb/d in the past 23 months (from 96.2 Mb/d in September 2021).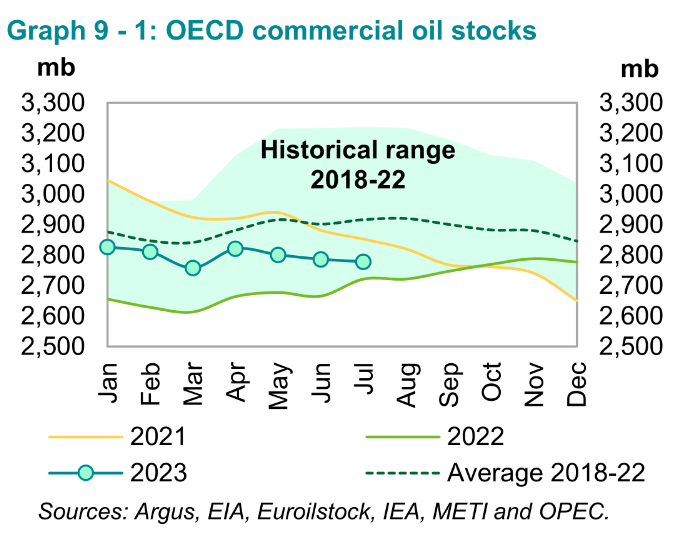 Preliminary July 2023 data sees total OECD commercial oil stocks down m-o-m by 7.9 Mb. At 2,779 mb, they were 57 mb higher than the same time one year ago but 138 mb lower than the latest five-year average and 190 mb below the 2015–2019 average. As OECD stocks come closer to the bottom of the 5 year range we may see oil price spike further.

If OPEC continues to produce at the August 2023 level of about 27.4 Mb/d of crude oil, we will see a significant draw in World Oil stocks, assuming OPEC estimates for Non-OPEC Oil Supply and World Oil Demand are correct. My expectation is that the World Oil Market will become very tight and oil prices should rise, unless OPEC increases output to balance the Oil Market. It is also possible that OPEC is overestimating future demand for oil, higher oil prices might lead to slower growth in World demand and perhaps higher non-OPEC output which would reduce the call on OPEC.
OPEC has reduced its estimate for US tight oil growth to 720 kb/d in 2023 and 440 kb/d in 2024 compared with last month's estimate (760 kb/d in 2023 and 490 kb/d in 2024). The estimate for 2023 is similar to my scenario (723 kb/d increase in average annual tight oil output from 2022 to 2023), their estimate for 2024 remains a bit more optimistic than my scenario (with a 358 kb/d increase in annual tight oil output in 2024).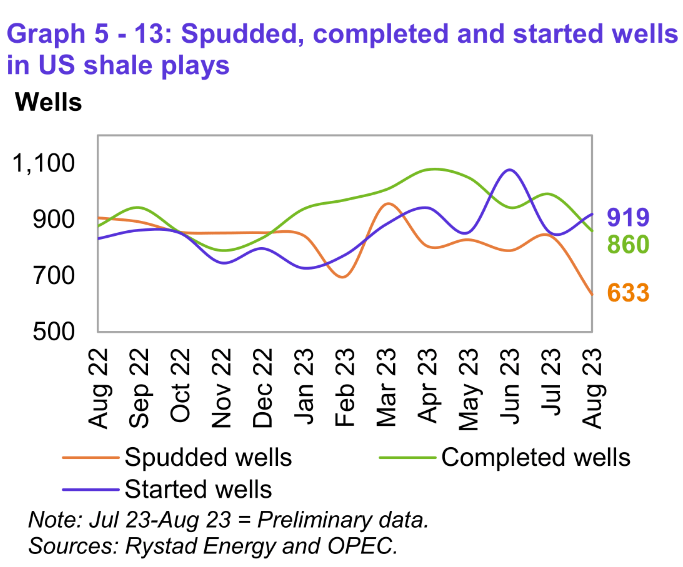 The numbers on the right are August 2023 preliminary estimates for Started, Completed, and Spudded wells in the EIA-DPR Shale regions. For July 2023 the preliminary estimates are 841 wells spudded (up 52 wells from June), 990 wells completed, and 852 wells started. Historically the preliminary data for the most recent two months has usually been revised higher in the future.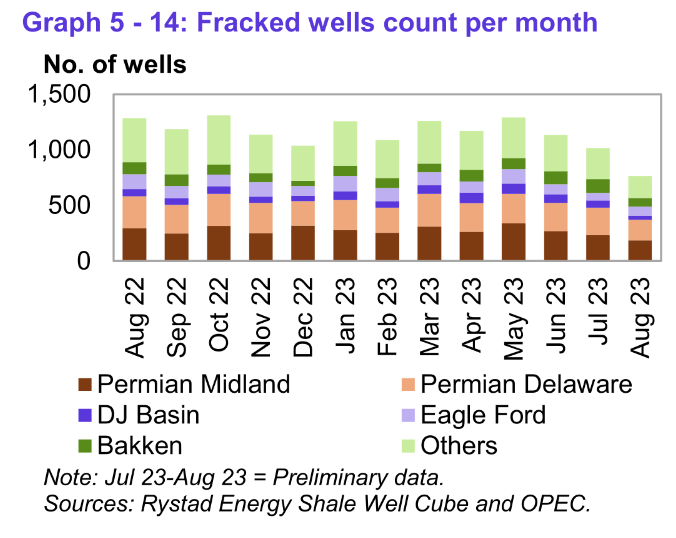 Again the most recent two months of data is usually on the low side for fracked wells. Rystad reported that 1133 oil and natural gas wells in shale regions were fracked in June 2023, 1017 wells fracked in July and 765 wells in August. The breakout by region was 482 wells fracked in July in Permian, 127 wells in Bakken, 67 in Eagle Ford, and 64 wells in DJ Basin (Niobrara). In June there were 523 wells fracked in the Permian.
Editor's Note: The summary bullets for this article were chosen by Seeking Alpha editors.