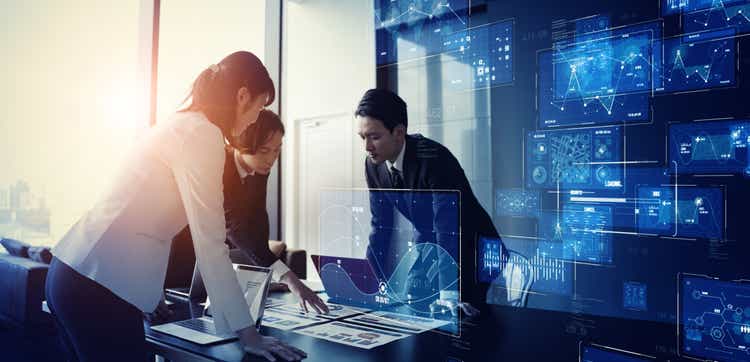 Investment Thesis
Down nearly 24% from its 52-week high, Resources Connection (NASDAQ:RGP) is available at a bargain price relative to its strong balance sheet. With a strong history of earnings growth and return on investment, as well as a compelling strategy to continue that trend, RGP presents a great opportunity for the long-term value investor who is not worried about short-term macroeconomic turbulence.
About Resources Connection
If you're anything like me, you don't know much about RGP yet. When it popped up on one of my screeners, I wasn't familiar with the name. Resources Connection is a consulting firm that was founded within Deloitte and Touche in 1996, then spun out into its own company in 1999. It now has a market cap north of $500 million.
RGP, formally known as Resources Global Professionals, tried to offer companies staffing flexibility by providing experienced professionals on a project basis. According to their website, the main areas they offer professionals in are Finance and Accounting, Risk and Compliance, Technology and Digital, Supply Chain, Business Transformation, and Professional Search.
They're happy to point out that they work with 88 Fortune 100 clients and more than 85% of the Fortune 500, but they also use a lot of buzzwords like "agile" and "hybrid" to fuel a narrative of potential growth and opportunity.
One of the big things to consider with regard to this investment is whether or not there's enough substance behind that talk to provide a reasonable catalyst for value realization.
Value Fundamentals
Resources Connection has no long-term debt to speak of, which is great news in the current rate environment. In their most recent filing, the 2023 annual report filed on September 7, 2023, the balance sheet showed that the $54 million of long-term debt from a year prior had been paid off.
The company has a book value of $12.58 per share and a tangible book value of $5.95 per share. One thing to keep an eye on with the headwinds facing commercial real estate in this rate environment is how solid that tangible book value actually is when considering your margin of safety. In an environment where companies are liquidating or selling off assets, there's a pretty good chance commercial real estate values have plummeted. That's why I was pleasantly surprised to see that less than $1 per share of that tangible book value was in property and equipment.
Per the annual report, RGP owns a 57,000 square foot building in Irvine, CA, and otherwise leases office space.
Resources Connection has a current ratio of 2.72, which is quite healthy, and trades at a trailing twelve-month P/E ratio of 7.55 against non-GAAP earnings and 9.49 against GAAP earnings. As you can see in the chart below, RGP has more than tripled its annual GAAP earnings over the last decade.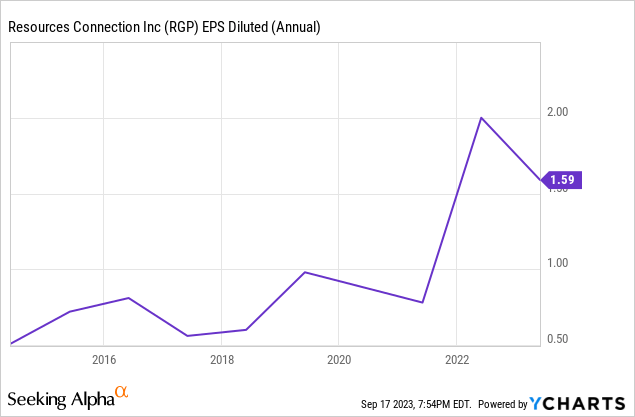 So, from a value standpoint, we have a reasonable margin of safety considering that RGP is a profitable business trading at a price to tangible book ratio of about 2.54 with no debt and plenty of cash on hand. Earnings have been growing at an impressive pace, so it's definitely a company to be interested in.
Risks and Concerns
Anytime a stock is available at such a tempting price, there's a reason. In this case, I think the main one is fairly obvious: Resources Connection operates a business that is, in many ways, likely to struggle in a recession. Obviously one of the easiest ways to trim expenses in tough times is to cut spending on outside consultants.
This is included in the first risk factor identified in the company's 10-K filing, "concerns about a potential U.S. and/or global recession has led, and may continue to lead, to reluctance on the part of some companies to spend on discretionary projects."
Companies are less likely to be conducting professional searches in a recession, and the supply chain crisis has mostly subsided, which also reduces opportunities on that side of the business.
It's also important to note that RGP is going up against bigger firms in this space, and it's a highly competitive environment. That's always going to present challenges.
The company also relies on being able to attract and retain talented professionals, so a tight labor market can be an ongoing challenge. That said, this is true across the industry. So this seems to be more of a risk towards margins and earnings than it is to being able to outperform competitors.
So the question is whether these risks outweigh the strong value and whether any upside potential is there to offset them.
Upside Catalyst #1: Tech Transformation
Right now, the consensus forward estimate for earnings is $1.00 per share, which leaves RGP trading at a very reasonable price-to-earnings multiple of 15.09. While this looks like a pullback on earnings, the reality is that the company is spending a significant amount on its internal technology transformation project, which will be wrapping up this year.
On the Q4 earnings call, RGP's chief financial officer Jenn Ryu estimated the outlay in the first quarter of fiscal year 2024 to be $5 million to $7 million, which represents about 15 cents to 21 cents per share. That means the company is spending at an annual rate of around $0.60 to $0.84 per share on this project. Once it's completed, that should fuel more earnings growth simply by dropping off as an expense. But Ryu also expressed confidence that it will help the company run more efficiently.
"Post go-live, we anticipate the new technology platform will drive long-term value by improving our operating efficiency, enabling scale, [and] enhancing the stickiness of our talent platform," Ryu said.
CEO Kate Duchesne spoke to it as well, emphasizing that the new systems are expected to utilize automation and generative AI and provide better data and analytics, which should enhance decision-making. "We expect the investment to improve financial returns through headcount leverage and supply and demand optimization," she said.
While company officials are rarely going to express pessimism about ongoing projects, it's nice to see that at a bare minimum, those expenses dropping off should help reduce some headwinds on the earnings. Over the last five years, RGP has rarely dropped below current multiple levels, often trading in the 15x to 20x range.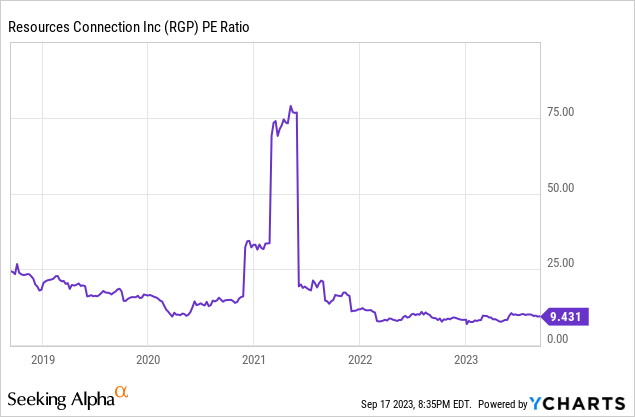 If the project is a success, and efficiency and profitability improve, it seems reasonable to expect the market to reward RGP with a higher multiple. In the 15 to 20x range, earnings of $1.60 a share could lead to prices in the $24 to $32 range. If the spending just drops off with no improvement, and the multiple remains unchanged, we'd expect to see shares trade around the current price.
As to whether or not the spending pays off, obviously, there's no way to be certain. That said, Resources Connection does have a strong track record on return on invested capital.
With the obvious exception of the pandemic, RGP has seen a strong upward trendline in Return on Invested Capital and has performed better than the broader markets in this category. It's also well ahead of the industrials sector overall, as Forbes pegged the industrials ROIC at 8.5% in a recent article.
Upside Catalyst #2: HUGO App
Resources Connection is in the process of commercializing their HUGO by RGP app, which provides temporary accounting staffing. This provides increased flexibility on both sides of the transaction. Companies can staff out exactly what they need, saving on labor costs, while accountants can maintain more control and flexibility over their work environment.
Essentially, RGP is betting on being able to attract strong talent by offering increased flexibility. CEO Kate Duchesne noted on the most recent earnings call that more than 300,000 accountants in the United States left their jobs over the last two years.
Accountants are increasingly rejecting the traditional accounting firm path in favor of finance, technology and consulting roles. They want careers with greater flexibility and choice. This pandemic-induced exodus provides increased opportunity for RGP and HUGO, our digital engagement staffing platform for mid to lower level accounting and finance talent to find project work through self-service.
By the way, that sort of flexibility is seen company-wide for RGP, which has embraced the work-from-home model. I view this as offering opportunities to scale more efficiently and reduce overhead costs, while also attracting top talent that enjoys the flexibility.
HUGO is currently operating in only three markets: New York/New Jersey, Southern California, and Texas. Those obviously make sense, but they also leave a lot of untapped potential. If successful, the app will also allow RGP to bring in smaller clients because the app will facilitate the process and make it less hands-on in terms of client acquisition.
One of my big concerns initially was how much growth is left for a company serving 88% of the Fortune 100 and 85% of the Fortune 500, so being able to work with smaller clients at scale is quite interesting.
Upside Catalyst #3: Mergers and Acquisitions
One thing to keep in mind about companies with strong balance sheets and no debt is that recessions can create opportunities to make strong accretive acquisitions. While RGP may suffer a decrease in earnings in the coming year or two based on a broader economic pullback, it could also give them the chance to put some of the nearly $117 million in cash on the balance sheet to work in a way that drives strong shareholder returns.
Economic downturns can stress growing companies with too much debt, or simply reduce valuations based on current earnings conditions, thus creating buying opportunities. In their annual report, the company discusses the pursuit of targeted mergers and acquisitions.
Lastly, we have been actively pursuing strategic acquisitions to accelerate growth. Our acquisition strategy is centered around driving additional scale or expanding consulting capabilities that complement or augment our existing core competencies. In particular, we have been actively building a pipeline of acquisition opportunities in the areas of digital and CFO services consulting. We believe our expansive client base, deep client relationships and expert agile talent pool are attractive value propositions to potential targets and will enable us to drive post acquisition synergies and growth for the business.
The 2019 acquisition of Veracity was an example of Resources Connection targeting companies that are positioned well to capitalize on trends in the business world, as Veracity was a digital transformation firm. So far, the growth has been realized, as the company noted double-digit growth year-over-year during the fourth quarter earnings call.
Valuation
My primary focus as an investor is to find companies with a strong margin of safety trading at a bargain price with some potential upside catalysts. I worry less about a specific estimate of valuation, as they always involve a range of projections and assumptions. Instead, I work with simple and conservative ranges and re-evaluate once reach that price range.
Resources Connection would meet seven of my 10 fundamental value criteria at a price as high as $16.07 per share, and I tend to target at least 50% returns for companies that pass that test. This gives me a ballpark estimate of $24.11 per share. Now, obviously, not all companies reach that end point. Sometimes the business fails to perform to expectations or is acquired outright or taken private for a lesser return.
For a company with a strong balance sheet, which RGP has, 15 times earnings is also a decent ballpark estimate of fair value. At $2 per share in non-GAAP earnings, that means $30 per share.
Hopefully, some of those catalysts are realized, earnings grow, and the fair value estimate of RGP grows and offers even more upside. However, at the current moment, I believe $24 to $30 per share is a reasonable range for Resources Connection.
Conclusion
Obviously, with that estimate and the stock trading at $15.09 at the time of this writing, I consider it a strong buying opportunity. I acknowledge there could be some turbulence in the next year or two based on the broader economy, but I'm a long-term value investor so this doesn't bother me and I'm willing to ride it out.
I like the way the business has been run over the last few years, and I believe the focus on their internal digital transformation, attracting top talent through flexibility, the HUGO app, and possible acquisitions that enhance their ability to assist clients in improving their technological and software infrastructures offer a lot of potential for growth.