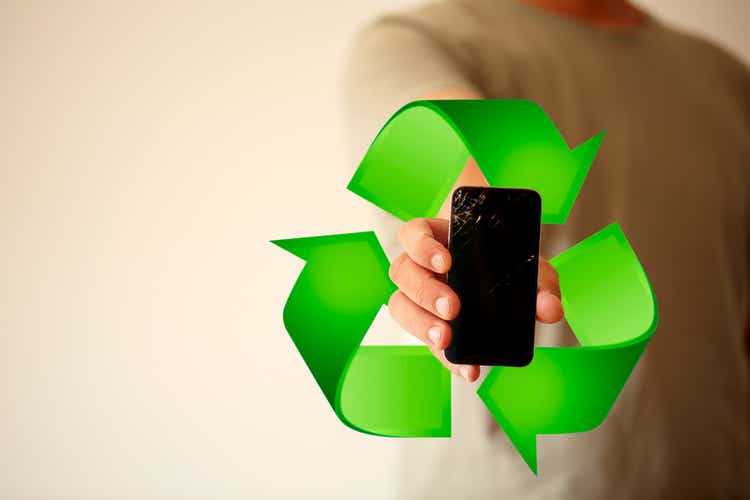 Apple Inc.'s (AAPL) iPhone and Watch updates this year come with important supply chain considerations, including the use of recycled materials, plans to shift transport modes and the use of new processors.
Recycling as part of carbon initiative
The iPhone 15 series will now include 75% to 100% recycled aluminum for cases and chassis (varying by model), 100% recycled cobalt in batteries as well as recycled copper and rare earths in its charging systems.
The Watch 9 series has similar proportions of recycled materials, and its manufacturing practice also only uses renewable electricity, allowing the product to be claimed as carbon-neutral.
Reprocessing directives in the European Union and elsewhere, as well as initiatives such as Apple's, have boosted global trade in scrapped electronics and materials including titanium and cobalt. Global trade in recycled scrap electronics climbed by 21% year over year in second quarter 2023.
Shipments of scrap materials used in the electronics industry, including molybdenum, tantalum, titanium and tungsten, climbed by 19% year over year in second quarter 2023. It should be noted, though, that global metals pricing may affect the value of trade.
Depending on the contracts Apple has signed, increased use of recycled materials may reduce the firm's exposure to variable raw materials pricing.
Cobalt prices are expected to rise by 7% by fourth quarter 2024 with cerium and lanthanum expected to rise by 52% and 9%, respectively, while neodymium and dysprosium are expected to fall.
The increased use of recycled materials also reduces the risk of exposure to resource protectionism, which includes a wide range of critical minerals including cobalt and lithium.
Shifting transport modes for smartphones
Another part of Apple's carbon-neutral strategy entails plans to use more marine rather than airfreight shipping, which reduces carbon emissions by 75%, according to the firm.
Thus far, only 2.8% of total US smartphone imports traveled by sea in second quarter 2023, though that was up from 1.1% a year earlier.
As noted in "Below average: US back-to-school sales in 2023," the proportion of US laptop computer imports by all suppliers by sea has already returned to pre-pandemic levels after supply chain disruptions of the past two years.
In second quarter 2023, 37.6% of US laptop computer imports arrived by sea, according to our data — the highest in over 10 years. That may reflect efforts to cut costs in a low-demand environment.
It does, however, reflect the off-peak season. In the third and fourth quarters of 2022, ahead of peak sales season, ocean shipments represented 16.6%.
Only 2.8% of US smartphone imports traveled by sea in second quarter 2023, though that was up from 1.1% in second quarter 2022. While the latest phones may still need to be shipped by air to meet launch dates, earlier-generation equipment could be shipped by sea.
The manufacturing of phones close to customer demand centers, also known as "in-market, for-market" or "nearshoring" strategies, can also help mitigate carbon emissions. However, there is still a need to import parts for phone manufacturing.
Apple's iPhone manufacturing also now includes India. Indian imports of telecom parts rose by 42% year over year in the three months to July 31, 2023, our data show. It is not clear yet when the iPhone 15 will start production outside the core mainland China manufacturing base.
New processor technology
The third notable supply chain facet of the iPhone 15 is the long-awaited launch of new-generation processors. Increased use of in-house processors allows tighter product integration for Apple, as well as reducing supply risks by locking in long-term capacity. That is particularly important given the seasonality of chip requirements.
Shipments of smartphones from mainland China, where most iPhones for US and European sales are sourced, typically peak in September and October each year. As of August 2023, when early shipments began, total mainland China phone exports fell by 5% year over year, according to our data.
Imports of semiconductors to mainland China, which can provide a guide to the outlook for phone and computer production, fell by 3% year over year in August after a decline of 6% in July.
Editor's Note: The summary bullets for this article were chosen by Seeking Alpha editors.