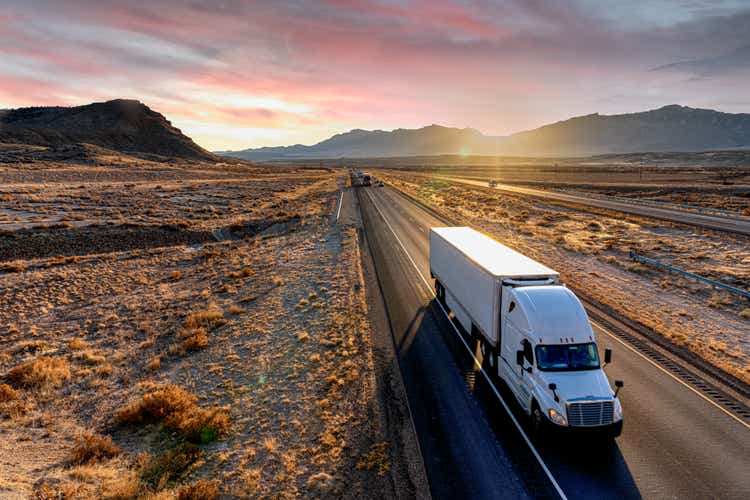 TuSimple Holdings Inc. (NASDAQ:TSP) is developing self-driving trucking technology in an effort to revolutionize the industry. The opportunity here is to address both the high cost and shortage of drivers, while also creating significant efficiencies for worldwide freight networks.
The good news here is that the "TuSimple Driver" Level 4 autonomous system has been demonstrated on the road with advancements in software and hardware technology already clearing important milestones. On the other hand, a roadmap to commercialization and widespread adoption isn't as simple as it sounds.
The reality is that the company faces several roadblocks across a complex regulatory environment where some states do not even allow for self-driving trucking testing, along with delays by trucking manufacturers to move forward with purpose-built autonomous truck designs.
Ultimately, our take is that TSP as an investment remains high risk with significant financial uncertainties. While the large balance sheet cash position provides some time flexibility to continue development, recurring losses and negative cash flows will likely keep shares under pressure.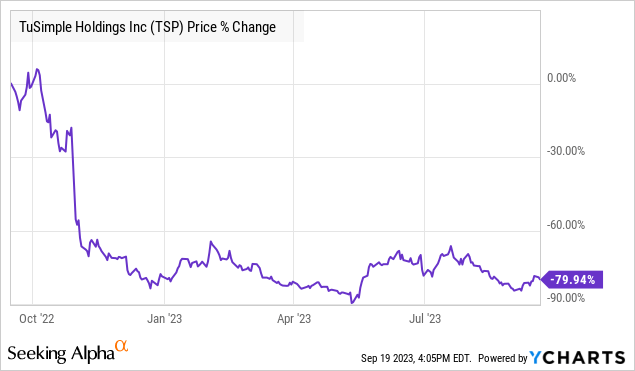 TSP Financials Recap
Shares of TSP are technically down by -7% year-to-date, although the one-year performance tells the bigger story with shares off by 80% over the period. It's been a series of setbacks in terms of timing and disappointing results, going back to the firing of the prior CEO in October 2022.
On this point, there was a question on potential violations in data sharing and technology transfer with China-based "Hydron Inc" whose CEO is also a TuSimple co-founder. An internal investigation is ongoing. While leadership changes have worked to address some of the governance questions, the episode is just one example of a pattern of corporate dysfunction, in our opinion.
Notably, TuSimple was late in filing its 2022 financial statements, receiving an extension and ultimately reporting the full-year results just this month. In terms of the headlines, TuSimple generated just $9.4 million in revenues for the year against a -$489 million operating loss.
Despite progress in its testing and development pipeline, the understanding is that a commercial launch is still a few years out.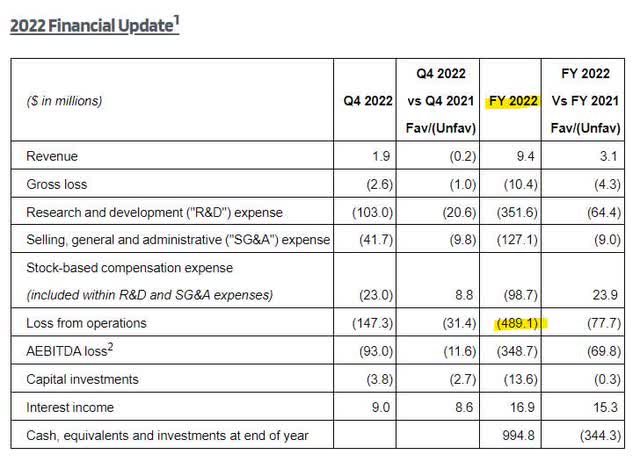 In May, an internal reorganization was announced. The company moved to reduce its headcount by 30% in an effort to cut costs. Management cited the challenging macro environment while noting industry-specific supply chain shortages as pushing back the timetable of OEM trucking manufacturers to deliver a base chassis for self-driving.
Without that platform, the plan is to retrofit existing trucks with the level 4 platform that includes specialized sensors and onboard processing as the fastest step to commercialization.
Keep in mind that freight operations in the U.S. have been paused to focus on more simulation and road testing to solve lingering technical challenges required to fully automate a freight route.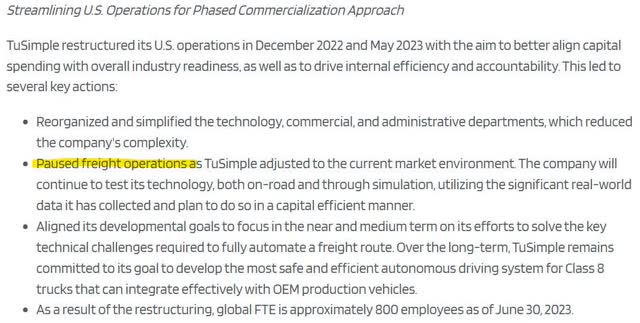 Currently, the business is separated between the U.S. and APAC operations. This is done based on several differences in these markets between use-case operations as well as the regulatory environment.
In China, the company performed the first-of-its-kind driver-out commercial vehicle operation on public roads citing more favorable legislation in the region. The company is also testing its technology in trucks on highways in Japan.
In the U.S., the company sees potential in the "Sunbelt" region and "Texas Triangle" considering jurisdictions that are currently friendly in autonomous driving. Overall, there are steps in the right direction but it's just not moving fast enough in our opinion.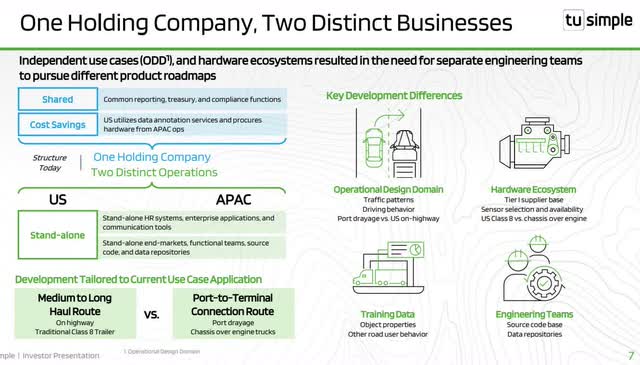 What's Next For TuSimple?
When we look at TuSimple, the company stands out for its leadership position in this segment, recognized as a pioneer in the vision of autonomous trucking. An extensive patent portfolio and record of more than 10 million cumulative miles achieved across testing, research, and trial freight delivery highlights an impressive accomplishment.
At the same time, the sense is that the path to commercialization and translating all of the "work" into a viable business model remains elusive. We mentioned the regulatory uncertainties and lingering technical challenges. Any timetable for the financials to turn around is far from certain.
The latest guidance places a plan to launch initially by 2026 between the U.S. and APAC operations. This would be with a limited number of driver-out trucks as the hardware continues to mature with further optimizations. In other words, there's not much visibility in terms of material revenues or cash flows over the next two years.
The path to reach scale with carrier-owned fleets in the thousands where the economics start reconciling is only beyond the year 2030.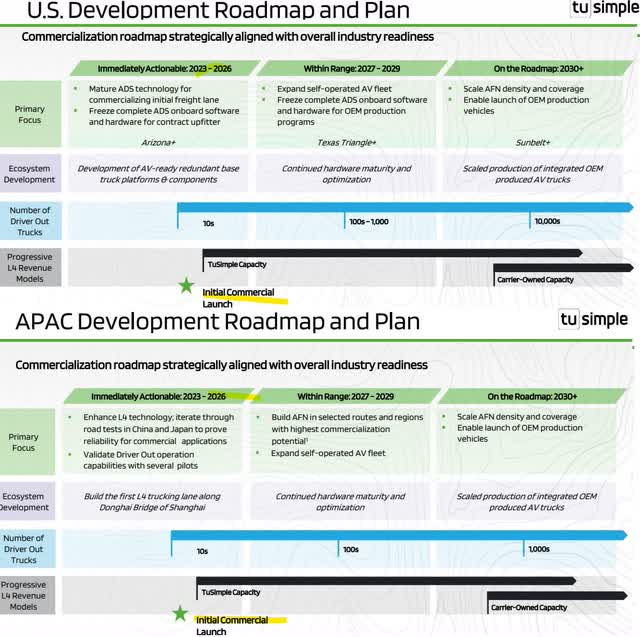 One challenge we see is that while TuSimple may have a lead in the development side right now, other players including Aurora Innovation (AUR) and even Tesla, Inc. (TSLA) are targeting the same opportunity. This isn't a case where TuSimple is cornering the market.
More importantly, the company has lost nearly $600 million in cash flow over the last two years. That's a problem when we consider that the current balance sheet position with approximately $1 billion in cash at the end of 2022 won't last forever. Even considering the steps to retrench and cut costs through the re-alignment, it is evident the final 2023 numbers will show another large cash bleed.
Even assuming that the commercial launch timetable by 2026 is on target, we see a high probability of a capital raise before then that would be dilutive to shareholders.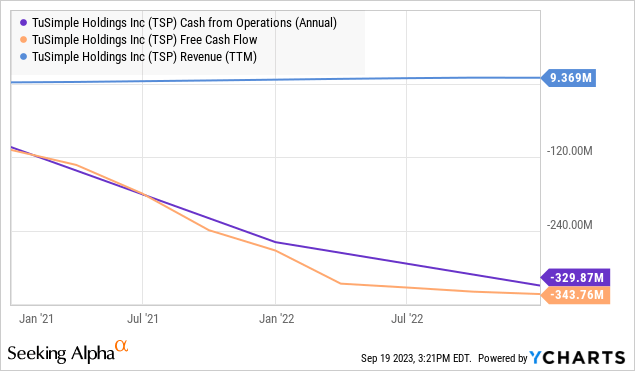 TSP Stock Price Forecast
Putting it all together, we rate TSP as a sell and see a good chance that shares are ultimately trading lower by this time next year. Beyond a major operational breakthrough or corporate action such as a merger or unexpected acquisition by a larger player, there's not much in terms of a catalyst that would sustain a rally higher, in our opinion.
With TSP trading in a range between $3.00 down to $1.00 this year, the stock is extremely volatile and high risk. That $1.00 mark is important for NASDAQ listing compliance which could come into play in the future.
To the upside, a rally above $3.00 for whatever reason would signal some newfound bullish momentum. What we'd like to see are more aggressive commercialization options in the near term as evidence of the monetization potential of the technology platform. The story looks great ten years from now, but the market needs to see something sooner rather than later.