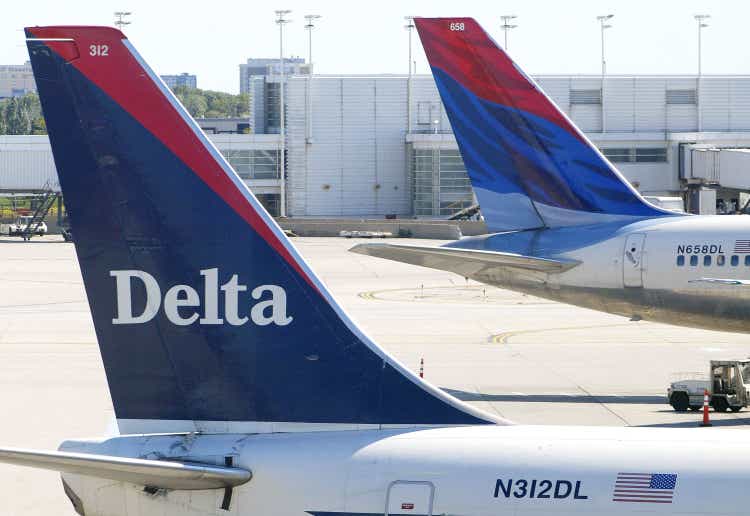 The airline sector remains the stock group that doesn't rally much on great news and falls on mildly negative updates. Delta Air Lines, Inc. (NYSE:DAL) remains the sector leader, and the stock has already fallen back to early 2023 lows below $40. My investment thesis remains ultra Bullish, as higher jet fuel won't impact the business long term and the stock is no longer priced for cash flows.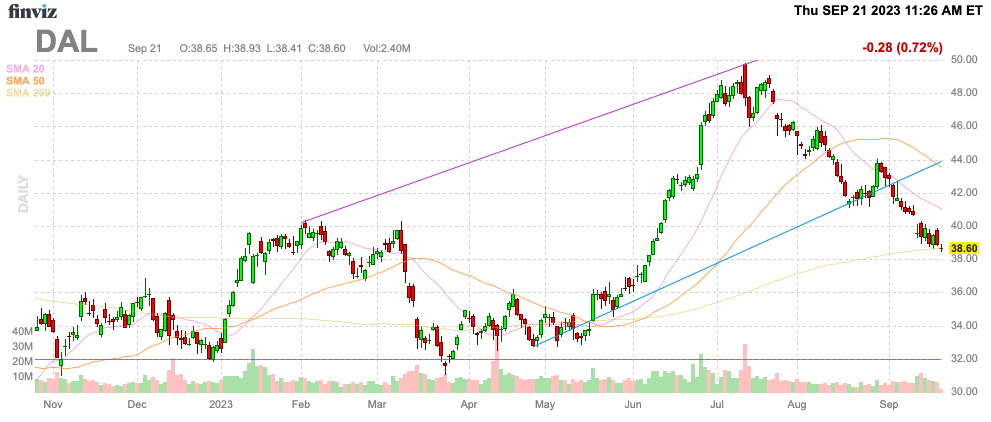 Not So Bad
Airline investors should know the sector can handle higher jet fuel prices with limited long-term impacts. In no huge surprise, Delta Air Lines warned on the Q3 numbers, but the airline didn't actually cut the full-year EPS targets.
All year, Delta has guided to a 2023 EPS with a wide range of $6 to $7 per share. A prime reason for this range is the current quarter taking a hit due to fuel costs.
The airline now forecasts at least a $0.20 boost to fuel prices per gallon. Delta Air Lines burns over 1 billion gallons per quarter leading to $200 million in additional costs.
As the management team highlighted in past investor updates, jet fuel costs impact earnings for a few months until the company is able to adjust fares to cover the higher costs. For this reason, management maintained the $6 to $7 EPS for 2023.
Some airline sector updates suggested some pressure on revenue, but Delta still forecasts total revenue close to the top end of the range at 14% with TRASM down only 2% to 3% now. Some maintenance costs will be higher, but about half of the Q3'23 EPS impact is the $200 million in additional fuel costs on 642 million shares outstanding.
Delta is forecasting an EPS close to $1.95 from a midpoint of $2.35 per share for a rather large $0.40 cut. The airline earned $2.68 per share in Q2'23 and only $0.25 in Q1. The combined EPS YTD amounts to ~$4.88 per share.
The airline is forecasting a rather robust Q4 EPS and the consensus estimates are still up at $1.34. Delta earned $1.48 last Q4 when oil prices were equally high.
No Revenge Travel Here
The biggest fear with the airlines is that a jump in airline traffic in 2023 is related to revenge travel due to Covid pent-up demand and won't repeat in the future. The data continues to show the jump in traffic this year is only bringing traffic levels back to the normal path from the 2019 levels to where demand should exist 4 years later.
Delta is forecast to produce over $57 billion worth of revenues in 2023, up from $47 billion back in 2019. Revenues are forecast to rise slightly above 20% during this period while GDP is up 25%.
The airline has shifted 50% of passengers to premium offerings offering the potential for upside to historical GDP averages with a large shift in the wallet spend of premium customers. Air travel revenue is set to return to long-term trend at 1.3% of GDP after far trailing those totals back in the Covid years.
The TSA daily report shows domestic passengers are only 101% of 2019 levels. Airline capacity still hasn't caught up with GDP growth suggesting the airlines are doing a better job of capturing the higher wallet share of premium passengers while possibly overall fares are higher due to lack of capacity growth that would normally occur over a 4-year period.
The upside potential is for revenues to exceed historical patterns and top normal GDP percentages when capacity catches up with higher demand. Either way though, all the signs aren't supportive of 2023 revenue levels being elevated due to "revenge travel." At this point, domestic passengers are only catching up to the demand increase forecasted to occur along with GDP growth during this period.
While some EPS estimates have dipped, the consensus analyst estimates still forecast for Delta to generate much higher EPS estimates for 2024 and 2025. The 2025 EPS estimate is now $8.67, or only 4.5x the stock valuation.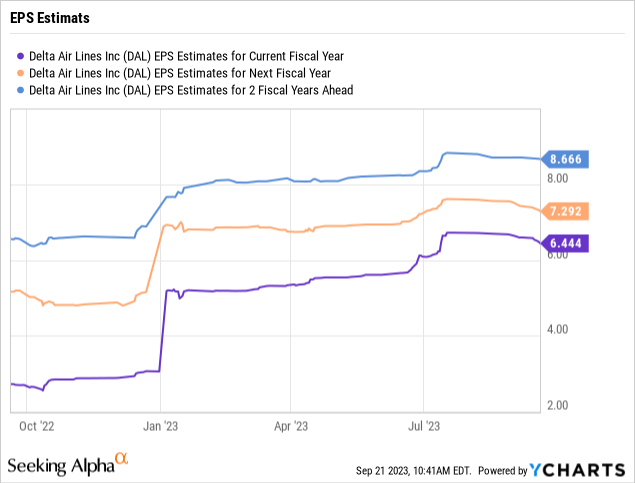 The disconnect with other industrial transport stocks remain rather incredible. United Parcel Service (UPS) is forecast to see EPS dip over 25% this year to $9.47 per share, yet the stock trades at 16.5x P/E multiple Delta would be a $100+ stock with a similar P/E multiple on 2023 earnings and the airline is actually reporting earnings growth this year.
Takeaway
The key investor takeaway is that Delta Air Lines, Inc. remains far too cheap. The airline stock has fallen due to some short-term cost pressures that won't repeat in 2024. The market constantly overlooks the long-term positives in the sector while favoring other industrial transport stocks with bigger problems.
Investors should use this weakness to load up on the stock.