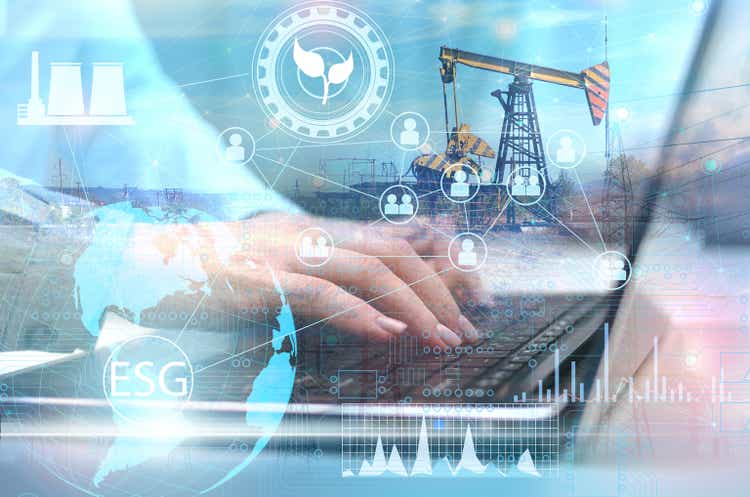 Introduction
We are now almost three-quarters into the current year, and it's fair to say that oil and gas equipment services stocks haven't had a shabby year at all, outperforming the broader market by almost 500bps. Well, our stock in focus, which is the energy services firm- TETRA Technologies, Inc. (NYSE:TTI), has been operating at a different level altogether this year, delivering over 3.6x the returns of its peers. Based on this exceptional return differential, one would think that there are some exciting developments happening in the TTI counter. Let's dive in and find out.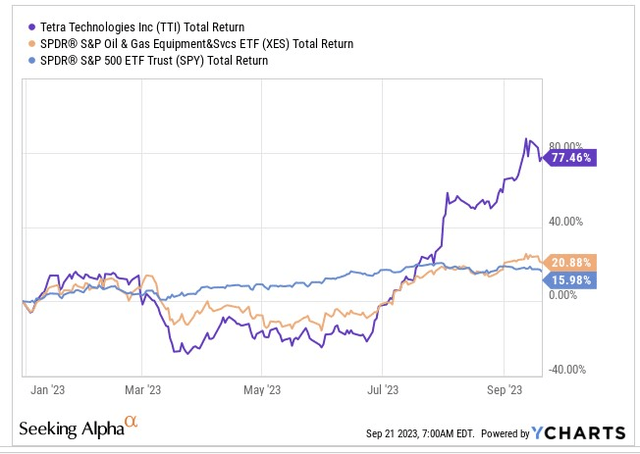 TTI- What's To Like
Firstly, before we get down to TTI per se, it's worth highlighting that even though there's been a lot of brouhaha about this shift away from fossil fuels, it is questionable if the world is ready to deal with dwindling supplies and a potential energy crisis by the end of this decade. Global E&P spending has already come down ($499bn as of 2022) a long way from the $700bn plus levels seen in 2014, and even though it did grow quite significantly on a YoY basis last year (39%), the IEF believes that annual upstream investments will still need to be ramped up to avert a crisis. Essentially, even if oil and gas demand were to slow, one would still need an aggregate spend of over $4.5 trillion until 2030.
Pronouncements such as this would be music to the ears of an integrated O&G services player such as TTI that provides a whole host of products (such as clear brine fluids, various additives, etc.) and services (such as water management solutions, or even well testing, where it is believed to maintain one of the largest fleets of production testing equipment in the domestic landscape) to the industry.
TTI currently operates two divisions: Completion Fluids & Products- CF&P which accounts for ~52% of group revenue, and Water & Flowback Services- WF&P which accounts for 48% of group revenue. Both are currently adding value to the overall story, but in different ways.
CF&P which is already well placed in the industry (the company enjoys at least 30% market share in completion fluids) is witnessing tremendous business growth (up by 31% YoY, and 42% QoQ) as offshore activities trend up. Going forward H2 is expected to be busy again as the company intends to carry out various projects in the North Sea, Brazil, and Gulf of Mexico.
The second division- WF&P may not necessarily be witnessing any revenue growth (Q2 revenues did not progress sequentially), but the margin profile is certainly being enhanced. This division was only generating a single-digit margin profile a couple of years back, but recently in Q2 it came in at 18.4% (representing a commendable 170bps YoY improvement), and hardly a breath away from management's goal of hitting levels of 18.5-20.5% by the end of this year.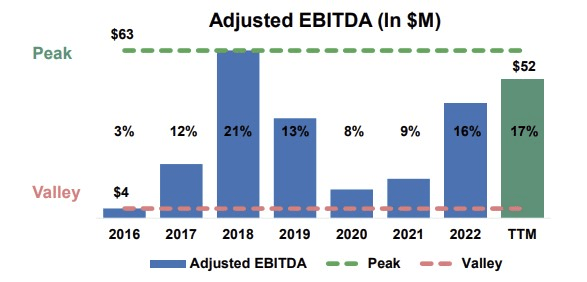 Whilst TTI has done well to digitize a large chunk of its field operations and bring through greater automation (which has helped bring down manpower by 30%), credit also needs to be given for pivoting towards more high-margin specialized services such as produced water recycling in the Permian basis. These days the division is recycling 2x the level of producer water compared to its stance two years ago.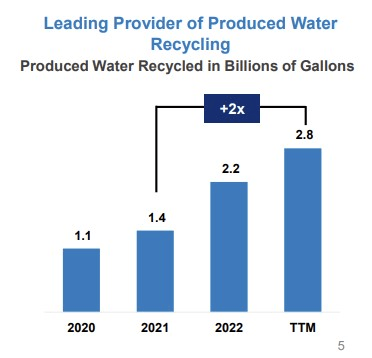 Even from a balance sheet and cash flow perspective, there's a lot to admire about TTI. During the pre-pandemic year, TTI's net leverage ratio stood at 3.2x; however, every year since, the level of gearing has come down, so much so that the current leverage ratio is now only around half of what it was back then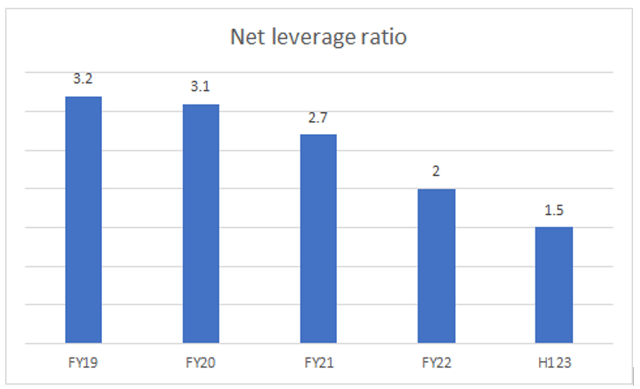 In recent periods, TTI has also been operating a tight ship when it comes to the working capital (in Q2, it proved to be a source of cash outflow by just $0.5m) and that coupled with the strong operating dynamics have helped FCF levels hit its highest point in three years.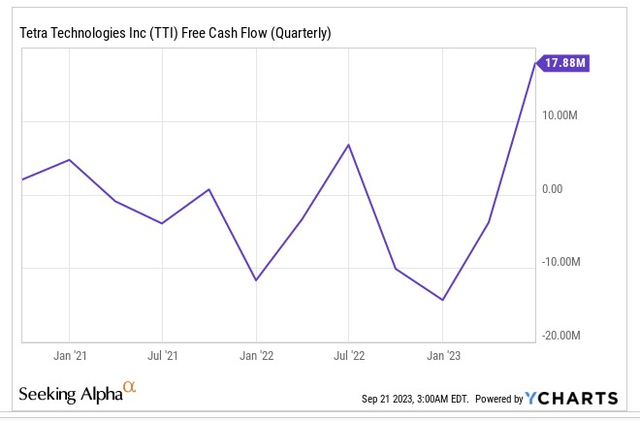 In Q3, the FCF position is likely to get another fillip to the tune of $5m as TTI will likely be reimbursed by Saltwerx for certain costs linked to a brine unit in Southwest Arkansas.
What investors also need to recognize is that TTI isn't sitting still as the rest of the world transitions to a low-carbon state. In fact this ongoing collaboration with Saltwerx to develop its brine unit (TTI owns 40000 gross acres of brine leases which could potentially be the source of 5.25m tons of bromine, and 234K tons of lithium carbonate equivalent) could potentially be a game-changer, given the integral role that bromine and lithium play in energy storage systems and batteries. Management implied that if all goes to plan, in a couple of years' time or by FY26, they could be producing their first batch of bromine and lithium.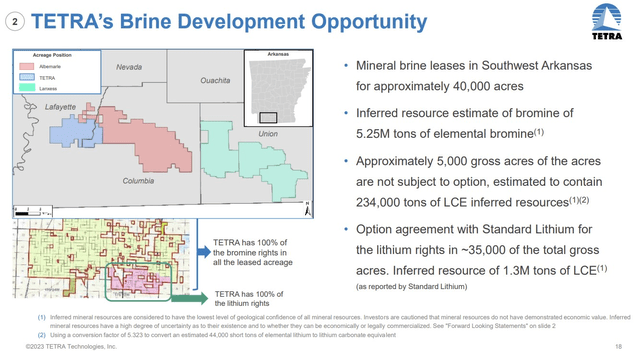 Valuation And Financial Outlook
Tetra Technologies stock no longer appears to be cheaply valued. On a forward EV/EBITDA basis, the stock is currently priced at 8.25x, which translates to a ~16% premium over its 5-year average.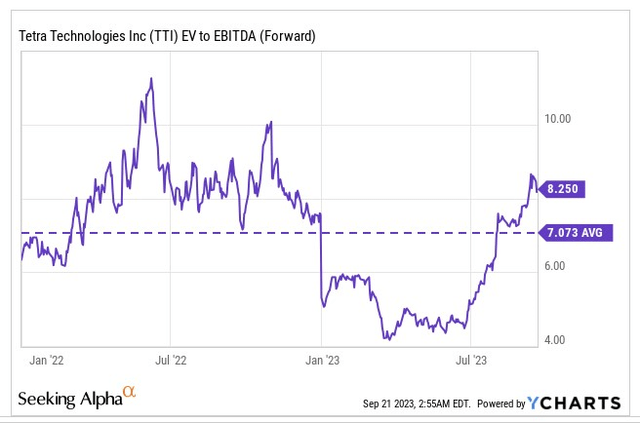 However, before you get put off by this, you should also keep an eye on the EBITDA outlook going forward. As per YCharts consensus, the company's EBITDA will likely grow at an impressive CAGR (FY22-FY24) of 30%, whilst group EBITDA margins could expand by over 400bps this year and next, relative to what was seen in FY22. The image below already provides some context on how well management has executed margin improvement over time, and this helps build some credibility for the future outlook as well.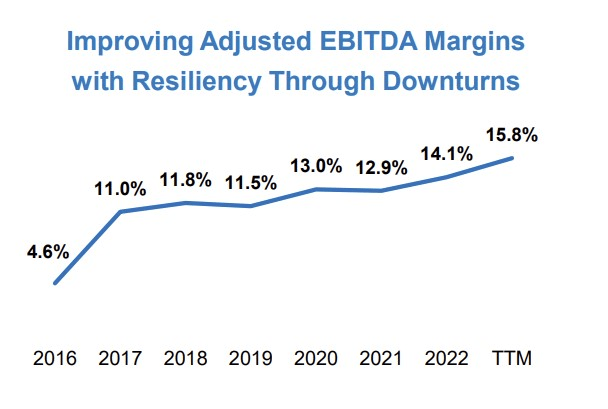 Besides, it's also worth bearing in mind that this is a business that is in the midst of transitioning from a traditional oilfield-exposed business to a low-carbon play over time. As the image below reiterates, when TTI's exposure to high-growth avenues such as energy storage, lithium, and carbon capture deepen, the market would likely be prepared to pay a higher multiple to own the more well-rounded business. Thus perhaps, it wouldn't be apt to look at TTI as a mid-single-digit EV/EBITDA entity anymore, and a re-rating of the multiple may well continue over time.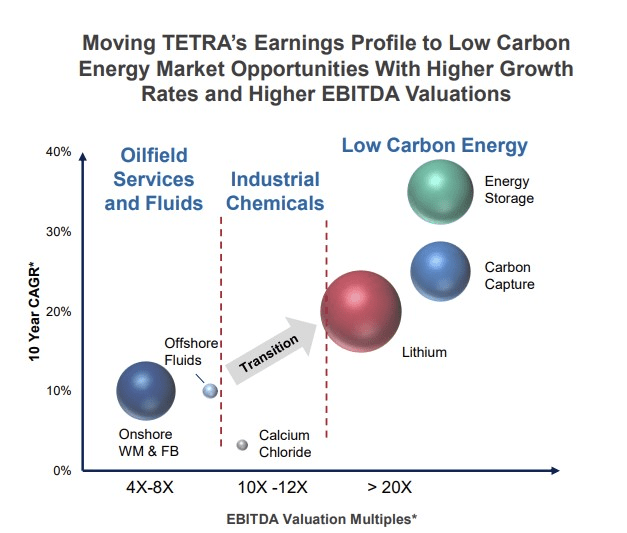 Closing Thoughts- Technical Considerations
When it comes to the charts, we are not wholly enthused by the current risk-reward on offer. The first chart below provides some context on Tetra Technologies' relative strength versus other peers from the industry.
What we can glean is that opportunists who focus on the oil and gas exploration space, may have fancied TTI as a prospective rotation candidate in 2020, or even as recently as Q1-23. However, at this point, that trade is unlikely to whet the appetite of investors who believe in mean-reversion, as the ratio has now already hit the mid-point of its long-term range.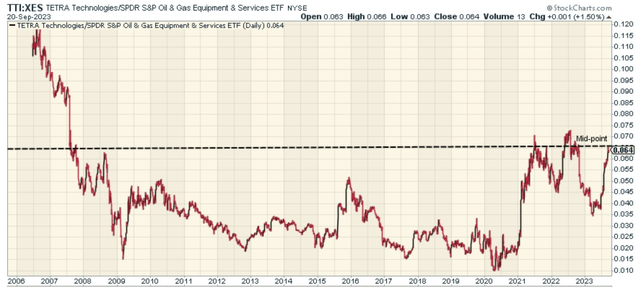 Then, if one switches over to the standalone chart of TTI which sheds some insight into the price action on the weekly timeframe, we can see that the stock's price imprints since 2016 has largely been in the shape of a descending channel pattern.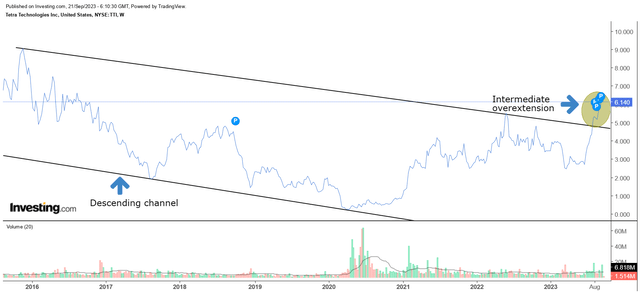 Close to two months back, we saw the stock breakout from the upper boundary of the channel, and whilst that's good news for momentum-based players, we believe it would be more prudent to wait for the price to pull back to the upper boundary of the channel and see if the stock can build a bottom at those levels. Put another way, it would be more sensible to give it some time, and see if this is a false breakout, or not. If the stock is able to pull back a little, and build a base outside the upper boundary of the channel, it would provide another leg of validation to the inherent bullish undertones that are present with TTI.