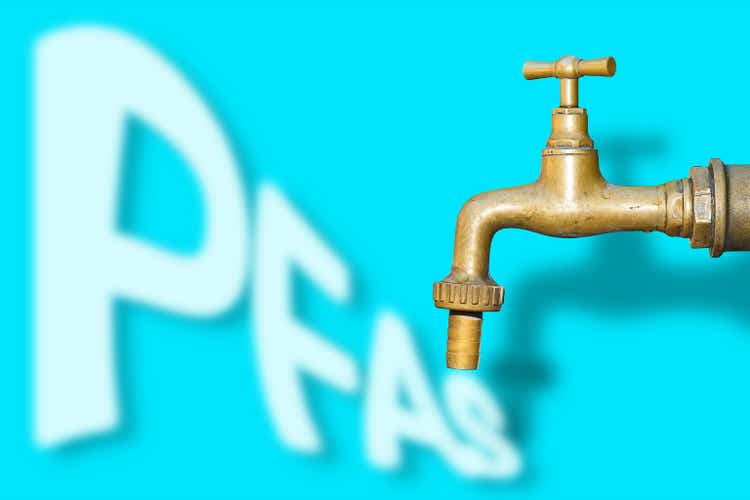 Preamble
The next time you chow down on a pizza or burger, you may want to consider the packaging in which it arrives. Specifically, consider why the paper doesn't fall to bits after being drenched in the grease that inevitably flows from a beef patty or a bunch of freshly cooked fries. I can advise you that it is not because the paper is coated with organically produced bee's wax. Instead, it is paper that has been doused in a form of per- or polyfluoroalkyl substance (PFAS). These chemicals are otherwise known as "forever chemicals," on account of the fact that they are considered, for all intents and purposes, indestructible chemicals. They are practically non-degradable and so they accumulate in humans and the environment.
It seems that there are approximately 12,000 of these PFAS chemicals, which are used in a wide variety of manufactured products; non-stick cookware, raincoats, clothing, carpets, food packaging and so on. They are used wherever there is a need to repel liquids, grease et cetera. It is interesting to note that few of them have been studied for their toxicity. However, those that have been tested do not act as a kind of vitamin, that is to say, they are invariably harmful for human health. For a distressing list of potential ailments caused by these chemicals, a summary can be found at the Agency for Toxic Substance and Disease Registry.
Once the packaging for fast food has served its purpose, it generally makes its merry way to a landfill site, a composting facility or incineration. In all cases, the PFAS remain in the environment, and, over time, much of it finds its way into the water supply. According to the Environmental Working Group PFAS are amongst the top contaminants found in tap water. Further research published in August this year has established that 45% of US tap water has one or more varieties of PFAS. Bear in mind that the USGS study tested for the presence of only 32 types of PFAS. In addition, one should also be aware that not all PFAS can be detected with the current array of tests.
You might be thinking; "OK, I'll just stick to bottled water, after all, it's, uhhh, bottled, so it must be filtered in some way." Think again. A study of PFAS in bottled water, produced by Johns Hopkins University researchers made the headlines in 2021. It would appear that 39 out of 100 plastic-bottled water contained PFAS, and some that the researchers considered "concerning,"
Needless to say, PFAS are not the only contaminants to be found in the nation's drinking water. A visit to EWG's website will reveal a host of industrial chemicals present in tap water. One of which is the well-known Glyphosate, a chemical I have previously discussed in connection with certain bowel disorders. There is also to be found the well-known Bisphenol A (Also detectable in plastic bottles).
It's fair to say that the problem of contaminants in water is not going away any time soon. Therefore, an investment in a company that has the technology to remove toxic chemicals from our drinking water on an industrial scale may well prove to be an excellent investment. One such company is Veolia (OTCPK:VEOEY).
The company
Veolia is a French multinational company that provides water, waste, and energy management services. In fact, it is the world's largest water and waste management company, and the third-largest energy services company. Veolia operates in over 50 countries, with over 220,000 employees.
The focus of this article is solely on the treatment of drinking water segment of their business. The figures for this segment are indeed impressive; 4,130 drinking water production plants managed, including New York.
In March of this year, the US government proposed a national standard to protect the general public from forever chemicals in drinking water. Although some local governments have been ahead of the curve and have already set standards for drinking water, which includes removing PFAS; New York for example. In late August 2020, the State of New York set a new standard of 10 ppt for PFAS in drinking water. Given that Veolia already manages many of New York's drinking water facilities, Veolia began investigating and designing treatment solutions in 2019. And indeed, "Veolia is taking the steps necessary to meet New York State's requirements regarding PFAS." As of today, the water system in NY has been given an extension of time to comply with the state's requirements for PFAS. This deferral is probably due to the fact that it takes time and money to implement the required changes to the water system. This deferral gives Veolia time to complete these changes without having to shut down the water system or impose significant restrictions on its customers.
Technology
Veolia has the technology to remove forever chemicals from drinking water. The company offers a range of PFAS removal systems, including:
Granular activated carbon: This is a type of activated carbon that is specifically designed to remove PFAS from water.
Ion exchange: Ion exchange is a process that uses resins to remove PFAS from water.
Reverse osmosis: This is a process that uses a semipermeable membrane to remove PFAS from water.
In addition, Veolia is also investing in new technologies to remove PFAS from drinking water. For example, Veolia is investing in a new technology called electrochemical oxidation.
Financials
Veolia had a pretty decent first half, as the H1 Financial Report released in August 2023 shows.
To focus on the municipal water segment of the business, which accounts for approximately 40% of the company's business. There was a rise of 8.4% in revenue in the first half of 2023, compared to the same period in 2022. Much of this growth was due to investments in water infrastructure. I would argue that the revenue for this segment will increase as a result of the new impetus to clean a host of contaminants from the drinking water supply.
Overall, the company's total revenue growth over the period was a decent 14.2%; to €22.7 bn ($24.3 bn). This growth was not just driven by the water segment, but all three of the company's businesses
Veolia's EBITDA grew by an encouraging 8.2% in H1 2023, to €3.2 bn ($3.4 bn). Again, this growth was as a result of improvements in all three of the company's businesses.
Even better, current net income soared to €662M, which represented an increase of +18.7%. This increase will certainly support dividend payouts going forward. In fact, the company has increased dividend by 21.74% over the last 5 years. In 2018 the net dividend was 0.92 Euro, in 2022, it was 1.12 Euro. The dividend payout ratio is a bit high at 71%, however, given the healthy cash flows and an enviable track record of profitability, there is no reason to suppose that there won't be a further increase in 2023. Also, according to the company, " dividend to grow in line with current EPS". Since EPS grew by 18.7% from €0.55 in H1 2022 to €0.66 in H1 2023, one can be fairly confident of a boost to the dividend.
Veolia has achieved €230 million ($244 mn) in synergies from the merger with Suez, against a target of €280 million ($297 mn) by the end of 2023. This progress is a clear sign that the merger is on track to deliver the expected benefits.
The company is in a strong financial position, with net debt of €19.2 billion ($20.5 bn) and a net debt-to-EBITDA ratio of a reasonable 3.1x. This gives the company the flexibility to invest in developing new and existing technologies and pursue new opportunities globally.
Market size
I am indebted to Xylem for the graphic below, which illustrates those states with existing or pending PFAS regulation. Naturally, as a result of the previously mentioned Whitehouse Directive, the list of states implementing PFAS regulations is expected to grow.
America is not alone in recognising the dangers of PFAS in drinking water. A recent report highlighted the disturbing levels of PFAS in the teenagers of Europe. Another newspaper article describes "nearly 1000" contaminated sites in France. Given that Veolia is headquartered in France, the company is firmly established in Europe and is ideally suited to meet the needs of the countries therein.
Valuation
Veolia is currently trading at a price-to-earnings ratio (P/E) of 28.61. This is well above the average P/E of 16.72 for the water utilities sector. However, I believe that Veolia's valuation is attractive, given its strong growth prospects and its leadership position in the PFAS removal market.
Risks
In terms of "moat", there are other companies that can provide similar solutions to the PFAS problem; Xylem Inc for instance. Although, it has to be said that the breadth of product offering, strong financial condition, scale of engineering experience and geographical reach bodes well for Veolia.
Other potential risks are, in my view, limited to issues that can arise with most companies; financial difficulties in raising money for upgrades, management failings or revolutionary new technologies.
Summary
The presence of PFAS in drinking water is becoming a global problem given the extensive range of illnesses these forever chemicals can cause. Therefore, Veolia is ideally positioned to gain revenues from the race to remove them from drinking water.
In addition, Veolia's results were resilient to the challenging macro environment in H1 2023. This shows that the company's business model is robust and that it is able to generate growth even in difficult times. To quote the company; "85% macro immune, fully protected against inflation."
Note
I have a long position in Veolia, and so, as always, the above does not constitute advice and investors ought to carry out their own due diligence.
Editor's Note: This article discusses one or more securities that do not trade on a major U.S. exchange. Please be aware of the risks associated with these stocks.