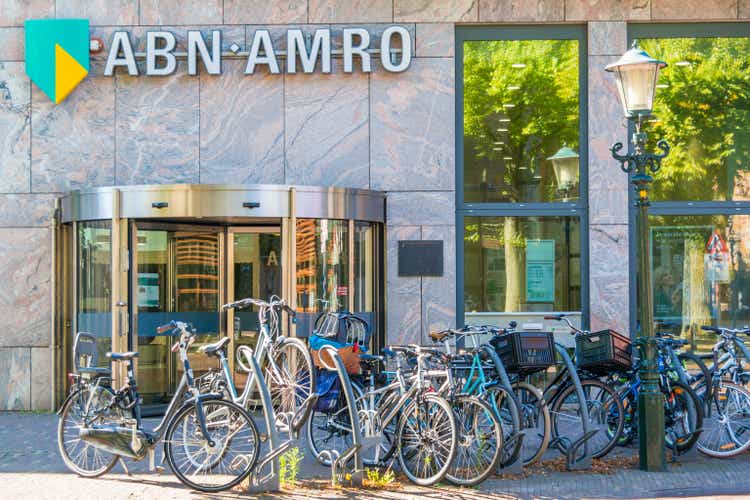 ABN AMRO (OTCPK:AAVMY) is a major Dutch bank. Like its Dutch counterparts, the story for ABN AMRO is that the lending portfolio still drives results. Profits were strong as reserves were released around COVID-10 and other economic overhang, and in the underlying business there was also strength owed to a low deposit beta from what seems to be relatively inert depositors. The bank stresses that there are competitive risks around the rates, and we still worry about the European economic situation, especially Holland, which is quite integrated with Germany. The market seems to agree, because ABN AMRO is pretty discounted. Probably a hold.
Q2 Comments
Most of the profit deltas are coming out of changes in reserve policies. COVID-19 releases have meant net positive effects coming out of the reserve policies, and profits are up.
Organically, there is stability in the deposits and in the loan stable. Fee income is also resilient and remains largely flat. There was some pressure in the WM business as equity markets had been suffering up to this point but there was pickup instead in clearance.
Overall, the picture is stability. Other geographies had been performing better, but considering large exposures through export to Germany, and recessionary forces mounting in local Dutch consumption markets, things look good in light of that. Housing prices have fallen in Holland by about 6%, so performance, including reserve performance, is pretty good considering all that.
As mentioned, ABN AMRO is largely exposed to NIIs, less so fee income. What matters then is deposit beta, which is low at 20%. This means some latent earnings growth for the company. There is the normal duration gap, so resilient NIMs for now means higher NIMs later if the assets rollover in time at higher rates before rates possibly come down by the ECB. Also there are some negative derivative effects which will pass as rates stabilise.
The low deposit beta at 20%, which is the ratio at which benchmark rate hikes are actually passed onto depositors, comes from the fact that deposit beta compared to savings deposits is 35%, also quite low, and that there hasn't been too much migration from zero-interest accounts to the savings products.
Bottom Line
This does lead management to comment quite a lot on competitive conditions. While there is some latent earnings growth, switching isn't happening yet, and neither are wars on offering better deposit rates. This could broadside the NII situation a little bit.
Markets obviously have concerns around ABN AMRO. They doubt the dividend, which is currently forward yielding at almost 10%, and the PEs are low, lower than other Dutch competitors like ING (ING). 6.8x vs around 5.5x on AMRO. The reason is that ABN AMRO is a lot more geographically concentrated on Holland. ING has businesses in other geographies in Europe that are faring better, meaning less reserve risks and less underlying risks to the growth in assets.
While there is definitely some promise of earnings yield here, banks ultimately hold the bag when there are economic issues, and we think the already peeking ones could get worse as inflation's last leg may prove very stubborn. While further rates hikes technically helps ABN AMRO, it's only to a point. We are likely at that point already. It is best for these banks to see rates stay still here but for longer.
Editor's Note: This article discusses one or more securities that do not trade on a major U.S. exchange. Please be aware of the risks associated with these stocks.