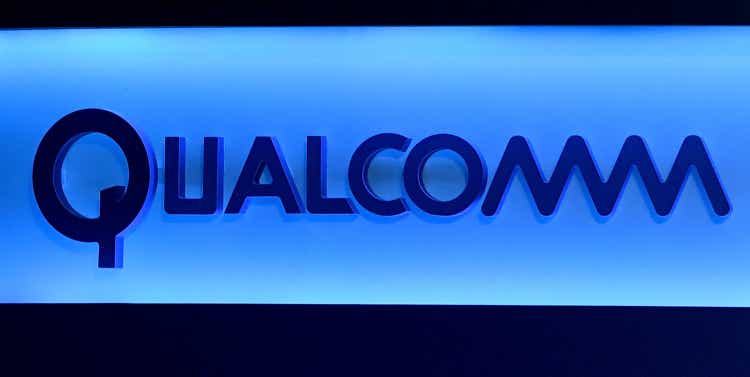 Investment Thesis
With the continuing negative sentiment surrounding Qualcomm (NASDAQ:QCOM), I wanted to take a look at what investors are fearing the most about the company's outlook and how I think that the company will be able to survive the short-term noise and will reward patient shareholders in the long run. I covered QCOM previously in early July.
Apple Contract
A big reason for underperformance is that Apple (AAPL) is a big customer of QCOM, relying on the company's 5G Modem RF chips for their phones. Just a couple of months back, everyone thought that Apple would soon be able to produce its chips for their phones and would drop QCOM altogether. Now that fear has been gone for at least 3 years as the company has extended its contract with QCOM to keep supplying the product. I know 3 years is not that much time, but the revenues are going to be sustained for now. What could happen in the next 3 years is Apple will start to make their chips sure, but by that time I also expect QCOM to not be dependent on Apple revenue as the company expects to reduce its reliance on AAPL to low-single digits.
What can also happen in those three years is that they keep extending the contract further as the company continues to struggle with the manufacturing of high-quality RF chips that would compare to QCOM. An article recently published says that Apple is three years behind QCOM's best chip, which coincidentally coincides with the extended contract. AAPL's tested chips were too big and were prone to overheating because everyone on the engineering team was not working like an actual team and there were too many obstacles that made it impossible to produce a decent chip.
Sure, the company is supposedly going to have a chip that is as good as QCOM's best TODAY. QCOM is not going to sit around for 3 years and do nothing in that time. The company will be looking to further diversify its business, which means less reliance on AAPL, and most likely their chips are going to continue to be top quality, while newcomers like Apple in the RF chip business may continue to lag in terms of quality.
Made in China 2025 Campaign
Another big worry that keeps the company relatively cheap and unloved by investors is the fear that China is going to become self-sustained by 2025 in terms of semiconductor production. The government is plowing billions of dollars into this cause. China is the largest revenue generator for QCOM, so I get that it is scary that Chinese companies will switch away from QCOM's products for something home-grown. China is throwing a lot of subsidies to its local companies and this campaign is no different. Subsidies help local businesses to develop new products that will benefit the overall campaign goal. Companies get tax breaks and that is not a new thing as many countries are doing it, especially when it comes to EVs and China is the largest producer of EVs in the world.
Why am I bringing up EVs here? Well, the EV industry is thriving in China due to the subsidies the government is providing, or should I say has provided in the past. Now, with the reduced subsidies in place, many EV car-sharing companies in China have gone out of business. Many companies decided to enter the EV market and produce low-quality EVs for the tax breaks, sell the EVs to car-sharing companies, and repeat the process because it was profitable. When subsidies started to dry out, many of these companies got squeezed and went out of business, and now all of a sudden there are EV graveyards all around China, reminiscent of the boom-bust of the bike-sharing scheme a few years back.
The point I'm making here is this. The government will throw money at the semiconductor companies to develop new chips so they will rely less on the bigger players like Taiwan Semiconductor (TSM) or QCOM, but that doesn't mean the quality will be as good as the players who already have decades of experience and are well ahead of the competition. Companies will be incentivized to come out with chips that are of lower quality just to get the tax breaks and we will see another graveyard starting in the near future if the campaign is unsuccessful.
The plan that was introduced in 2015, targeted 70% semiconductor self-sufficiency by 2025, however, even in 2020, the country took in over 80% of its chip needs from abroad, which tells me that the campaign is not going according to plan. Even with such efforts from the country that wants to strengthen its presence and be less reliant on companies from abroad, one analyst believes that the efforts will yield lower-than-expected results, meaning by the end of the decade, China will be able to supply 35% of its domestic demand of semis.
In summary, I believe that the contract with AAPL is providing the company with time to continue its plan to be less reliant on Apple for revenue, which I think is going to work out in the end and the company will not have that hovering over its head. China, although a serious problem, is going slightly slow on its plan of becoming self-sufficient and I believe QCOM will continue to enjoy high revenues going forward.
Risks
While we're on the topic of China, one big risk that prevents people from investing in QCOM is the geopolitical risks between the US and China. This one bears the biggest question mark of all the risks. We don't know how further actions of the two countries will affect QCOM in the long run. One way it is affected is by associating with Apple as it was announced recently that iPhones are banned in government agencies and other state-owned entities.
China's campaign is successful at meeting its tight deadline and the country becomes self-sufficient, which means QCOM's revenues plummet, and so does the whole company. This one is less likely to happen any time soon in my opinion, but if the company isn't able to further diversify its revenue streams away from China, this will impact the company's top line severely.
The next worry of mine is more short-term noise. The volatile macroeconomic situation, coupled with the negative sentiment in the semiconductor industry lasts longer, which in turn will bring more volatility to the stock markets and bring down QCOM and many other companies, which I think will only present an even better entry point than right now.
Not many risks, however, they are quite big risks. In the long run, I believe the company is going to persevere and reward its current shareholders once the dust has settled.
Briefly on the latest financials and quarter results
As of Q3 '23, the company had $8.5B in liquidity against $14B in long-term debt. I don't think debt is an issue for the company as long as it can cover annual interest expenses comfortably, and QCOM is in that position. Operating income stood at $6.3B as of Q3, while interest expense was $521m. That means the interest coverage ratio is around 12x. For reference, many analysts consider 2x to be healthy, while I consider 5x to be the minimum as I like to be more stringent.
The current ratio stood at around 2.4, which is also very good. A little too good in my opinion, which makes it slightly inefficient in my view. I would like to see the company achieving 1.5-2.0 as I believe this range is more efficient. This range strikes a good balance between being able to pay off short-term obligations and using the company's assets like cash for further growth of the company. It is safe to say the company is at no risk of insolvency and has no liquidity issues.
Profitability and efficiency metrics are all still very good, which tells me the company has a strong competitive advantage and a moat, and the management is utilizing the company's assets and shareholder equity efficiently.

Quarterly results are too short-sighted in my opinion. The company saw a 22% decline in revenues, which was not a surprise in the slightest. Many semiconductor companies have been guiding poor numbers for the rest of the year and early next year, due to the negative sentiment in the semiconductor market. I'm more interested in the future of the sector, which is expected to see 16.3% growth in '24.
Valuation
I've updated my valuation slightly with more updated financials and with the stock price coming down since my last article a couple of months back, I am upgrading my rating to Strong Buy and putting a fair price of QCOM at $130 a share, implying that the company is trading at a 20% discount to its fair value.
Closing Comments
I believe the company is a strong buy and if it drops further in the short-run, it would be great to average down, as I believe the company is going to survive these short-term obstacles and will successfully diversify its business that will be less reliant on AAPL and hopefully China. The China part will be much harder to achieve, however, it will be just as hard for China to be self-reliant and both parties will need each other for the foreseeable future.
I'm confident that the company will get past the short-term negative noise and will reward the patient shareholders many years from now. I am curious to see where the company is going to be in 3-5 years from now, but I have a good feeling it will not be at such lows as we are seeing right now, which is close to its 52-week low once again.
Once the negativity leaves the semiconductor industry sometime in '24, I would expect many similar companies to start appreciating as demand for new products resumes.