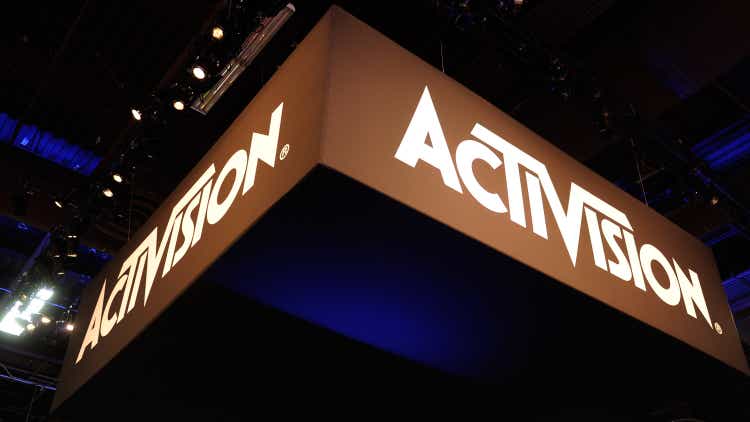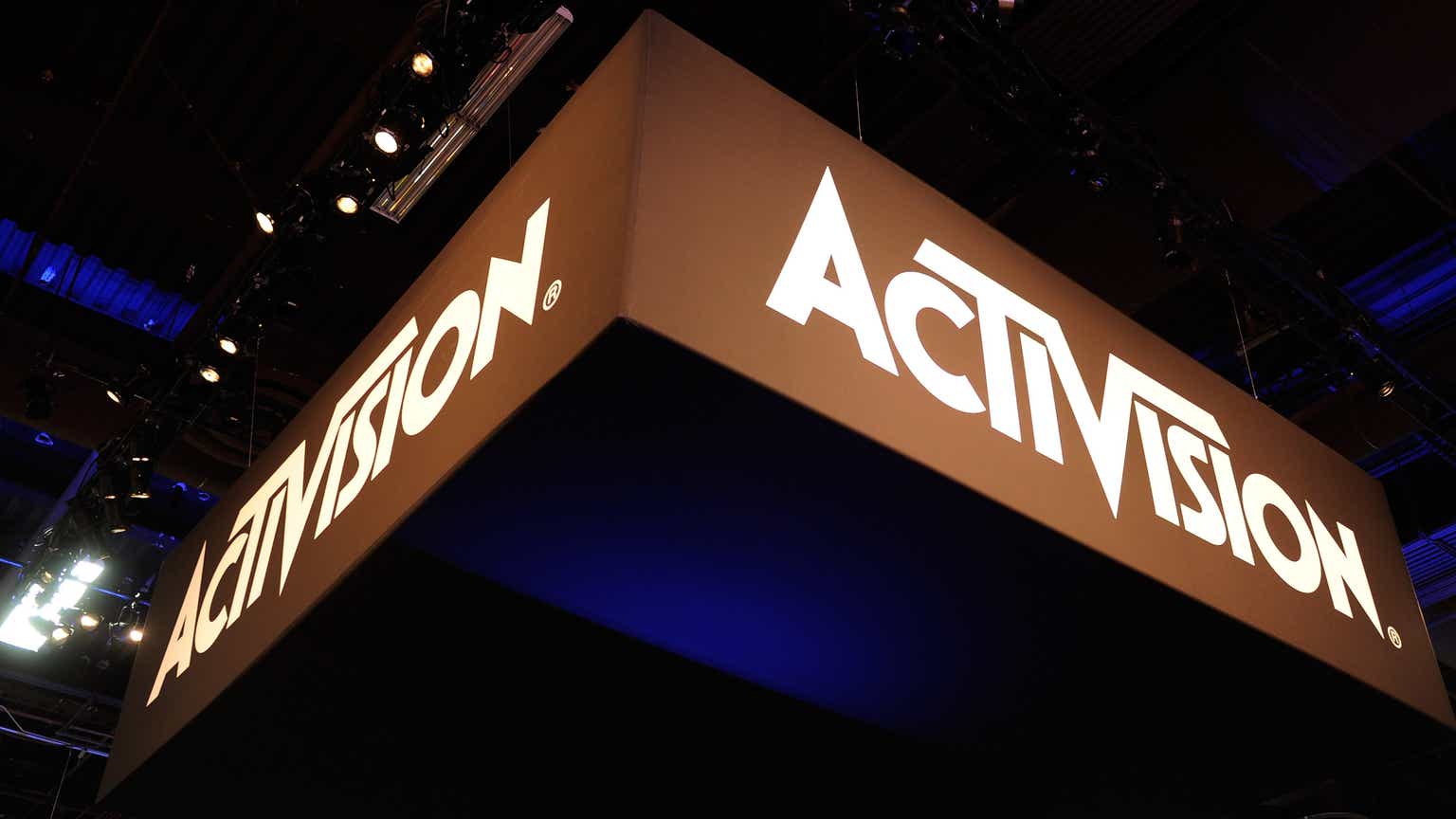 It has been a wild ride for software giant Microsoft (NASDAQ:MSFT) and video game behemoth Activision Blizzard (NASDAQ:ATVI). But it looks as though that ride is quickly coming to a conclusion. Shares of the latter rose up by around 2% on September 22 after news broke that the Competition and Markets Authority (or CMA for short) has preliminarily approved the acquisition of Activision Blizzard by Microsoft in a deal that's valued at approximately $75 billion. In what follows, I would describe the recent events and disclose why it might not make sense to own shares of the video game publisher from this point on.
A major, and maybe final, development
For nearly two years now, shareholders of both Activision Blizzard and Microsoft have been on a journey of sorts together. That is because, in January of 2022, Microsoft announced that it was buying the video game publisher in a deal valuing it at roughly $75 billion. After stripping out net cash, the effective purchase price was a bit lower at $68.7 billion. As can be expected of any major deal like this, regulators immediately took note. And because both companies are global enterprises, they must deal with regulators in most or all of the regions in which they operate. This is no easy task and, in theory, a failure to appease parties in any single region could result in the deal falling apart or having to be modified significantly.
I will spare you all of the many different steps that occurred along the way. In fact, I did write two different articles earlier this year that discussed what, at the time, were recent updates. I would encourage you to read them here and here. Heading into the present day, there were still two regulatory agencies that pushed back significantly on any sort of transaction coming to fruition. After Japan gave its blessing in March of this year, that only left the US FTC and Britain's CMA. After suffering multiple court defeats between June and July, the FTC finally threw in the towel on July 20, resulting in the CMA remaining as the only regulatory agency with significant reservations about the transaction.
Perhaps surprisingly to some, the resistance by the CMA did not center around any of the major operations of the two companies. Rather, it was out of concern for the nascent cloud gaming market. At the time, the CMA estimated that Microsoft already had a 60% to 70% share of that market in the UK. And by acquiring a major video game publisher that produced high-end games, the fear was that either Microsoft would be able to deny other gaming platforms access to its games and/or it would require those gaming platforms to charge incredibly high fees in order to achieve access. Microsoft offered up proposals in response to this aimed at addressing these concerns, but they were considered too limited in scope by the agency. And for a market that was expected to grow to $1.25 billion (for the UK only) by 2026, that could prove an issue.
At the end of the day, it was decided that Activision Blizzard would sell its non-European streaming rights to Ubisoft Entertainment (OTCPK:UBSFY) (OTCPK:UBSFF) for an undisclosed sum. As part of the deal, Ubisoft we'll have streaming rights not only for existing PC and console games, but also for any new games released by the video game publisher for the next 15 years. Earlier in the year, there were concerns that any significant change in the transaction terms might result in the European Commission reopening its review of the deal that was previously approved. But that ended up not coming to pass.
Finally, on September 22, the CMA issued a press release in which it stated that the new deal, as structured, 'addresses previous' concerns that the agency had about the transaction. In particular, the CMA was pleased by the fact that, as opposed to the prior offers that were rejected by it that were made by Microsoft, the current arrangement will allow Ubisoft to offer Activision Blizzard's games both directly to consumers and to all cloud gaming service providers, including in various formats, without pushback from Microsoft. And the deal also forces Microsoft to 'port' games made by the video game publisher to operating systems outside of just Windows, while also supporting game emulators as requested.
This does not mean that the deal will definitely go through, but it very likely will. I say this because, according to the press release issued by the CMA, it still has some concerns regarding certain provisions in the sale of the cloud streaming rights. These concerns largely revolve around how the streaming rights arrangement with Ubisoft could be theoretically 'circumvented, terminated, or not enforced'. However, Microsoft has offered remedies aimed at addressing these issues and Sarah Cardell, the CEO of the CMA, stated that Microsoft has now taken 'the necessary steps to address' the agency's 'original concerns'.
Given how much time has passed, it would be understandable for some investors to wonder if it would have made more sense for Microsoft to not allow enough changes to be made in order for the deal to go through. After all, the video game space has not faced a very pleasant time over the past year or so. In 2022, for instance, global gaming revenue fell by roughly 5%. This year, the space is expected to grow by about 2.6%. But that is being driven largely by a 7.4% rise in console sales, which is something that Microsoft benefits directly from, but that does nothing for Activision Blizzard.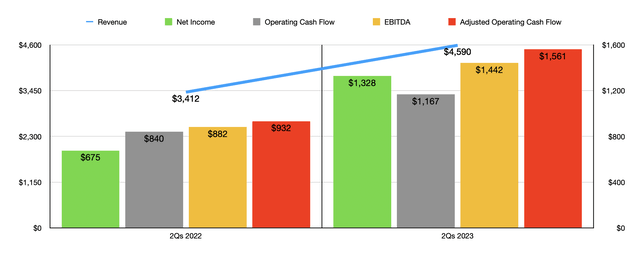 The good news for those who are fans of this transaction is that, despite some weakness in the video game market, Activision Blizzard has seen some really attractive results so far in 2023. Revenue in the first half of the year, for instance, came in at $4.59 billion. That's a 34.5% surge over the $3.41 billion reported one year earlier. The biggest chunk of this increase came not from mobile as some might expect. Rather, it came from a $543 million increase, translating to a year-over-year rise of 75.8%, in revenue associated with PCs. Higher sales from Call of Duty: Modern Warfare II compared to the weaker performance of Call of Duty: Vanguard the year prior, as well as from both Overwatch and Diablo IV, helped the company tremendously. In addition, revenue increased year over year when it came to World of Warcraft.
As expected, almost all of the company's revenue growth so far this year has come from digital online channels, which consists of digitally distributed downloadable content, microtransactions, subscriptions, licensing royalties, and other factors. This, to me, should not be a surprise. Long gone are the days where the company benefits significantly from retail channels and other lines of business, such as its gaming leagues, are still only a small piece of the overall pie.
The growth in revenue also brought with it higher profits. For instance, net income has nearly doubled from $675 million to $1.33 billion. Operating cash flow grew from $840 million to $1.17 billion, while the adjusted figure for this expanded from $932 million to $1.56 billion. Lastly, EBITDA for Activision Blizzard also grew year over year, climbing from $882 million to $1.44 billion. And to assure you that the performance was not due to a one quarter spike, in the chart below I also provided financial results for each of the two quarters of this year set beside one another and compared to the same two quarters last year.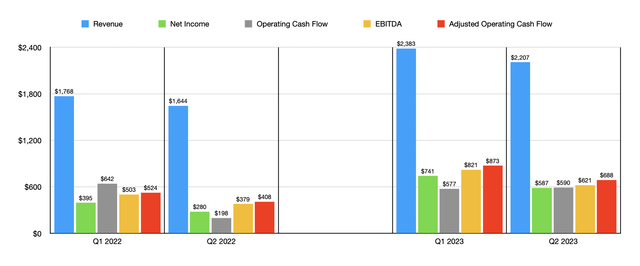 Takeaway
Based on the data provided, it seems highly likely that the acquisition of Activision Blizzard by Microsoft will be completed. In fact, I would put the probability at over 98%. The CMA has opened a consultation, until October 6, in order to address Microsoft's proposed remedies that still remain. But assuming that goes well, the transaction will be completed. Now, this does not necessarily mean that investors should buy into Activision Blizzard at this time. Because while the deal almost certainly will be completed, the spread between the current price that shares are trading at and the $95 that they are being acquired for by Microsoft is only about 1.1%. I would make the case that, between now and the time the deal closes, there are certainly better opportunities that can be captured that can generate more appealing upside than that.
Editor's Note: This article discusses one or more securities that do not trade on a major U.S. exchange. Please be aware of the risks associated with these stocks.