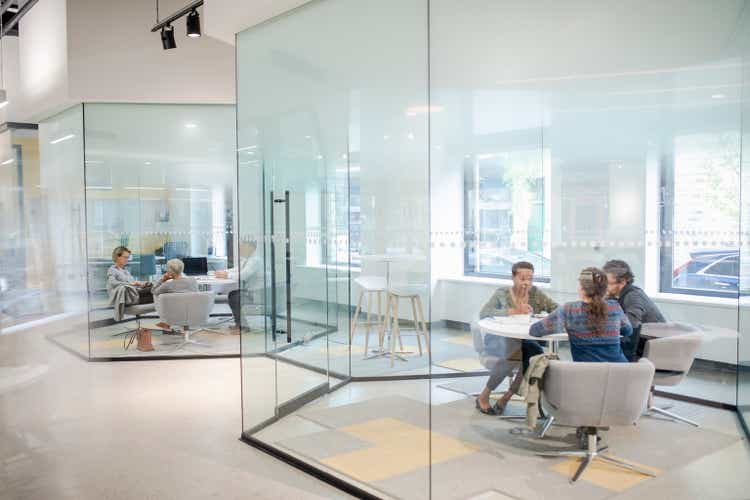 Sometimes, the market can move in very interesting ways. This is true not only for the market more generally, but also for individual stocks. Earlier this year, there was a banking crisis that caused most financial institutions to take a beating. While a number of the banks that were affected but ultimately survived managed to post a sizable partial recovery and share price, few have rebounded as well as OFG Bancorp (NYSE:OFG) has done. Normally, this would signal a high-quality prospect with excellent long run potential. But to be perfectly honest, I am perplexed as to why OFG Bancorp has recovered like it has. In some respects, the stock is a bit pricey. In addition to this, while the value of its loan portfolio continues to grow, and debt is low, deposits continue to drop and uninsured deposit exposure is only growing. Given these factors, I believe that a 'hold' rating is appropriate for the bank at this time.
Not a great play
For those not familiar with OFG Bancorp, the company operates as a financial holding firm that was founded in Puerto Rico and that dates back to 1964. At the end of last year, the bank had 41 different branches spread throughout Puerto Rico, as well as two additional branches in the US Virgin Islands. Through these locations, the company provides services that fall under three different segments. The first of these is the Banking segment, which provides traditional banking products such as commercial loans, consumer loans, mortgages, deposit services, and more. Its activities also extend to things like loan underwriting, securitization activities, and more.
Outside of this, we have two other segments. The first of these is the Wealth Management segment, with activities ranging from the administration and servicing of retirement plans, investment advisory services centered around things like fixed income securities, mutual funds, and more, and both insurance and reinsurance activities. The third segment, meanwhile, is the Treasury segment. And that's mostly focused on the company's treasury related functions like the management of its own investment portfolio of mortgage-backed securities and similar offerings.
Over the past three years, OFG Bancorp has done a great job growing both its top and bottom lines. Net interest income expanded from $315.8 million in 2020 to $458 million last year. That growth has continued into the first half of this year, with net interest income of $251.1 million beating out the $212 million reported one year earlier. Non-interest income has also grown, inching up from $124.4 million to $131.7 million. It is, admittedly, a bit lower so far this year. But at $59 million compared to $67.8 million the same time of 2022, I wouldn't call the decline all that significant. The growth in both net interest income and non-interest income has allowed the financial institutions net profits to grow as well. Net income has jumped from $67.8 million in 2020 to $166.2 million last year. This year, net income has so far totaled $90.4 million. That stacks up nicely against the $78 million reported the same time one year ago.
While rising interest rates can play a role in both top and bottom line growth, it's a lot easier to grow when your loan portfolio is also expanding. And that is exactly what OFG Bancorp has seen in recent years. Back in 2020, the firm's loan portfolio totaled $6.50 billion. Two years later, it had grown to $6.72 billion. And as of the end of the most recent quarter, it hit a high of $6.99 billion. The greatest loan exposure for the company involves commercial loans, totaling $2.77 billion. This is followed very closely by the $2.13 billion of auto loans and leases that are on the company's books. This surprised me, because it is the first time I have seen auto loans and leases account for such a large portion of a company's loan portfolio. Over that same window of time, the value of investment securities has increased for the most part. The metric rose from $458.7 million to $1.97 billion over the past three years. Though as of the end of the most recent quarter, it had dropped some to $1.70 billion. This is not to say that every class of asset has increased. Actually, cash on the company's books has declined. Three years ago, it totaled $2.16 billion. As of today, it stands at about $799 million.
Even though the value of loans and investment securities has generally risen in recent years, the value of deposits has remained within a fairly narrow range. In 2020, deposits were $8.42 billion. By the end of last year, they had inched up to $8.57 billion. However, since then, they have been on a constant, though admittedly modest, decline. As of the end of the most recent quarter, they came in at $8.54 billion. This drop on its own is not material. But what is problematic is that uninsured deposit exposure has only increased. From 2020 to 2022, it grew from 37.8% of deposits to 40.8%. As of the end of the most recent quarter, it had risen to 42.8%. In this environment, I prefer a reading of 30% or lower, with the lower it is the better. So this is definitely a red flag in my book. Even though the company held firm during the banking crisis, there is no guarantee it will hold up the same way if that crisis occurs again.
This is not to say that OFG Bancorp doesn't have anything positive going for it. As you can see in the chart above, both its book value per share and tangible book value per share has only risen over time. And with debt of only $226.5 million, the risk to shareholders of some sort of insolvency scenario is definitely limited. But relative to the book value per share, the stock does look a bit pricey. It is currently trading at 126% of book value and 140% of tangible book value. This is offset, to some extent, by the fact that it is trading at a price to earnings multiple of 8.4.
Takeaway
All things considered, OFG Bancorp is not a bad bank. But it's just not a great one for me. Shares are a bit pricey relative to the company's book value per share. Deposits have also posted continued, though very modest, declines. Add on top of this the high uninsured deposit exposure, and I feel as though this makes a better 'hold' than a 'buy'. Clearly, the market has disagreed with me up to this point. This is because, while shares have fallen 26.6% from where they were at the end of February through the time at which they bottomed, they are now down only 2.9%, indicating essentially a complete recovery. It is possible that the bank could continue to appreciate from here. But when I look at the universe of other opportunities that are out there, including those that are in the banking sector, I don't feel like it makes sense to put capital into a bank that I have mixed feelings about.