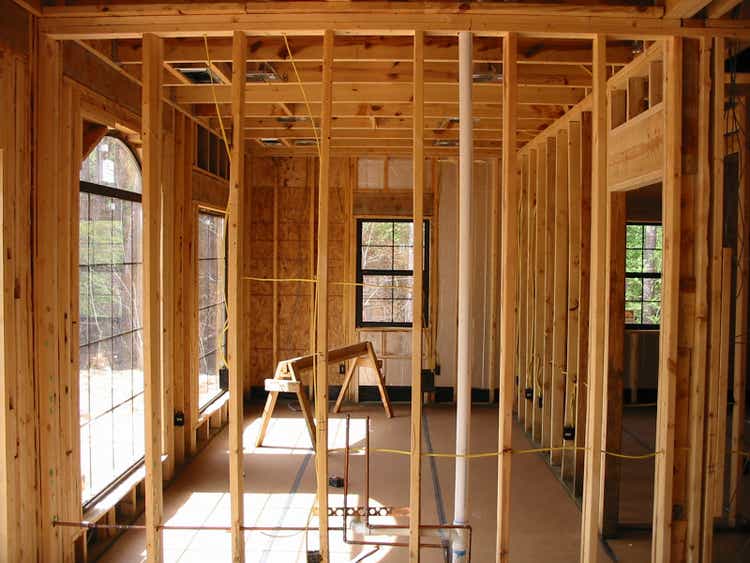 Defying concerns about the housing market slowing down, Builders FirstSource (NYSE:BLDR) has been a top performing stock over the past year, thanks to strong earnings and share repurchases. Since I rated BLDR a strong buy last October, shares have rallied by about 90%, even as they have fallen from their 52-week-high in recent weeks. Given such a tremendous run and concerns about high interest rates on the housing sector, now is an appropriate time to re-evaluate the stock and determine whether to take profits.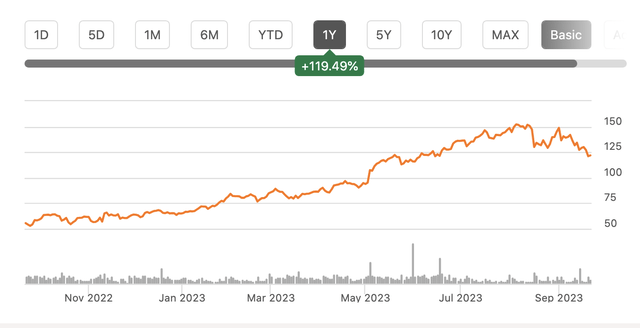 In the company's second quarter, it earned $3.89 in adjusted EPS—this was down 38% from last year. Sales were similarly down 35% to $4.5 billion, with pricing down 16% due to lower commodity prices in products like lumber. I do think it is worth taking a step back, when seeing this decline, to note that prior to 2021, the company had never earned more than $2.66 in an entire year. Even down by a third, BLDR is earning more in a quarter than it used to make in a year. That is how much Builders has benefited from the post-COVID boom, and it has used that excess cash flow to do acquisitions and retire shares, fundamentally changing the business from what it used to look like.
Builders FirstSource is essentially a Home Depot (HD) for builders. While HD primarily serves contractors and retail customers, Builders are supplying large homebuilders with materials. Historically, it primarily sold raw materials, but through M&A, it has moved into value-added goods, like windows. Since 2021, its value-add product mix is up 800bps to 53% as lumber sales have dropped from 36% of revenue to 23%.
During 2021/2022, lumber prices spiked as new home construction surged amid significant supply change problems. That has now largely unwound. Indeed, last quarter, lumber sales were down 63% while value-add product revenue was down less than 15%. This is a primary reason why earnings have fallen—BLDR was enjoying excess profits from a commodity surge that has now normalized. However, its non-commodity business has stayed fairly healthy. As you can see below, core EBITDA is expected to fall just 4% this year. By comparison, commodities delivered a $2.1 billion tailwind last year, that is set to decline by about 75%.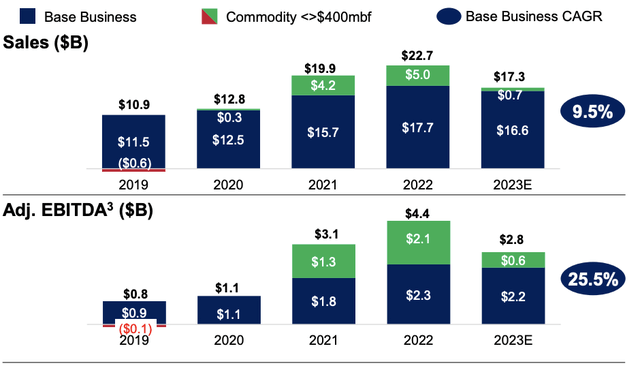 Importantly, Builders has taken this one-time windfall and deployed it into M&A, expanding its value-add units to diversify away from lumber, and to reduce share count. Last quarter, it bought back $700 million in stock. In the past 18 months, it has repurchased $3.9 billion of shares. Consequently, its share count is down 25% over the past year, and over the past two years, it is down about 38%. This share count reduction will help to insulate EPS to a degree from net income declines.
BLDR has also improved its balance sheet, reducing its Debt/EBITDA leverage ratio by 75% to 1.1x since 2017. Even if we exclude all of the remaining "excess" profits from the lumber business, leverage is just 1.6x, much lower than its pre-COVID norm. This strengthened balance sheet gives management flexibility to pursue other acquisitions, while also providing resilience during a potential downturn.

Of course, while earnings are down, as noted above, they remain substantial. Accordingly, last quarter, BLDR generated $270 million in free cash flow and $824 million year to date. While the company will not repeat the $3.3 billion in free cash flow last year when lumber prices were so strong, management is guiding to $1.6-2 billion this year. Thanks to this cash flow, BLDR should be able to repurchase another $1.2-$1.6 billion in stock over the next 18 months. With its $15 billion market cap, shares are trading for a bit less than 10x free cash flow.
Interestingly, last quarter, its single-family business was down 31% while multi-family activity was up 29.6%. Because single-family was 67% of sales, the decline far outweighed the multi-family growth. As you can see below, multifamily construction has reached an all-time high while single-family has been declining. I believe this is because multi-family construction is largely for rental units, and until recently rent growth had been quite strong. Conversely, single-family houses are built to be sold, and builders pulled back last year when rates spiked, fearing a larger downturn than we have seen.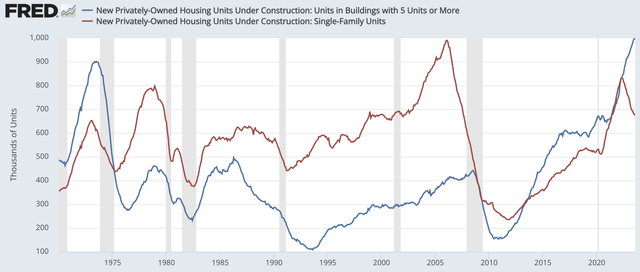 However, last month, starts of 5+ unit structures fell significantly, and they are down more than 40% from their post-COVID high. This has come amid many reports that rents are starting to fall—likely in part because of all the new supply being built, causing a glut in some markets. As such, the tailwind of multifamily construction helping to offset single-family declines is likely largely played out.
Fortunately, earnings from builders like KB Home (KBH) and Lennar (LEN) have pointed to improving single-family orders trends as buyers reacclimate expectations to higher interest rates. As such, I expect single-family construction to begin to show signs of stabilizing, with activity likely to be flat to down mid-single digits from here.
As we look forward to the next twelve months, I would expect we see another halving of the commodity price tailwinds, a $300 million headwind, and a 10% drop in value-add EBITDA, similar to this year, given slightly lower single-family housing activity and a more meaningful decline in multi-family, for a $200 million headwind, which would reduce EPS by about $3 from the current run-rate of $15 to $12. However, that is at today's share count, which should fall by 6-10% over the next year, implying go-forward earnings of about $13.
That gives the stock a 9x multiple. Because of the resilience of its non-commodity business and the massive share count reduction, even with the stock doubling over the past year, the forward multiple, even assuming moderate headwinds, is reasonable. Given the market's concern about the cyclicality of the business, I suspect shares will struggle to get much past 10x earnings, leaving about 10% upside from here.
So even after its large run, there is a respectable amount of return potential from here, and there is no rush to sell BLDR, particularly if you have a large capital gain. That said, with homebuilders like KBH, LEN, and Pulte (PHM) trading at similar, or slightly cheaper, multiples to BLDR, I believe they now offer a superior return potential. This is because lower construction levels and tight supply are supporting new home prices, which assists their profits. However, that lower construction level is a headwind for BLDR, which supplies them. So while all these firms, benefit from a stronger housing market and are hurt by a weakened one, lower supply aiding prices is a unique insulator for the homebuilders. I believe this makes them a better risk-adjusted investment at a similar earnings multiple. I would look to rotate BLDR into the homebuilders as BLDR's rally is more mature than theirs, but on a stand-alone basis, shares are a hold.