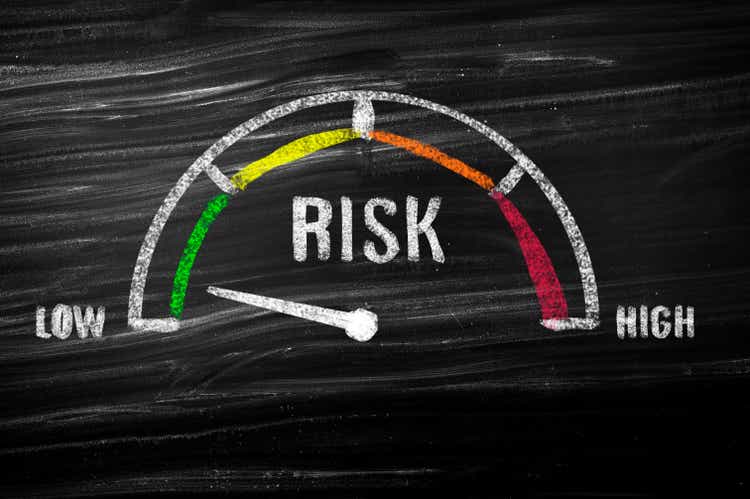 Co-authored by Treading Softly.
Among my children, I have one who is always extremely risk-averse. She doesn't like to go to new places. She doesn't like to try new things. She's afraid of heights. She doesn't like small spaces. In general, she likes things the way she believes they should be, but as her parents, we have a duty to help expand her horizons. We encourage and support her to have those new experiences and discover that many of them she'll enjoy. On the other hand, I have among my children another who is extremely risk-tolerant. They will climb to the top of trees – without considering whether the tree can hold them or not. They're not afraid to meet new people or do new things. With that child, we have to teach them restraint that not every impulse that crosses their mind should be acted upon.
When it comes to the market, many investors fall into one of these two categories. They're either extremely risk-averse, believing that preservation of capital should be the pinnacle goal of every investor, or you have the other investor who will run to the riskiest places, believing that they can have the greatest returns and are not afraid of the gambling style of a rapid trading market. Over the decades of investing in the market, I have met investors of every stripe, and most investors carry a tendency towards one of these two categories.
When I developed my unique Income Method, I designed it to be able to be utilized by most investors and retirees possible, which means that there are sections of it that will greatly appeal to those who are risk-averse as well as sections that will greatly appeal to those who are risk tolerant. The goal is that either group can create an outstanding income portfolio that will provide them with an abundance of income.
Today I want to look at two opportunities to get great income from the market that does not require you to pile on a bunch of risk allowing even the most risk-tolerant investors to have a solid backbone of income and comfort to the risk-averse crowd.
Let's dive in!
Pick #1: BGR – Yield 6%
Oil prices are heading back towards $90/barrel as Saudi Arabia and Russia agreed to extend production cuts through the end of the year. Oil companies struggled from 2015 to 2020 as oil prices remained low, and operators had to find a way to be profitable at $40-$50. Now, over the past year, oil prices have ranged from $60-$90, and the outlook is that it is likely to remain closer to the high-end of that range. Simply put, it is a great time to be in the business of "black gold".
BlackRock Energy and Resources Trust (BGR) is a CEF (Closed-End Fund) that invests in the energy sector. It has exposure to various levels of the oil business. Source.
BGR's primary focus is on the large, established companies in the sector, with over 96% of its portfolio invested in "large caps" like Exxon Mobil (XOM), Shell (SHEL), and TotalEnergies (TTE). In fact, those three holdings alone make up approximately 1/3rd of its portfolio.
BGR does not use any leverage, and it uses covered calls to generate excess income from its holdings. BGR's net asset value has climbed and is well above pre-COVID levels. BGR's share price has failed to keep up, and it is currently trading at a ~12% discount.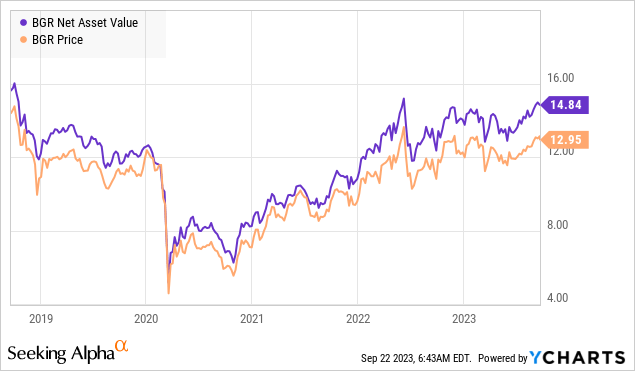 This discount means that we can get a higher current yield from the oil majors by buying BGR than we could get if we invested in them directly. With oil prices heading back to highs, we expect that oil companies will continue to do well, both with price increases and growing dividends. Investing in BGR is a great way to gain exposure to these companies while collecting a great current income.
Pick #2: PFFA – Yield 10%
Higher interest rates are fantastic for income investors. How? As the interest rate you can get "credit risk free" from Treasuries rises, the yield on all other investments has to rise as well. This dynamic is most notable in fixed-income investments. With U.S. Treasury rates at their highest point in decades, the prices of fixed-income investments have come down. The important thing is that these price declines have little to do with an increase in risk – it is primarily driven by interest rates. As income investors, that is to our benefit because we can buy investments that are experiencing higher yields without taking on excessive risk.
Many in the market focus on the short term, and interest rates are high right now, so they avoid fixed income. They fear that rates might rise a little more or that the Fed might hike again. They might; then again, they might not.
Whether the Fed hikes in November or December, whether the Fed starts cutting in March 2024 or not until 2026, are things for traders to worry about. For income investors, high yields are available right now. Every $1 you put to work today is going to provide a higher income stream than every $1 you invested in 2019.
The only thing certain about interest rates is that they will change. Interest rates will not be this high forever. I can't tell you exactly when they come down, but I can tell you I want to own a lot of fixed-income investments when they do.
Virtus InfraCap U.S. Preferred Stock ETF (PFFA) is one way to gain diversity in a broad array of preferred equities. Unlike other ETFs, PFFA is actively managed and uses a modest amount of leverage. This combination has caused PFFA to dramatically outperform peers like iShares Preferred and Income Securities ETF (PFF).
Using leverage makes PFFA more volatile, but after the COVID crash, it proved it could rebound from a black swan scenario.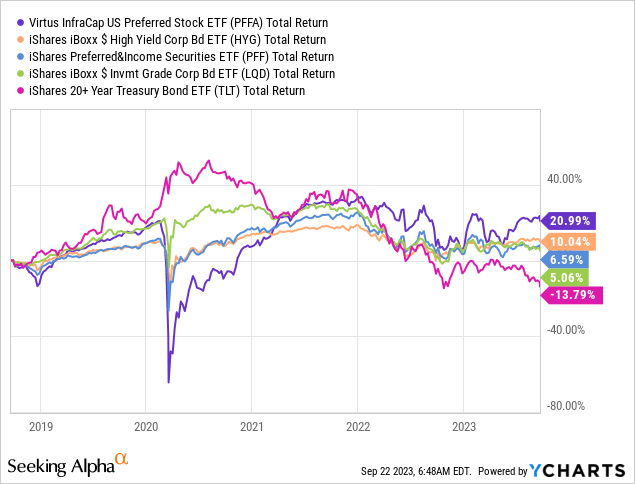 Since the Fed started hiking in 2022, PFFA's active management style proved to be more resilient than other fixed-income ETFs that include preferred, high-yield bonds, investment-grade bonds, and U.S. Treasuries.
It is buying season for fixed-income, and preferred equity, in particular, offers a very attractive risk/reward profile. PFFA is an ETF that can provide you with immediate diversification to preferred equity with a double-digit yield!
Conclusion
With BGR and PFFA, we can benefit from current economic and macroeconomic events. Higher oil prices will bode well for the holdings that are within BGR, allowing them to continue to pay strong dividends to their holders. High interest rates have dropped the price of fixed-income investments, raising their yields, making PFFA able to buy investments at higher yields and pay out stronger monthly payments. When interest rates fall, fixed-income values will climb, providing a large amount of capital gains to those who hold them, whether through PFFA or individual holdings.
Inflation, while decreasing, has not gone away. The pace of change in values is reducing, but those prices are still elevated compared to historical norms – again, benefiting the companies BGR invests in.
When it comes to your retirement, I don't want you to have to be worried about every piece of news that crosses the 24/7 financial media. I want you to be able to turn off the financial media and go enjoy your hobbies, whether that's hiking the Appalachian Trail, taking a seven-day Mediterranean cruise, or simply enjoying a stroll across your property and looking at the beautiful nature that has grown there. Sometimes the greatest mental benefits come from getting unplugged from the news, the internet, and the markets, but the only way you can feel comfortable doing so is knowing that your portfolio will continue to generate outstanding income while you're doing that. It's hard to be unplugged from everything if you're worried that the next time you try to buy something, your bank account will be empty. The solution to that is by owning outstanding income investments that pay you on a regular basis, filling your bank account with the needed funds to live your life. These holdings can do that.
That's the beauty of my Income Method. That's the beauty of income investing.