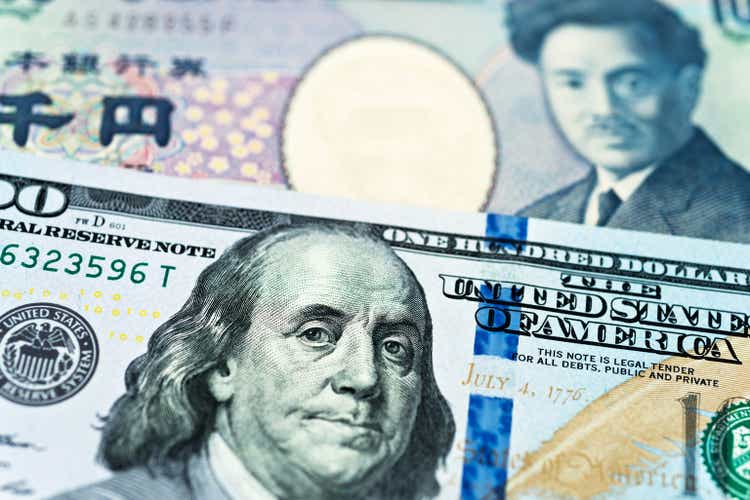 With the outlook for interest rates in the U.S. becoming hawkish enough to dent little hopes of the tech/growth/speculative growth/etc. rally resuming after the choppy summer, as I discussed in the recent article on the Harbor Long-Term Growers ETF (WINN), value strategies should be back in vogue. Hence, yet another analysis of an ETF, which favors unloved, underappreciated, and thus modestly priced equities, is rather pertinent.
The iShares Edge MSCI Intl Value Factor ETF (NYSEARCA:IVLU) is a choice for value maximalists, and there are a few reasons for that. First, it entirely excludes the U.S., essentially the most expensive equity market in the world, from the selection universe of developed markets, thus removing valuation excesses. Second, it invests only in stocks that are cheaper than peers in their respective sectors. And third, there is a smart beta ingredient in the weighting process, which should make the portfolio even less expensive compared to simpler market-cap-weighted counterparts.
So is IVLU poised for strong gains in the current growth style-averse environment? It might be, as its recent performance has illustrated, yet there are nuances as always. Let us look at the facts.
Strategy Basics
The iShares website says that the fund's investment objective is
to track the investment results of an index composed of international developed large- and mid-capitalization stocks with value characteristics and relatively lower valuations.
The index IVLU has been tracking since its inception in June 2015 is the MSCI World ex USA Enhanced Value Index. As explained in the ETF's prospectus, to qualify for inclusion, constituents of the MSCI World ex USA Index must
exhibit higher value style characteristics relative to their peers within the corresponding Global Industry Classification Standard (GICS®) sector. The value style characteristics for index construction are defined by MSCI Inc. (the "Index Provider" or "MSCI") using three accounting variables based on publicly reported financial data: price-to-book value, price-to-forward earnings and enterprise value-to-cash flow from operations. The Index Provider calculates a "value score" based on these three variables. MSCI assigns weights by multiplying a component's value score by its market capitalization. Weights in the Underlying Index are next normalized so that sectors in the Underlying Index represent the same weight as in the Parent Index. MSCI uses an algorithm to determine the number of components in the Underlying Index based on the number of constituents in the Parent Index. The number of components is evaluated semi-annually.
Looking Under The Hood
In the current iteration, as of September 21, IVLU had 347 stocks in its basket. There were cash, futures, a money market fund, etc. in the portfolio as well, but all of them have a microscopic weight; for more context, I recommend taking a closer look at the holdings dataset on the fund's website.
The key ten names accounting for 19% of the net assets are compiled in the table below.
As comes from the data above, most holdings in the group trade at fairly low P/Es, with the P/S and P/B ratios also being modest, despite their outstanding quality characteristics (A and A+ Profitability grades). However, two healthcare names stand out, Roche Holding AG (OTCQX:RHHBY) and Novartis AG (NVS); this is hardly a coincidence as Swiss bellwethers tend to trade at comparatively expensive levels, which is illustrated by the iShares MSCI Switzerland ETF's (EWL) P/E of 22.97x. Nevertheless, portfolio-wise, IVLU still has a more than comfortable valuation, with a 9.1x P/E as per its website. The fact sheet with the data as of June 30 shows an even lower ratio.

In this regard, it beat its closest peer iShares MSCI EAFE Value ETF (EFV), which has a 10.57x P/E in the current iteration. Interestingly, despite EFV's underlying index having a different methodology, a few similarities can be spotted when comparing the funds' top ten holdings (highlighted in bold):
| | | | | |
| --- | --- | --- | --- | --- |
| Ticker | Adjusted Ticker | Name | Sector | Weight (%) |
| SHEL | (SHEL) | SHELL PLC | Energy | 2.73 |
| NOVN | (NVS) | NOVARTIS AG | Health Care | 2.69 |
| 7203 | (TM) | TOYOTA MOTOR CORP | Consumer Discretionary | 2.56 |
| HSBA | (HSBC) | HSBC HOLDINGS PLC | Financials | 1.98 |
| TTE | (TTE) | TOTALENERGIES | Energy | 1.89 |
| BHP | (BHP) | BHP GROUP LTD | Materials | 1.83 |
| SAN | (SNY) | SANOFI SA | Health Care | 1.59 |
| BP | (BP) | BP PLC | Energy | 1.41 |
| 8306 | (MUFG) | MITSUBISHI UFJ FINANCIAL GROUP INC | Financials | 1.3 |
| ALV | (OTCPK:ALIZF) | ALLIANZ | Financials | 1.26 |
Created using data from EFV and Seeking Alpha
Rather Standard Country Exposures Inside The Portfolio
Despite having a smart beta ingredient (the value score used in weighting), IVLU still has a country mix rather standard for an international ex-U.S. ETF, with Japan, the UK, and France in the top-three group. The following tables provide more context, with EFV and iShares MSCI EAFE ETF (EFA) added, with similarities highlighted in red. Please take notice that IVLU also has an allocation to Denmark, though only a modest one, of about 77 bps (including the Danish krone).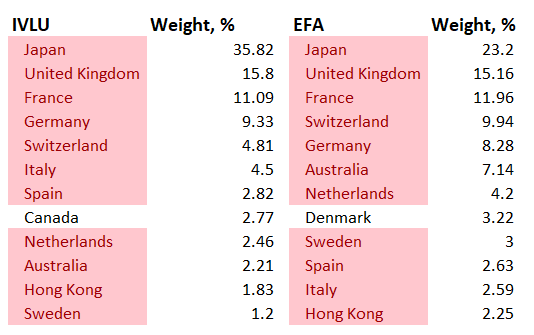 IVLU also has Singaporean names in the portfolio (49 bps, including cash). At the same time, neither EFA nor EFV have exposure to Canada.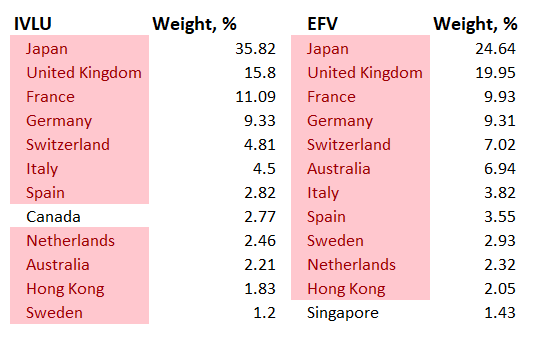 Regarding currency exposures, the Japanese yen is occupying the top spot, followed by the euro and the pound sterling. I expect none of these currencies to appreciate vs. the USD in the near term, mostly owing to the higher-for-longer narrative and all its implications for the FX markets.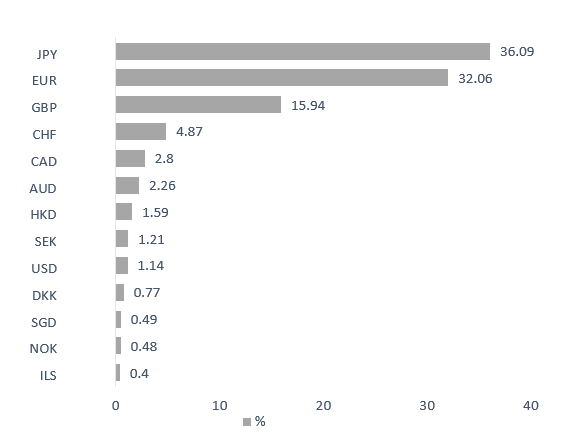 In terms of sectors, compared to EFV, the most notable differences are that IVLU significantly underweights financials (by around 7.9%) while boosting allocation to IT (by approximately 5.8%).
IVLU Is One Of The Leaders In The Sub-Class: Quant Rating
IVLU is one of the two highest-rated ETFs in the Foreign Large Value sub-class (the International Equity class), sporting a Quant rating of 4.34 undergirded by its outstanding momentum, comparatively low risk, and solid liquidity. Another top name in the sub-class is the Dimensional International Value ETF (DFIV), with the same rating, though with an obvious advantage being its lower expense ratio, 27 bps vs. IVLU's 30 bps.
Upbeat Recent Performance, But Longer-Term Returns Look Less Attractive
One of the contributors to IVLU's above-mentioned rating is its robust recent performance.
For a broader context, in the last month, it managed to not only beat the iShares Core S&P 500 ETF (IVV) as the inflation and interest rate questions were weighing on it, but also a few value ETFs I consider promising, including the Invesco S&P 500® Pure Value ETF (RPV) and the Alpha Architect U.S. Quantitative Value ETF (QVAL). It has also beaten EFA, though it has underperformed EFV marginally.
However, despite these results looking encouraging, the long-term total returns are expectedly much bleaker since value style was somewhat unloved during most of the 2010s. The table below is based on the total returns delivered over the September 2015 – August 2023 period.
| | | | | |
| --- | --- | --- | --- | --- |
| Portfolio | IVLU | EFV | IVV | EFA |
| Initial Balance | $10,000 | $10,000 | $10,000 | $10,000 |
| Final Balance | $14,077 | $13,621 | $26,458 | $15,018 |
| CAGR | 4.37% | 3.94% | 12.93% | 5.21% |
| Stdev | 17.24% | 17.13% | 15.87% | 15.69% |
| Best Year | 23.12% | 21.25% | 31.25% | 25.10% |
| Worst Year | -15.09% | -14.66% | -18.16% | -14.35% |
| Max. Drawdown | -32.57% | -33.18% | -23.93% | -27.58% |
| Sharpe Ratio | 0.26 | 0.23 | 0.76 | 0.32 |
| Sortino Ratio | 0.37 | 0.33 | 1.18 | 0.47 |
| Market Correlation | 0.79 | 0.8 | 1 | 0.88 |
Created using data from Portfolio Visualizer
Here, IVLU outperformed EFV but trailed IVV and EFA; another disadvantage is the highest standard deviation in the cohort.
Investor Takeaway
IVLU is a nice option for investors on the hunt for double-digit earnings yields. The fund has had a solid performance recently, beating a few value ETFs I cover regarding one-month returns and outperforming IVV as well. Its robust Quant rating is telling. However, there are risks. More specifically, the FX factor is not to be ignored, especially its exposure to the yen, which is teetering around a record low as the country's central bank remains pronouncedly dovish. In all, IVLU is only a Hold.