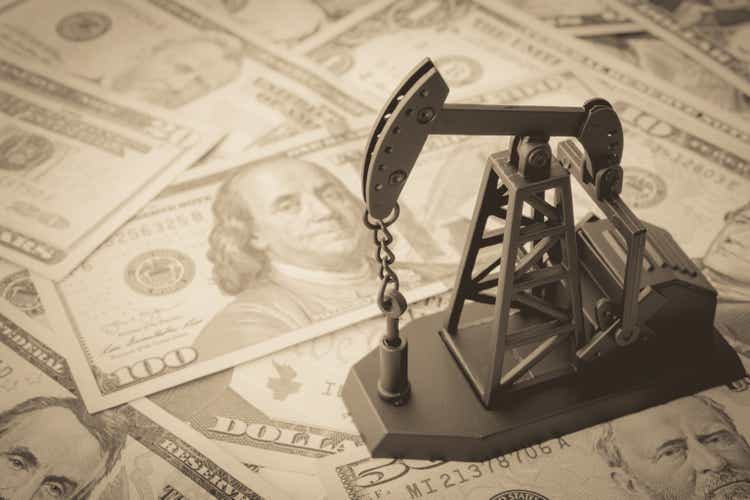 All financial numbers in this article are in Canadian dollars unless noted otherwise. Please note that oil and gas prices are always in US$.
Introduction
Things are developing very quickly – even quicker than I expected. Almost two months ago, I wrote an article titled Canadian Natural Resources Is One Of The Best Oil Stocks Money Can Buy. In that article, I focused on Canadian Natural Resources Limited (NYSE:CNQ) earnings and reasons why I'm bullish on oil.
In this article, I want to take things a bit further. As most of my readers will know, I've been bullish on oil for a while. Energy is the second-largest sector in my portfolio. I mainly focus on companies that are able to deliver high returns at elevated oil prices for one major reason: I want to protect my portfolio against prolonged above-average inflation.
My thesis is built on two major pillars.
Oil supply growth is slowing as the supply growth engine of the past 15 years is quickly losing momentum. I'm talking about U.S. shale, which ended a multi-decade oil production decline in the United States.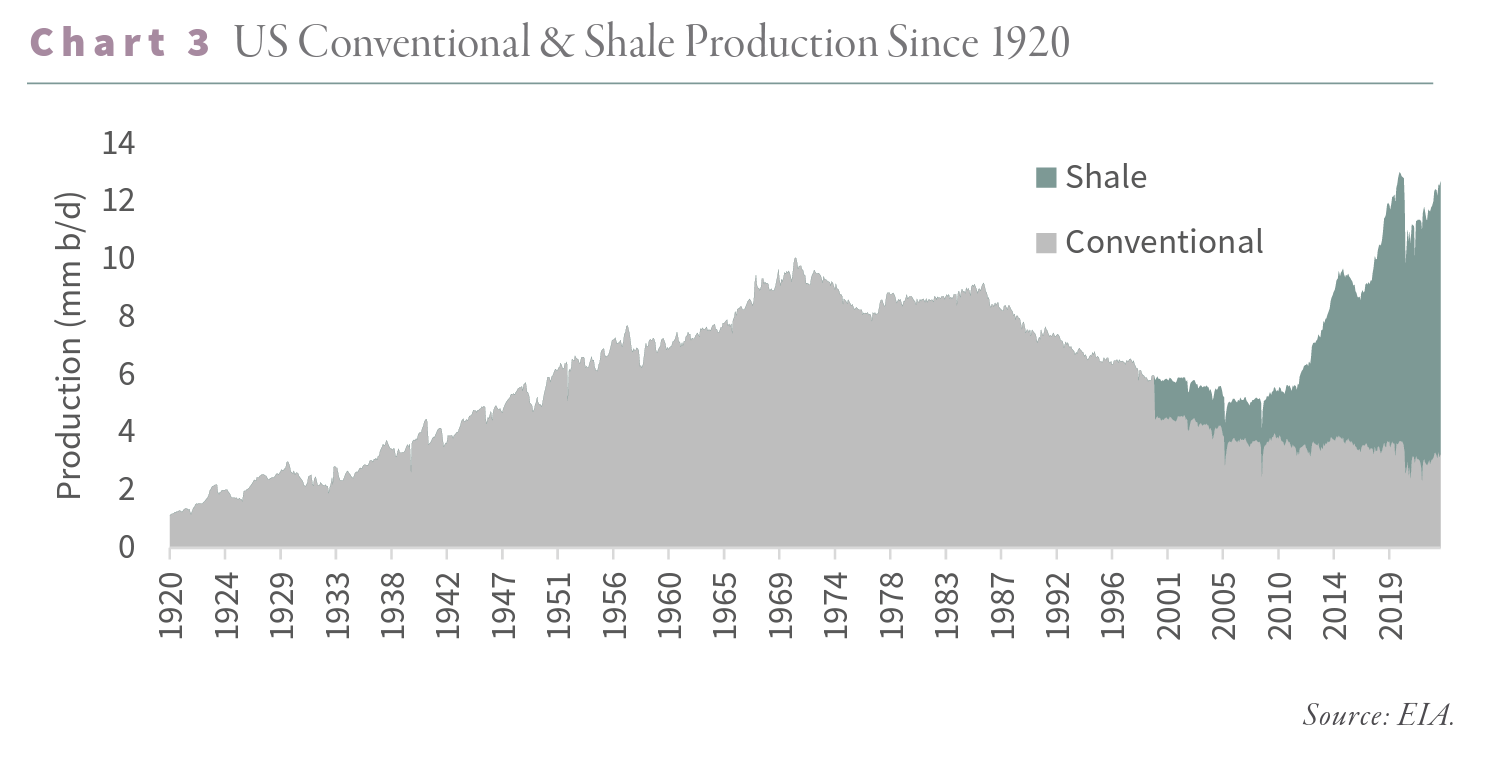 Demand growth. While I am not making the case that renewable energy won't have a negative impact on demand, I believe we're far from a scenario where oil demand falls.
These developments have caused a significant shift in geopolitical power and put a floor under inflation. Inflation in the U.S. is on the rise again, driven by energy prices. I expect this to hit core inflation as well over the next few months.
Meanwhile, OPEC has witnessed an opportunity to use oil supply cuts to support prices. After all, with U.S. shale growth losing momentum, it can now impact prices much more efficiently.
For example, even the Permian, the only major basin in the U.S. capable of significant oil price growth, is now seeing lower output, as declining legacy production is more than offsetting gains from new wells. While these numbers can rebound rather quickly, estimates are that the Permian will see long-term peak production in 4Q24, further putting a lid on U.S. shale growth.
It started when oil was close to $80. Now, oil is north of $90 despite a significant decline in global economic growth expectations.
Although I expect to deal with a number of oil price corrections along the way, my thesis is that once global economic growth rebounds, we'll have to deal with triple-digit dollar oil prices on a rather consistent basis.
So, when I invest in oil and gas companies, I am looking for a number of key characteristics.
I want companies with deep reserves. With many players running out of Tier 1 production inventory, I want to lower M&A risks.
I am focused on companies that are very efficient, meaning they generate high free cash flow even at subdued oil prices. At elevated oil prices, these companies turn into tremendous cash cows.
Healthy balance sheets are key, as I want to own companies that do not need to prioritize debtholders over shareholders.
Related to the points above, I want companies that are distributing most of their free cash flow to shareholders through special dividends. Buybacks are also fine, especially when oil companies are undervalued. However, my personal preference goes to special dividends.
In this article, I'll discuss recent developments that have caused oil prices to rally even faster than I expected. This includes the demand picture.
I'll also elaborate on Canadian Natural Resources, which, in my opinion, is one of the best oil stocks money can buy.
So, as we have a lot to discuss, let's get to it!
$100 Oil?
Over the past few weeks, it feels that the bullish oil trade has become mainstream.
According to Bloomberg:
Speculators have boosted their bullish positions on WTI to the highest since February 2022, while a rally among key gauges on the nearest part of the futures curve points to supply scarcity. Some cargoes in physical markets continue to command hefty premiums.

Russia last week announced a temporary Bloomberg on diesel and gasoline exports, lifting fuel prices. In addition, US crude stockpiles fell again last week and stocks at the storage hub of Cushing, Oklahoma are very low.
This is offering serious challenges for the Fed and the economy in general. The Wall Street Journal reported that market participants are now hoping that $100 oil won't do much damage, as the risks of something bad happening to the economy are rising.
According to the paper, the escalation of oil prices has raised concerns in both Washington and Wall Street about the potential disruption to the fuel-dependent American economy.
This situation is reminiscent of past periods when surging oil prices played a role in pushing the country toward recession.
The chart below shows that elevated energy prices have often started recessions.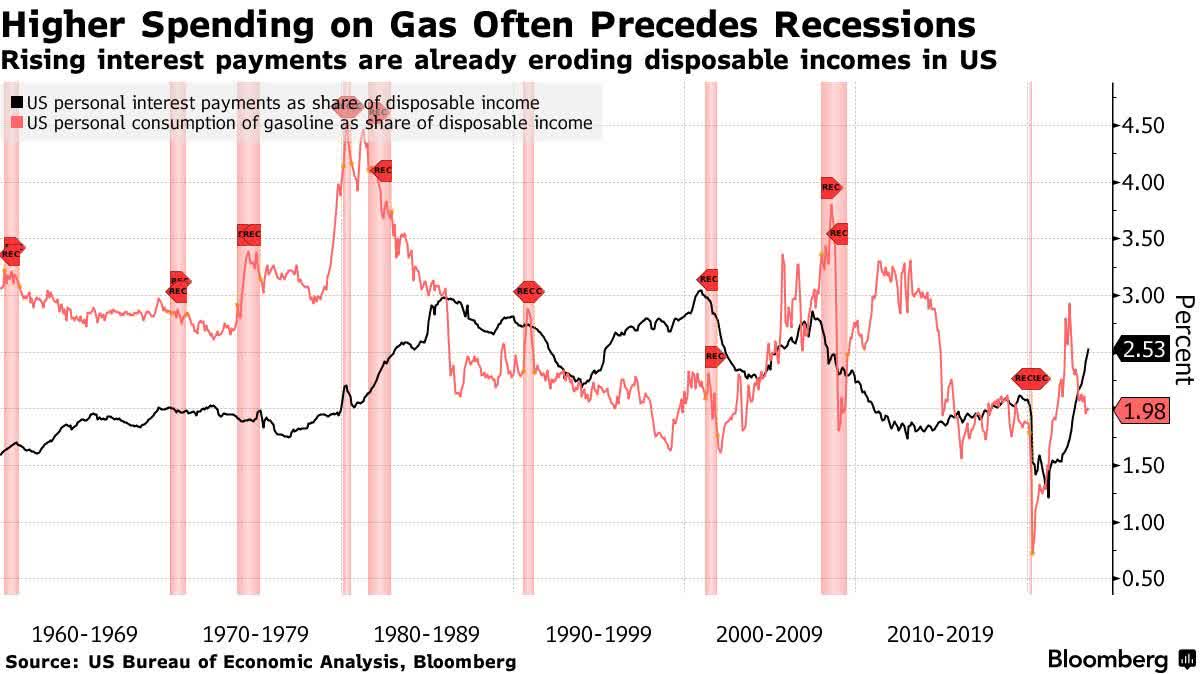 As oil prices approach $100 a barrel, there are differing opinions on the potential outcomes. While some expect prices to rise further due to supply constraints and geopolitical factors, others anticipate moderation in prices due to increased U.S. oil production.
While oil production growth in the future can certainly keep oil prices from exploding, we are dealing with a post-peak shale environment, as I already briefly discussed.
Furthermore, demand remains very strong.
Bloomberg's energy expert Javier Blas just commented on the outlook of the International Energy Agency ("IEA"), which is renowned for its global energy statistics but has a track record of inaccurate forecasts, according to Blas.
In its upcoming World Energy Outlook report, IEA's Executive Director, Fatih Birol, predicts a peak in coal, oil, and natural gas demand before 2030.
However, history suggests these estimates may not hold.
Not only is an oil demand peak hard to predict, but it is even more unlikely that a peak will be followed by a quick decline in demand.
According to Mr. Blas, historical consumption patterns, particularly in coal and potentially in oil, contradict the idea of a swift descent after reaching the peak.
For instance, coal demand, assumed to have peaked in 2013, resurged in recent years, highlighting the unpredictability of demand trajectories.
On top of that, OPEC expects to see oil demand growth until at least 2045.
I agree with that, as I believe we have little understanding of what a growing middle class in India and rapidly expanding purchasing power in various African nations means for long-term oil demand.
Going back to the IEA, this is what Javier Blas wrote (emphasis added):
Consider oil. The IEA itself says global oil demand needs to drop to 75 million barrels a day by 2030 to be on track to achieve net zero. It's impossible to see that happening. Why? Because demand is more than 103 million barrels now, and all suggests continued growth over the next five years, reaching 105 million to 106 million barrels a day by 2028 or 2029. Even if that marks the oil market's peak, the gulf between reality and the model would exceed 30 million barrels a day – equal to the combined daily consumption of China, India, Japan, Germany, the UK, France and Italy.
Having said all of this, I do not rule out an oil price decline to $80 again, as poor economic growth could harm investors' willingness to invest in cyclical assets.
However, the moment demand comes back, I see no reason not to believe in a prolonged period of oil prices above $100.
This brings me to the star of this article.
Why Canadian Natural Is One Of My Favorites
My other favorite is Pioneer Natural Resources (PXD), which I recently covered in an article you can access here.
Canadian Natural Resources is currently my 6th-largest investment and one of my all-time favorites. I'm not just saying that to get catchy article titles, but because I completely stand behind every bullish thing I've ever said about the company behind the CNQ ticker.
For starters, the company has massive reserves. CNQ is the only Canadian company with more than 5 billion barrels of oil equivalent in reserves. The company has a 32-year total proved reserve life index and more than 10 billion barrels in proved reserves.
Of these reserves, 60% are high-value synthetic crude oil, light crude oil, and natural gas liquids, which tend to come with great margins.
With regard to production, in the second quarter of 2023, Canadian Natural achieved a production of approximately 1.19 million barrels of oil equivalent per day (BOEs/d), which included natural gas production at about 2.1 billion cubic feet per day and liquids production at approximately 847,000 barrels per day.
These figures were impacted by various factors, including wildfires in Western Canada, third-party pipeline outages, and planned turnaround activities.
The wildfires caused temporary shutdowns of certain assets, but production has been largely restored.
The company is also the second-largest natural gas producer.
Having said that, a big part of the company's production comes from oil sands, which is very different from conventional oil drilling. This also has the massive benefit of no decline rates, no reservoir risks, and no reserve replacement risks. The company's oil sand assets have a reserve life of more than 40 years.
It is also much cheaper to maintain these operations.
The company's thermal In Situ oil sands operations are breakeven close to $40 WTI. Most efficient drillers are breakeven at $50 WTI, which is already a remarkable number.
The company's synthetic oil production is even cheaper, with breakevens between $20 and the mid-$30 range.
Hence, it is no surprise that the company aims to expand these operations.
During its 2Q23 earnings call, the company made clear that it is aiming for approximately 280,000 barrels per day of thermal production in both Q3 and Q4 of 2023.
This represents a growth of around 30,000 barrels per day from 4Q22 levels, well-timed with favorable Western Canadian Select pricing anticipated for the rest of 2023.
Thanks to efficient operations (low breakevens), CNQ is a cash flow monster.
Looking at the data below, we see that the company is capable of generating a free cash flow yield of roughly 18% at $100 WTI. Even at $70 WTI, the company is capable of generating a free cash flow yield of more than 10%.
These numbers aren't just great in general, but they also indicate the potential for accelerating shareholder distributions.
Why?
Because the company has the goal to return all of its free cash flow to shareholders the moment its net debt falls below $10 billion. With net debt between $10 and $15 billion, half of its excess free cash flow will go towards debt reduction.
Analysts expect the company to achieve this target next year.
Given the development of oil prices, I expect the company to reach this target in early 2024.
This means that investors are in a great place to receive a total payout yield of 18% at $100 WTI. I feel like a snake oil salesman when I say this stuff, but it's true.
Free cash flow potential is really this great, and a big part of the potential 18% return will consist of special dividends.
The company has increased its base dividend for 23 consecutive years. Last year, the company's buybacks alone were higher than the total distributions of 2021. Total distributions last year were close to $11 billion.
The company currently pays a $0.90 per share per quarter dividend. This translates to a base yield of 4.3%. Please be aware that I'm using Toronto-listed shares for this calculation. After all, the company distributes its dividend in CAD.
On March 2, the dividend was raised by 5.9% after the company hiked its base dividend by 13.3% on November 3, 2022.
Over the past three years, CNQ has bought back 7.5% of its shares.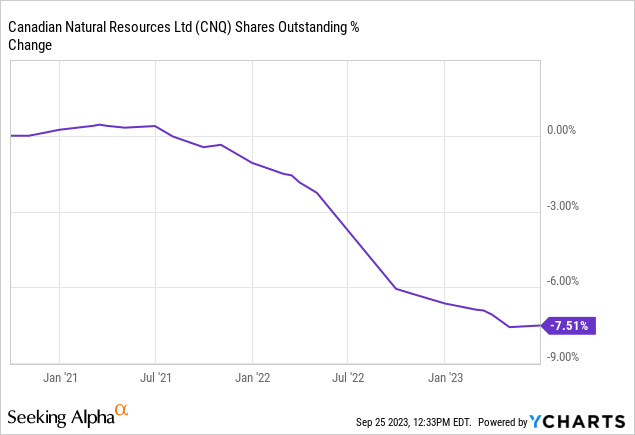 Going forward, I expect very juicy special dividends and accelerating buybacks, especially after the company reaches its debt target (likely) in 2024.
This should also allow the company to keep outperforming its peers.
Over the past ten years, New York-listed CNQ shares have returned 193%. This outperformed the Energy Select Sector ETF (XLE) by a wide margin. It performed its oil and gas exploration and production peers (XOP) by an even bigger margin.
However, it failed to outperform the S&P 500, which is no surprise, as the biggest part of the past ten years did not have favorable conditions for oil companies.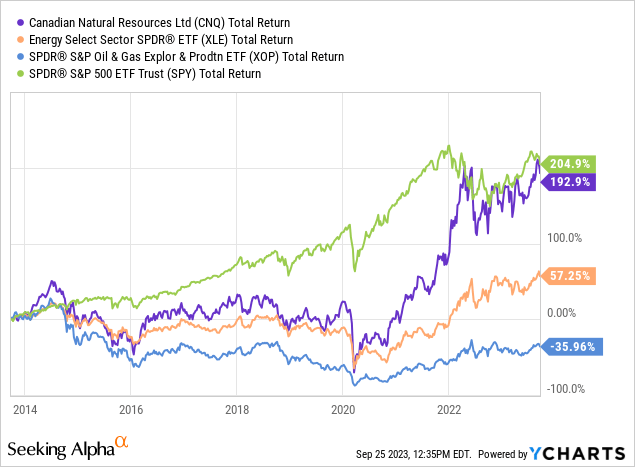 Going forward, I expect CNQ to outperform the S&P 500 and its peers.
Valuation-wise, I believe that CNQ shares are extremely attractive. This is based on free cash flow potential at elevated oil prices.
Hence, I stick to what I wrote in my prior article, including the potential of short-term pullbacks that I'm looking to use to further expand my CNQ position.
Based on the company's free cash flow potential, I believe that it is about 50% undervalued if oil prices work their way up to $100 in the next 12 to 24 months. On a longer-term basis, I expect much higher gains, accompanied by aggressive buybacks and juicy special dividends.

I think we've only scratched the surface when it comes to the company's ability to reward investors.

If my oil price thesis bears fruit, we could be looking at a tremendous total return for many years to come.

However, for now, we also need to incorporate recession fears. I do not rule out regular corrections, which I will be using to boost my position.
Takeaway
The rapid developments in the oil industry have exceeded even my own expectations.
My thesis rests on two key pillars: the slowing growth of oil supply, particularly with the decline in U.S. shale production, and persistent demand for oil despite the rise of renewable energy sources.
These factors have resulted in a significant shift in geopolitical dynamics and provided a floor for inflation, particularly in the face of rising energy prices.
While the possibility of oil price corrections remains, I firmly believe that once global economic growth rebounds, we can anticipate a sustained period of triple-digit oil prices. This outlook has led me to seek specific characteristics in oil and gas companies.
I favor those with substantial reserves, low breakeven prices, robust balance sheets, and a commitment to returning free cash flow to shareholders, preferably through special dividends.
One company that has all of these qualities is Canadian Natural Resources. With massive reserves, a diverse product portfolio, and a solid plan for shareholder returns, CNQ has become one of my top picks in the oil sector.
The company's ability to generate cash flow at various price levels positions it for potential outperformance, making it an attractive investment opportunity.
As oil prices continue to evolve, CNQ's potential for growth, buybacks, and special dividends could provide investors with substantial returns for years to come.