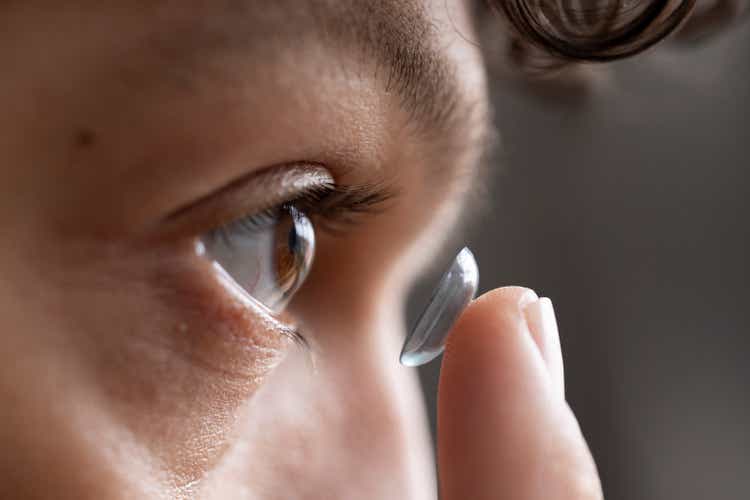 Valuation is never as straightforward of an exercise as investors may wish, and it's likewise often true that growth and other performance metrics can outweigh (if not completely overshadow) valuation for many years – pushing many valuation-oriented investors to the sidelines for high-quality companies. I think this is an important backdrop to keep in mind with The Cooper Companies (NYSE:COO) ("Cooper"), as more conservative valuation approaches will likely keep this name out of the portfolio of value-oriented investors despite an excellent track record and strong prospects.
While I consider myself to be a GARP investor ("growth at a reasonable price" for those not familiar), I also try to be pragmatic. In med-tech, for instance, the reality is that growth and margins drive multiples, and it's not at all uncommon to see otherwise expensive-looking stocks outperform (and continue to outperform over many years) on the basis of above-average growth and improved margin leverage. As I do see above-average potential here, and the shares are not necessarily out of line with what the market has in the past been willing to pay for growth, I can argue that this name is still worth a look despite an expensive-looking valuation by more traditional metrics.
Daily Silicone Hydrogel Adoption Can Drive Years Of Growth
I've been impressed with Cooper's ability to grow share in the contact lens market over the years, as well as its ability to overcome occasional stumbles. Cooper has come close to doubling its market share over the past 15 years (and it is now #2, just ahead of Alcon (ALC), helped in large part by its silicone hydrogel (or SiHy) daily contact lens business. While Cooper was actually once in the position of having to play catch up with SiHy products, it has long since fixed those issues and was first to market with a daily product – a product that now leads the market in "first fit" market share.
Of the roughly $10B market for contact lenses, daily lenses now make up about 60% of the market, and of that SiHy lenses are about half again. New users increasingly favor these premium-priced products, though, and winning this new business while also converting old non-SiHy users over continues to offer many years of above-average growth potential for Cooper.
Myopia Management Could Be The Next Big Thing
While it is a very small part of the business today ($30M in quarterly sales), myopia management could be the next $1B-plus market for Cooper, and the company enjoys a first-mover advantage that could further help the company in continuing to drive share gains in the overall market.
Cooper has clinical evidence in hand that MiSight daily contact lenses actually help reduce the progression of myopia in children (ages 8-12), with about 90% of children showing a response. Although long-term data are still somewhat limited (out to about six years now) and insurance coverage is not perfect, every 1% or so of market penetration could be worth about $500M in revenue to Cooper.
Clearly it will take time to build this business, and there is always a risk that long-term data won't support the ongoing use of these products. Still, I would expect most parents who are aware of the product to at least be interested in it, and I do think there will be pressure on insurance companies to be more accommodating (even though vision coverage is a "gray area" in many health plans).
What's Next For The Surgical Business?
Cooper was forced to abandon its intended acquisition of Cook Medical's Reproductive Health business over antitrust concerns in the U.S.. While I suppose I can see the FTC's point in terms of product overlap, the real attraction to this deal in my view was how it would improve the company's sales coverage in the fast-growing markets of Asia. Now the company will have to invest more resources to drive organic growth – something I believe they can and will do, but will take a little longer.
I also have some modest political and economic concerns about the business in the near term. As there is a substantial out-of-pocket cost to fertility treatments in the U.S. (coverage outside the U.S. is more idiosyncratic, with some countries requiring significant out-of-pocket spending and others offering broader coverage under national healthcare plans), there is some economic sensitivity to this business and that could be a headwind in the near term. Even so, I like the opportunities to leverage double-digit growth in Asian markets, though Cooper does need to invest in expanding its sales effort to really take advantage.
The other issue, the political issue, is harder to evaluate and clearly a more controversial subject. There are efforts underway in some states in the U.S. to further restrict reproductive rights, and that could include IVF fertility treatments, sperm/egg donation/preservation, and long-term contraception (Cooper offers the only non-hormonal IUD on the U.S. market, ParaGard). While I'm not actually that concerned about the long-term growth potential of the business (a nationwide ban seems unlikely), I could certainly see this as a source of headline risk.
The Outlook
Cooper has executed well in its contact lens business in recent years and taken share from major rivals like Johnson & Johnson (JNJ) and Bausch + Lomb (BLCO); Alcon has also benefitted, but not quite to the same extent. At this point, Bausch + Lomb seems to be getting its house in order under a new CEO, but the company's 10% share and lack of game-changing product innovation (historically and in today's pipeline) leads me to regard them as not a major threat to Cooper in the near term.
Johnson & Johnson is a tougher call; management seems committed to paying more attention to its device business, but that doesn't necessarily mean that vision care will be a top priority. Still, given mid-single-digit growth potential in the space (and more in areas like myopia management), I can't rule out a more concerted effort from JNJ to regain lost share. That said, customers tend to be pretty loyal (as to prescribing physicians) and Cooper has developed some pretty compelling products (driving market share shifts despite that tendency towards loyalty) that will be hard to overcome in the near term.
At this point, what I want most from Cooper is more margin leverage. Gross margin was flat in the last quarter and GAAP operating income rose 8% (with margin down 40bp to 16.3%), while non-GAAP operating income rose 13% with a 50bp improvement in margin to 23.9%. I don't want to characterize Cooper's margins as problematic, but I think the revenue growth story is well-understood now (and expected) and margin improvement is likely where management could do the most good in terms of driving a higher share price.
I'm expecting long-term revenue growth in the area of 6% and that could prove low if the myopia opportunity really takes off. Likewise, stronger sales execution in the fertility business could also be a source of longer-term revenue upside. On the margin side, I'm looking for EBITDA margins to improve from the mid-28%'s toward 30% in around two years and 32% to 33% in four to five years. I believe Cooper can get free cash flow margins to 20% in five-plus years, and I'm expecting low double-digit FCF growth over the longer term on improved margins.
Cooper is not at all cheap on a traditional discounted FCF basis, and that is not all that uncommon for quality growth names in the space (companies like Boston Scientific (BSX), Intuitive Surgical (ISRG), or Stryker (SYK) seldom look cheap on this metric).
Looking at what the market has historically been willing to pay for growth and margins from med-techs, though, I think there's a valuation argument to be made. Cooper is in a sweet spot of above-average revenue growth and above-average margins, and that can justify a forward multiple on revenue of over 6x and a fair value in the $420s. Strip away that "top quadrant" premium and the fair multiple falls to around 5.25x and the fair value moves into the $350's.
The Bottom Line
Clearly a lot rides on continued above-average growth and further margin leverage at Cooper. Given the strength of its contact lens business though, including opportunities to gain more business in daily SiHy lenses and growing the emerging myopia business, and opportunities in the surgical business, I think the company has better than average odds of hitting both targets. Still, not everyone will agree with this valuation approach, and this is not a stock that will suit investors that are unwilling to pay up for performance.