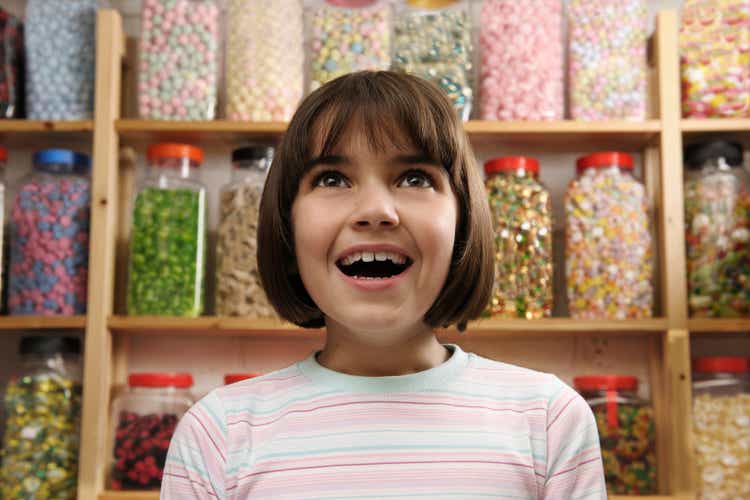 The markets weren't happy with the Fed's latest comments. To quote Yahoo Finance on Friday morning:
"Wall Street stocks edged higher Friday but were poised for weekly losses having sold off after the Federal Reserve signaled that interest rates will stay higher for longer… all three major gauges closed Thursday with hefty declines.

"Markets turned wary as they assessed the impact on consumer and business demand from the Fed's message that it would keep borrowing costs high to quell inflation. The central bank's chair, Jerome Powell, also did little to bolster hopes the U.S. economy would avoid recession."
I doubt I need to explain why that is, but here it is anyway. As interest rates rise, it becomes more expensive to borrow money through loans and lines of credit. And most businesses run on some kind of leverage, especially in order to grow.
Waiting to raise the full amount in company-owned cash for an acquisition can be costly in and of itself. A business can end up paying a lot more overtime operating under that strategy, both in lost opportunity and inflationary measures that jack up the price tag by the time it's actually ready to buy.
Knowing that and how interest rates stifle consumers' ability and desire to buy too (yes, even today's consumers), markets lost short- and even mid-term confidence.
Again, I understand all that.
But that doesn't make all REITs a bad purchase.
Despite the myth that says otherwise.
"When Rates Go Up, REITs Go Down" – Right?
I was reminded of the "high interest rates kill REITs" myth on September 20. That's when I published "It's the Best Time in History to Buy American Tower," which generated this comment:
"This article is another example of confusing a company with the stock. Rates may well be irrelevant to a REIT's earnings, as that is basically determined by cap rate over cost of capital spreads. However, from an investor's standpoint, particularly in REITs, rates are crucial. The reason is REITs are more or less bond equivalents, and their value is largely determined by the spread of dividend yield over Treasuries. When rates go up, REITs go down. It's a major disservice to pretend differently."
While I welcome opinions, I can't disagree more in this case, which is why I responded with:
"When rates go up, so do rents… and more importantly, most REIT managers have been preparing for rising rates for quite some time now. Just because rates moved so quickly is not the kiss of death.

"This myth MUST be debunked, and I plan to do that in an upcoming article as a service to readers!

"All the best."
First off, REITs are most definitely not "more or less bond equivalents." As I explain in The Intelligent REIT Investor Guide:
"Bonds… usually provide higher yields than the average REIT. But the investor gets only the interest coupon and no growth potential. That's because they're so safe, promising repayment of principal at maturity. In the absence of bankruptcy or some other kind of default, bond investors always get their money back."
If it's strict safety you want, bonds are the way to go. But "what you see is what you get": With their excessive safety comes "pure yield and very little else."
Why REITs Are Not "Bond Equivalents" on Clear Display
Further I discuss in my book:
"Take a $10,000 investment in a bond that yields 5% and matures in 10 years. At the end of that decade, you'll have your $10,000 in cash, plus the cumulative amount of interest received (10 x $500) for a total of $15,000.

"Now let's say you purchase 1,000 shares of a REIT trading at $10 that offers a 4% yield ($0.40 per share). It also increases its adjusted funds from operations (AFFO)… by 4% annually and its dividend the same amount. The shares then rise in price 4% as well.

"Ten years later, the REIT will be paying $0.593 in dividends, and the total investment will be worth $19,812: $4,992 in cumulative dividends received plus $14,820 in share value at that time. That's a difference of $4,812 between the two asset examples…"
That's obviously if you're holding onto a REIT long-term.
Hold onto that thought, because we're going to come back to it.
As I note in my new book, being a virtual landlord positions you "to build bond-like rental streams and equity-like residual values."
So yes, they are somewhat like bonds.
But the key word there is "somewhat."
Ultimately, they're still stocks and should be treated as such, both for risk and reward expectations.
People trying to add significant safety to their portfolios could find themselves extremely disappointed short-term by holding REITs.
Just like people looking to give their portfolios a bit more boost shouldn't be adding more to their bond allotments.
The two asset classes simply don't operate the same.
More Reason to Disassociate REITs From Bonds
Going back to The Intelligent REIT Investor, I add:
"Taxes, of course, will have to be paid on both [bonds and REITs], cutting into profits on either side. And conventional wisdom says that REITs should provide a higher total return in the end since they're riskier than bonds.

However, that's not necessarily true if we consider the bond owner's exposure to inflation. REIT shares offer no specific maturity date, and there's no guarantee of the price you'll get when you sell them. However, bonds have no inflation protection. Their holders are at substantial risk of seeing their purchasing power decline with the dollar…

"Also, when inflation rises, interest rates historically tend to do the same. This reduces bonds' market values while they're being held, to the further detriment of anyone who needs to sell them prior to maturity.

On the flipside, if interest rates decline enough due to, say, lower inflation, many bonds may be called for redemption before their maturity dates. This deprives investors of what could have otherwise been very attractive yields…"
And here's another paragraph worth quoting:
"Admittedly, a REIT's stock price may decline in response to higher interest rates. But interest rates often climb alongside a growing economy, which helps to grow REIT cash flows over time."
I'm not saying that all REITs are ripe for the picking right now.
I never do since REITs aren't perfect, either collectively or individually.
But here's where "holding onto a REIT long-term" comes back into play…
When you buy high-quality REITs – like American Tower (AMT) – at undervalued prices (also like American Tower) and hold them for years and years and years as part of a properly balance portfolio…
You're almost certainly going to come out significantly ahead, whether inflation is happening or not.
American Tower is one of my core buying positions right now…
Here's my recent article.
Let me tell you about two more.
VICI Properties (VICI)
VICI is another prime-time (go Dion) example of a REIT that I consider "core" to my income portfolio.
This REIT was formed in 2017 via Ceasar's bankruptcy which led to an institutionalization of gaming in the real estate sector. VICI IPO'd in 2019 (4th largest REIT IPO) and expanded its tenant roster with PENN Entertainment (PENN) with acquisitions of Margaritaville & Greektown.
In 2019 VICI continued tenant diversification with Hard Rock, JACK, and Century Casinos, while strengthening relationships with existing tenants, supporting Eldorado's acquisition of Caesars.
In 2020 VICI began expanding outside of gaming by investing in Chelsea Piers New York and an investment in the Caesars Forum Convention Center. Notably, VICI collected 100% of rent during COVID-19 while also continuing to grow its dividend.
In 2021 VICI announced the $4 Billion acquisition of Venetian Resort and the $17.2 Billion acquisition of MGM Growth Properties ("MGP"). In addition, VICI began a financing relationship with Great Wolf Resorts – owned by Blackstone (BX).
In 2022 VICI achieved investment grade ratings and S&P 500 inclusion (in record time) and announced investments with Great Wolf, Cabot, Canyon Ranch, and Fontainebleau, as well as the acquisition of Rocky Gap and the Foundation Portfolio.
The so far this year VICI has announced its first international investment with PURE Canadian Gaming and Century Canada. Also, VICI has acquired the remaining 49.9% stake in MGM Grand / Mandalay Bay, and announced additional investments with Great Wolf and Canyon Ranch and new investment with Hard Rock Ottawa.
Breath-taking, right?
Had you invested in VICI when the company listed shares you would be sitting on a total return of 82% – or 11.1% annualized.
Had you invested in VICI in March 2020 (when casinos were shutting down), you would be sitting on a total return of 181% – or 34.3% annualized.
Or had you bought VICI in January 2023, you would be sitting on a negative return of -6% (remember, total return means this includes dividends).
So with the selloff, why am I buying more now?
That's easy-peezy.
First off, VICI has become a much more diversified REIT, with better access to capital, led by a proven management team.
In 2018 when VICI was just a baby, shares traded at an average of 14.5x – just about the same as today (14.2x).
At the time, VICI had no investment grade rating and no earnings or dividend record.
These days, VICI has a stellar balance sheet with solid credit ratings from S&P (BBB-), Fitch (BBB-), and Moody's (Ba1). The debt is 99% fixed rate (82% unsecured) with a weighted average debt maturity of 6.4 years.
Most importantly, VICI has proven itself as a faithful dividend grower in which the common has increased its dividend by an average of 7.6% per year (since 2018).
VICI has signaled to investors that it's serious about the dividend, based on the frequency of increases and also because of the modest payout ratio of 76% (based on AFFO per share).
By the way, VICI recently announced a dividend increase of 6.4%.
Unlike W. P. Carey (WPC), another net lease REIT thar recently said it was cutting its dividend, VICI has ZERO office exposure and a much better payout ratio. VICI certainly has outsized exposure to gaming (a well-known risk), but casinos generally hold up well during a recession (remember VICI collected 100% of rent during COVID-19).
VICI appears to be positioned for a liftoff!
As I mentioned, shares are cheap based on historical valuations, and also based on its peer group.
Given the growth estimates by analysts (5% in 2024 and 2025) and current valuation, we believe shares could return 25% annually. The dividend yield is now 5.6% with plenty of cushion, which supports future dividend growth.
I don't blink when I buy VICI.
Extra Space (EXR)
Extra Space is another REIT I'm accumulating regularly.
The Salt Lake City based REIT was founded in 1977 and over the last 5 years the self storage REIT has added 4.6 billion dollars in new acquisitions to its national portfolio.
More recently the company announced a merger with Life Storage that creates a combined portfolio of 3,666 properties (1,895 wholly owned, 468 JVs, and 1,303 managed facilities).
The LSI merger is expected be -12.5¢ dilutive to 2023 FFO, however, the company expect to be accretive in year one (1% to 2%). Here's a snapshot illustrating synergies of the combined companies:
Specifically, Extra Space expects to see $100 million of estimated Run-Rate Annual Operating synergies:
$23 Million Corporate Overhead Savings
$65 Million Property Revenue Uplift
$12 Million Tenant Reinsurance Uplift
Extra Space is rated Baa2 with Moody's and BBB with S&P and is anticipating a potential credit ratings upgrade (to BBB+).
Extra Space has maintained a strong balance sheet: Net debt/EBITDA of 4.8x (+30bps q/q) with 26.6% of debt floating at 6/30 (pre-LSI). Extra space has the strongest fundamentals in the self-storage sector.
Of course, what I like most about Extra Space is the dividends.
As illustrated below, Extra Space has generated solid dividend growth – averaging 8% annual growth since 2013 (or 548% over 10 years).
Now, in terms of valuation, Extra Space screens cheap.
Shares are trading at 15.1x, compared with normal valuation of 22.2x.
Remember, Extra Space was not even rated 10 years ago, and the company is now knocking on the door for a BBB+ rating.
The dividend yield is 5.1% (most screens say it's less, but that's because the company split the dividend as part of the LSI deal). This is significantly above the 5-year average of 3.4%.
Also, the payout ratio is in the low 70's, which makes the dividend more attractive, and signals future dividend increase are coming.
Analysts are forecasting 5% growth in 2024 and a whopping 10% in 2025. We forecast 25% annual returns over the next 12 months.
This Kid is Hungry
I know many of you are reading this article and thinking to yourself, why invest in REITs when we've seen REITs like W. P. Carey announce a dividend cut and Medical Properties Trust (MPW) continuing to drop?
In hindsight, anyone of us could have predicted these, right?
In the case of MPW, we downgraded the company to a Spec Buy before the dividend cut, recognizing the cut was imminent.
We also observed that earnings would not grow in 2023 and that the company had to recycle assets to maintain its risky credit rating.
But I did not sell shares…fearing the worst was over.
For W. P. Carey, we observed that earnings growth was modest, and that the payout ratio was higher than most net lease REITs.
As I said in a recent blog,
"Let me be clear, we're all born to make mistakes…I'm not going to beat myself up for owning WPC. Neither should you."
Let this be a harbinger!
W. P. Carey was an outlier and time will tell if management makes the right move to eliminate its office exposure.
MPW was (and is) simply a high-risk REIT…
Here's what I'm trying to tell you…
Now is NOT THE TIME TO BE TOO CUTE!
There are trophies on sale, and I just pointed out three of them:
Over the next week or so I will provide you with the constituents for my 10 Core REIT Holdings.
Sooner or later, Mr. Market will recognize that REITs are not bonds.
In the interim, I'm like the kid in a candy store…
But I'm not going to buy everything in the store…
That will surely get me a stomach ache…
Just the good stuff!
Thanks for reading and happy SWAN Investing!
Note: Brad Thomas is a Wall Street writer, which means he's not always right with his predictions or recommendations. Since that also applies to his grammar, please excuse any typos you may find. Also, this article is free: Written and distributed only to assist in research while providing a forum for second-level thinking.