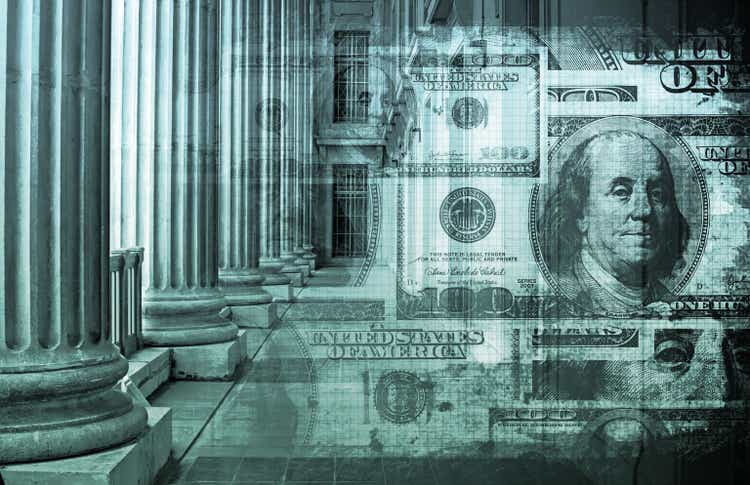 BlackRock Health Sciences Term Trust (NYSE:BMEZ) is a CEF that I originally covered a few months ago in an article titled I'm Buying BMEZ As It Trades At 14% Discount To Its NAV. Since then I must admit that not only did the fund perform poorly but also its NAV discount widened even further. In addition, the fund's management recently announced a material change to its distribution policy which made matters even more interesting. I still see value in this fund but I'd recommend you to only buy it if you are planning on holding it for the long haul.
The fund now trades at a discount approaching 20% as of the time of me writing this article but I don't expect it to last very long. I would expect the fund's NAV discount to settle around 15-16% area for the next quarter or two.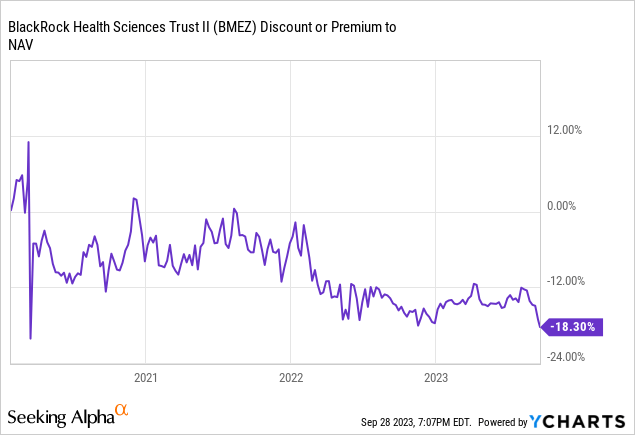 Let us talk about BlackRock's announcement on September 8th regarding this fund's (along with a few similar funds') distribution policy. Up until this announcement, the fund's policy was to distribute a fixed amount every month regardless of how the fund performed. The monthly distributions had been fixed at 14.5 cents per share for the last 3 years and it mainly came from the fund's realized capital gains and covered call premiums. Below is what the new policy is (partially bolded by the author):
Effective with the distribution to be declared on October 2, 2023, each Fund will pay monthly distributions to shareholders at an annual rate of 6% of the Fund's 12-month rolling average daily net asset value to be calculated 5 business days prior to declaration date. For example, the October 2023 distribution will be calculated based on the average net asset value from September 23, 2022 to September 22, 2023. Each month this formula will be applied, and the distribution per share will be re-set and announced on the distribution declaration date.
So basically the fund will distribute to investors a fixed portion of its total NAV which is 1/12th of 6% per month (since there are 12 months in a year) which is basically 0.5% of its NAV per month. This practice is not uncommon in equity based mutual funds and CEFs. This practice comes gets its idea from the famous "4% rule" which says that when investors are retired and looking to generate income from their portfolio they should liquidate 4% of their portfolio to create their own dividends. Since the stock market historically gains about 7% annually, this would allow investors to keep growing their nest egg while pulling a modest and non-disruptive amount every year. There are mutual funds and CEFs that use different versions of this approach, which pay anywhere from 4% to 10% distributions by liquidating a portion of their assets every year.
Notice that the fund's management is not saying that they will distribute 6% of the share price. They are specifically calling out 6% of NAV because the fund trades at a deep discount, which makes the actual distribution rate higher. A fund that distributes 6% of their NAV every year which also happens to trade at a 20% discount will actually have a distribution rate of 7.5%. Why? Let's say that a fund has a NAV value of $100, and it distributes $6 per year. When investors buy this fund at a 20% discount, they are paying $80 for the shares and still collecting $6 in dividends, which means their yield to cost is actually 7.5%.
This is still significantly lower than what investors have been getting, though. Up until now investors were collecting 14.5 cents per share per month which is $1.75 per year and gives us an annual yield of 12%. Now investors will have to collect a much smaller distribution, which is one of the reasons it sold off to create a higher NAV discount.
If smaller distributions will make the fund more stable, more sustainable and safer, it might be a positive development. Then again, some investors might question this approach and think that the fund must be in trouble if they are cutting distributions in such an aggressive manner. The fund's announcement didn't include an explanation or reasoning, but it had a footnote saying (italics added by the author):
Shareholders should not draw any conclusions about a Fund's investment performance from the terms of the Fund's Plan, which is to provide shareholders with a level distribution.
There is still potential for the fund to make more distributions, though. Internal Revenue Code of 1986 requires mutual funds and similar funds (such as CEFs) to distribute virtually all of their annual profits to investors in the shape of distributions in order to avoid getting taxed and fined (not to mention losing their status as an investment fund). This means that if a fund makes more in profits than it is distributing to investors, it will have to create a special dividend at the end of the year to pass on those extra profits to investors (of course we are talking about realized profits here where the fund actually closed a position for a profit). Many funds make those special distributions at year ends when the market is particularly strong, and investors usually welcome them. Having said that, you shouldn't make your budget based on receiving these special dividends. To be on the safe side, you should simply assume that you won't receive them and be pleasantly surprised if you receive them. That way your life won't be disrupted if you don't receive them (hope for the best but be prepared for the worst).
In my previous coverage of this fund, I mentioned that it sells covered calls against roughly a fourth of its positions in order to generate income for investors. Lately VIX has been trending in the low 10s which reduced covered call income for many similar funds, so I wouldn't be surprised if BMEZ also suffered from the same issue which could be part of the reason why they decided to cut distributions for the time being.
Should investors still buy this fund? It really depends on a few factors. First, this is a sector specific fund so if you are feeling bearish about healthcare or health sciences sectors in general, you don't want to be invested in this fund. Second, if your time horizon is only a few months, you probably don't want to be in this CEF (or most CEFs for that matter). There is a saying attributed to Warren Buffett that says "if you don't feel comfortable holding a stock for at least 10 years don't buy it at all". I don't know if Mr. Buffett actually said it or not, but I totally agree with it. These days investors have such short-term visions that if a stock or fund they buy underperforms for a month or two, they want to offload it and move on. This is one of those CEFs you want to hold for many years to generate income if that's your goal. If not, this probably won't suit your goals.
This fund was created in 2020 and it hasn't been around for long enough to judge its long term performance, so I won't blame any investors for avoiding or bailing out since the fund lacks a successful history but we also know that the fund is managed by BlackRock (BLK) which has a long track record of success which gives me enough reason to give it a benefit of doubt. So far the fund's performance hasn't been impressive and there is no lying about it, but we have reasons to be hopeful about its future performance such as increasing healthcare spend across the world, innovations we are seeing in the health sciences field, aging populations and other factors such as strong margins and cash flows we are seeing in the industry so I am not too pessimistic about this fund.