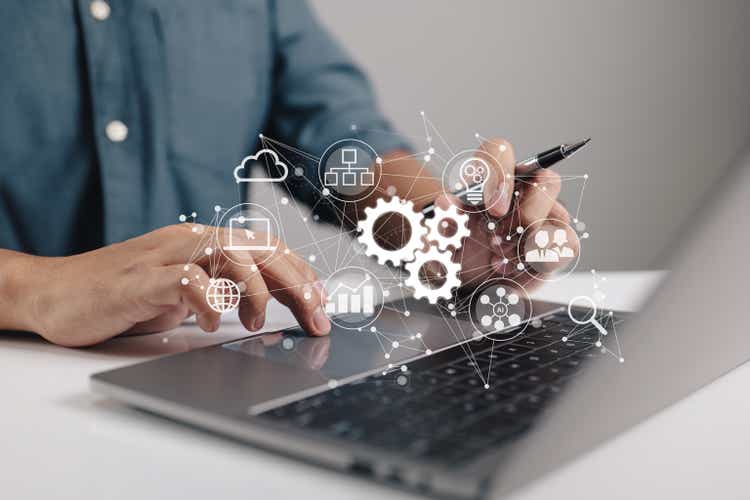 The Company
UiPath Inc. (NYSE:PATH), founded in 2005 and headquartered in New York, is a leading $10-billion market cap provider of robotic process automation (RPA) solutions. The company's end-to-end automation platform combines artificial intelligence, visualization tools, and low-code development environments to streamline and manage business processes. UiPath serves diverse sectors, including banking, healthcare, and government, offering maintenance, support, and professional services to facilitate the adoption of its platform.
UiPath's Q2 FY2024 results showcased robust growth, with Annual Recurring Revenue (ARR) reaching $1.308 billion, marking a 25% YoY increase. Net new ARR for Q2 amounted to $59 million, and the customer base expanded to ~10,890. Financially, Q2 revenue reached $287 million, reflecting a 19% YoY growth, and the Non-GAAP operating margin improved from -5% to a positive 10%. Normalized EPS of $0.09 significantly outperformed Mr. Market's consensus estimate of $0.03:
UiPath recently achieved significant milestones, introducing the general availability of Generative AI and Specialized AI features that enhance automation scalability. The platform now supports OpenAI and Azure OpenAI connectors with GPT-4, along with integration of the Falcon Large Language Model via Amazon SageMaker, and a preview of the Google Vertex connector with PaLM 2 support, according to the press release.
UiPath further solidified its presence by forming a strategic partnership with Peraton. This collaboration aims to expand cloud-based automation in U.S. intelligence, defense, and federal civilian sectors. Peraton will deliver the UiPath Business Automation Platform as a cloud-based managed service to high-security environments, empowering federal government customers to strategize and execute automation initiatives while maintaining mission agility and security in handling sensitive workloads.
According to the recent earnings call, PATH's go-to-market strategy yielded positive results, particularly in banking, financial services, manufacturing, and technology. The solutions that PATH offers today for business process automation should enable a large number of companies to automate their employees' routines and reduce both overhead costs and human factor risks.
The company holds a solid financial position with $1.8 billion in cash. At the same time, UiPath has sufficient liquidity for future growth as it has no debt burden. And what's important, PATH is already FCF positive, which is great for such a rapidly growing firm.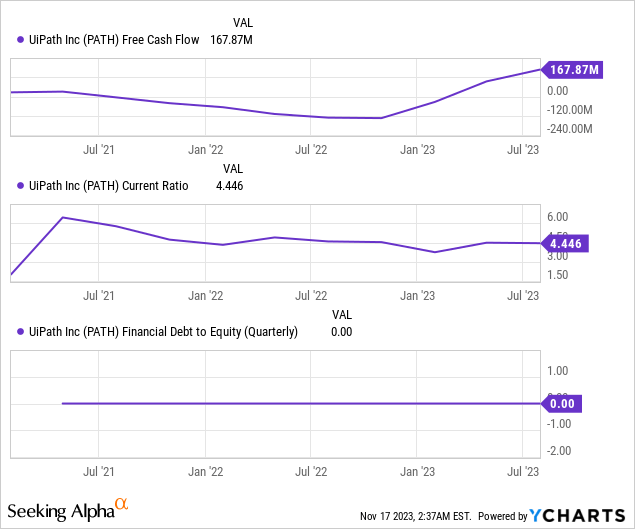 In Q2 FY2024, the board authorized a $500 million stock repurchase program. The outlook for Q3 and fiscal year 2024 anticipates continued growth, with ARR projections and a targeted non-GAAP operating margin of ~14.7%.
UiPath's unit economic ratios, or rather their dynamics, indicate a very rapidly approaching EBIT breakeven.
During the Q&A session, Fred Havemeyer from Macquarie asked about the potential impact of Generative AI and cloud services on gross margins. Ashim Gupta pointed to the current gross margin of 88% and expressed confidence that the new developments will be seen as adding value without jeopardizing margins.
The company reports in 2 weeks (November 30, 2023), while analysts expect adjusted EPS of $0.07 (down 22.2% from Q2 FY2024). Furthermore, this QoQ decline includes several upward revisions to estimates over the last six months (in contrast to EPS downward revisions for many other fast-growing companies).
I expect PATH to beat Q3 FY2024 EPS estimates, as the company has done 100% of the time over the last 8 quarters. There are 2 main reasons for this:
Wall Street's underestimation of the break-even potential and
UiPath's maintenance of the gross profit margin at a relatively stable level should lead to earnings per share growth above expectations against the backdrop of solid sales growth.
But what about PATH stock's valuation?
The Valuation
PATH seems to be the most expensive stock among its peers if we look at the next-year P/E ratios: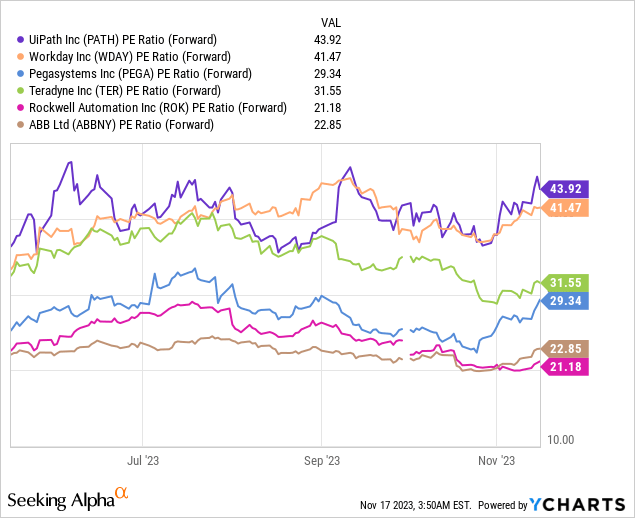 But I judge whether companies are cheap or expensive not only based on their P/E ratios – especially when it comes to the valuation of fast-growing companies. The most important thing here is to look at the companies' growth potentials (gross profit, EBITDA, EPS, etc.) and only then draw certain conclusions.
Therefore, I decided to take Wall Street's estimates for the peer group's EPS values in 5 years and put them on a y-axis. As the x-axis, I have taken the implied price/earnings ratios of the 'exit year' – i.e. the P/E ratios at which the companies will be trading in 5 years given the consensus estimates.
Even allowing for the fact that, as I have shown above, UiPath's EPS consensus estimates have risen in recent months, the overall comparative picture does not look in the company's favor.
Everything is relative. Investors who buy PATH today should receive earnings per share growth of 13.4% CAGR over the next 5 years, according to the consensus forecast. At the end of the holding period, investors will be holding a stock with a P/E ratio of 23.4x. However, by paying >2 times less [10.8x in P/E in 5 years], the same investors can buy Teradyne (TER), which Mr. Market says should deliver 23.8% EPS CAGR growth over the same period.
The Bottom Line
To be honest, I like the operational growth potential that UiPath can show in the long term. Moreover, we can assume with a fairly high probability that the company will exceed the current EPS consensus estimate for Q3 FY2024 for the reasons mentioned above.
However, the company's valuation is already at a high premium. Not only is PATH trading at the highest valuation multiples among its direct peers, but these multiples are unlikely to be justified by its long-term EPS growth potential, which lags median growth by 187 basis points (and this is significant over 5 years).
For these reasons, I don't see sufficient conditions for a 'Buy' rating on PATH; rather, the company should be classified as a 'Hold' and be on the watch lists of investors waiting for a correction.
Thank you for reading!