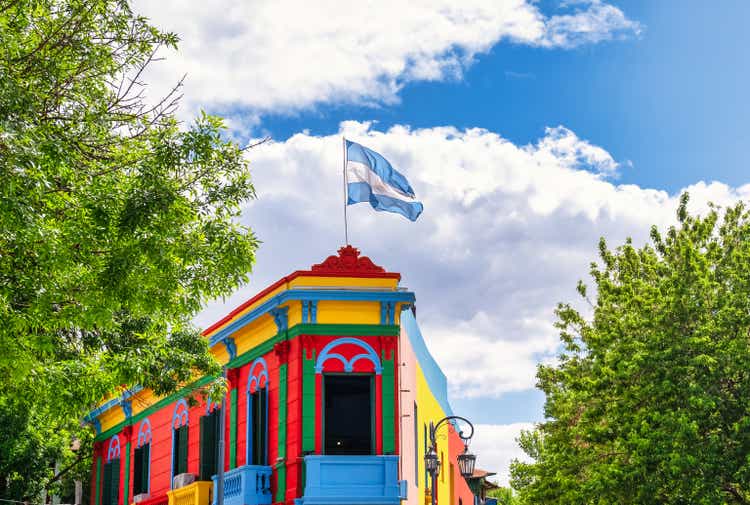 One of the biggest bull markets around the world is found in South America. Following surprising and pro-business election results in Argentina over the weekend, shares of the Global X MSCI Argentina ETF (ARGT) are higher by nearly 55% from year-ago levels. An exclamation point on its relative and absolute performance was made on Monday in the wake of Javier Milei's libertarian victory. Of course, the value of the nation's currency has plunged in recent years amid extremely high inflation and other macro concerns.
I reiterate a buy rating on shares of YPF Sociedad Anónima (NYSE:YPF). While there is speculation that the energy firm could be privatized, and thus return more profits to shareholders, questions remain, and technical risks are still in play. Overall, though, the valuation appears cheap given a reduction in political risks.
ARGT: Best Day In the ETF's
12-Year History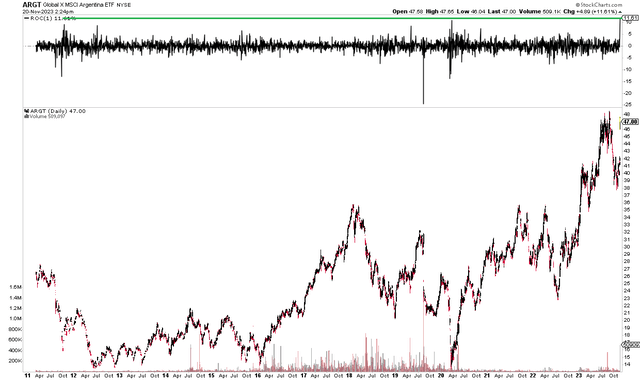 According to Bank of America Global Research, YPF is an integrated oil company with operations in exploration & production, refining, distribution, and petrochemicals that are expected to see better trends over the next several years. The company has total oil and gas reserves of 1,043mn boe (56% oil) and total production of 511tboepd in 2020 (53% oil/NGLs). Virtually all of its operations are in Argentina.
The Buenos Aires-based $15.2 billion market cap Integrated Oil and Gas industry company within the Energy sector trades at a low 3.7 forward 12-month non-GAAP price-to-earnings ratio and does not pay a dividend, according to Seeking Alpha. YPF's next earnings report is not due out until March next year, and the stock trades with a high 76% implied volatility percentage, down slightly from before the election date.
Earlier this month, YPF reported a somewhat disappointing quarter. Q3 results were about in line with estimates, but adjusted EBITDA declined 8% sequentially and –39% from year-ago levels. Reduced oil and gas prices versus what was seen in 2022 did not help its cause. YPF's net loss of $137 million appeared worse than forecasts given a large $506 million impairment charge taken. High capex costs and interest and leasing payments also led to free cash flow being deeply in the red at -$379 million.
YPF has significant and valuable oil and gas assets, and it remains to be seen how much more favorable both operating conditions and capital flowing to shareholders become. Milei said regarding YPF, "Everything that can be in the hands of the private sector, is going to be in the hands of the private sector."
On valuation, analysts at BofA see earnings rising sharply this year, but there is a considerable amount of risk given that much is unknown how the Argentine economy will look under new leadership. Still, EPS is expected to rise 7% in 2024, per the latest Seeking Alpha consensus non-GAAP earnings estimate while sales are forecast to be about flat vs FY 2023 levels. Dividends could be on the way over the coming 12 months – arguably a significant possibility under the new libertarian leader's regime. With a low EV/EBITDA multiple, though negative free cash flow in the past year, there are offsetting fundamental theses.
YPF: Earnings, Valuation, Dividend Yield, Free Cash Flow Forecasts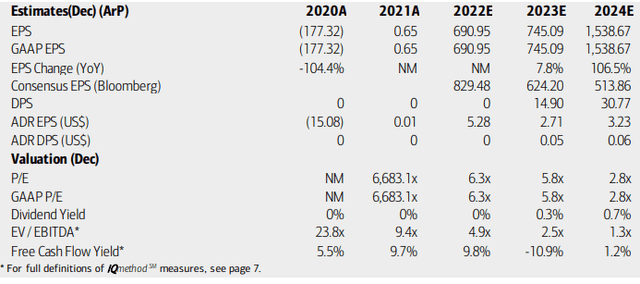 If we assume $4 of next-12-month EPS and apply a 5x multiple, then shares should be near $20. A 5x forward P/E is significantly above its current valuation multiple, but below many large integrated P/Es domiciled in other countries, and there remains considerable risk with companies based in Argentina (a nation that has gone between being an emerging market and a frontier market).
YPF: Compelling Valuation Metrics, Political Risks Reduced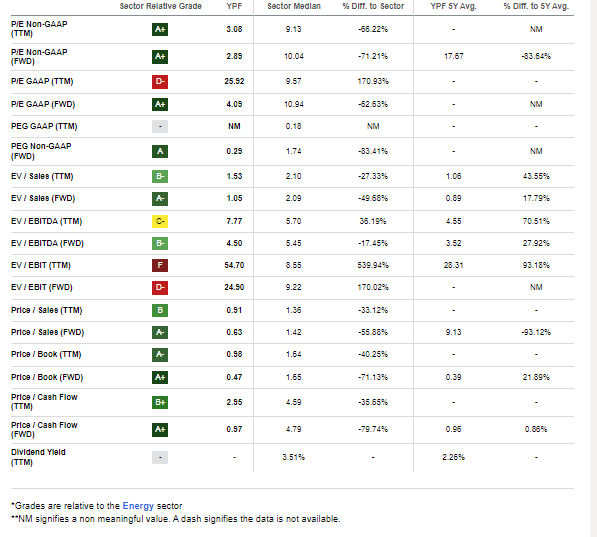 Compared to its peers, YPF features a slightly worse set of Quant Factor Grades by Seeking Alpha. While its valuation grade is weak, I assert that its earnings multiple is too low. Of course, the growth picture remains clouded, and its profitability is generally weaker compared to other Integrated Oil and Gas plays. Share-price momentum had been weak coming into this week, and analysts have been downbeat on the profit trajectory with YPF.
Competitor Analysis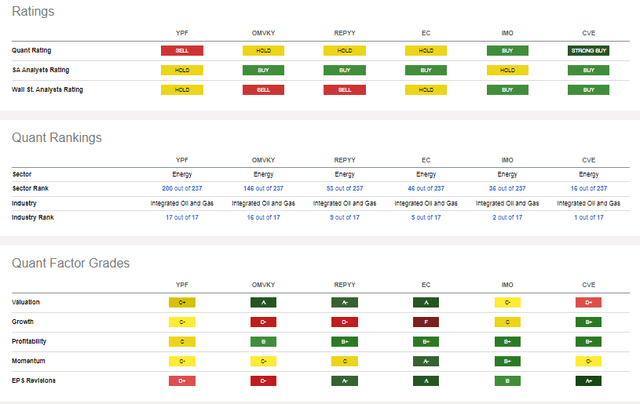 Looking ahead, corporate event data provided by Wall Street Horizon show an unconfirmed Q4 2023 earnings date of Thursday, March 7. The calendar is light on volatility catalysts aside from the reporting date.
Corporate Event Risk Calendar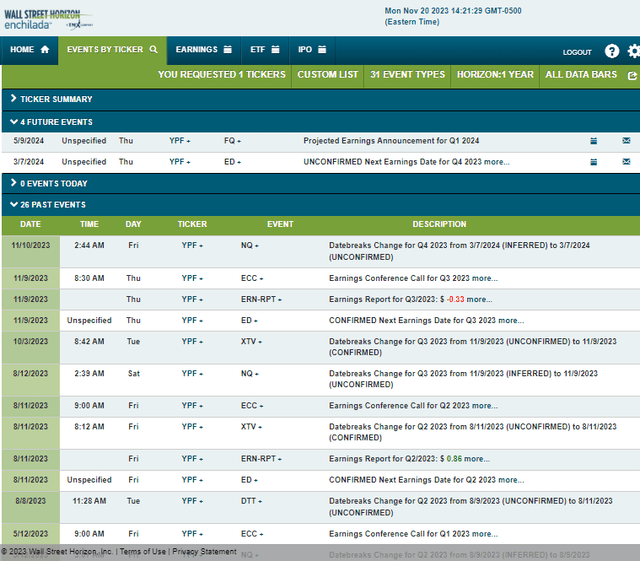 The Technical Take
Since I last analyzed YPF this past May, shares have continued to hold important support in the $8.85 to $9.66 zone. The stock rallied above the $13 mark this past summer, but then fell sharply in advance of the all-important elections and as oil prices wavered in October and November. Today, with the stock near $15, resistance comes into play.
Notice in the chart below that the 2023 highs are not far off, so it will be critical to see how price action unfolds. There's no doubting the reality that the stock's 4-month correction is over as YPF has rallied above its 200-day moving average on massive volume. For now, taking profits could be prudent, and then buying on a breakout above $16 to $16.20 is a way to play future momentum. Also be mindful of what is a massive gap down to just under $11.
Overall, the technical situation actually hasn't changed all that much. Resistance remains in the mid-teens and support is near $11 and in the $8-$9 zone.
YPF: Shares Surge, But Remain Under the 2023 Highs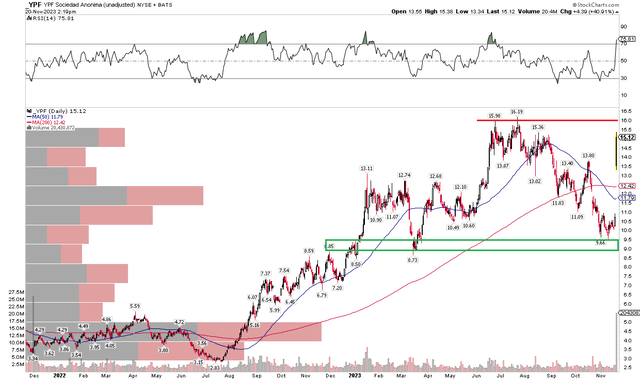 The Bottom Line
I reiterate a buy rating on YPF. The profitability picture for shareholders has improved, though the technical situation warrants more caution than optimism, in my view.