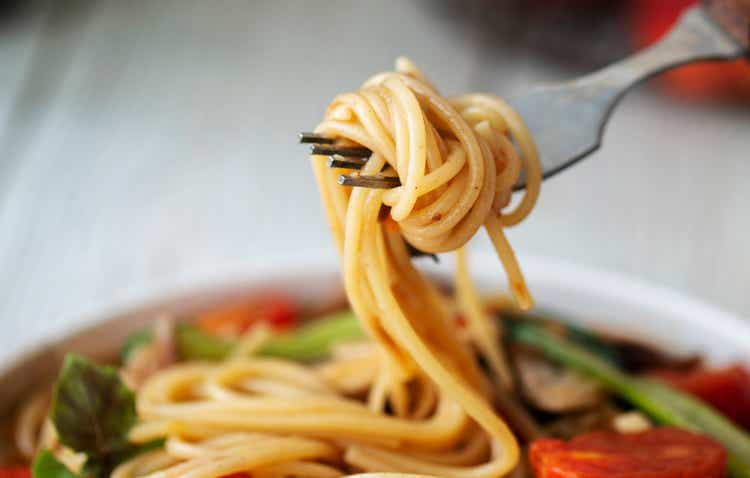 Nissin Foods Co. Ltd. (OTCPK:NFPDF) (1475.HK) is showing that growing sales aren't the only – or even the most important – ingredient for success in China's massive instant noodle market.
The company, known locally for its Cup Noodles and Gongzai Noodles that have become synonymous with one of China's favorite fast foods, last week announced financial results that looked limp on the surface. That included a 5% year-on-year decline in revenue, which fell to HK$2.96 billion ($331.2 million) in the first nine months of the year. But its bottom line was far tastier, with its profit rising 16% to HK$270 million for the period.
The third quarter looked even better, with revenue down by a milder 3% year-on-year to nearly HK$1.03 billion, while the company's profit jumped by a healthy 38% to HK$98.7 million.
Nissin shares rose nearly 2% to HK$6.20 the day it announced its latest results, but softened after that and gave back all the gains.
Nissin was one of a small group of companies to prosper during the pandemic, as its easy-to-store products became a favorite among Mainland Chinese and Hong Kongers who were forced to dine mostly at home due to restaurant closures and other restrictions. But Nissin's sales softened considerably this year as things returned to normal.
Despite that, the declines were more than offset by falling flour prices following an initial spike after the Russia-Ukraine war began last year. Those falling costs, combined with price hikes for its noodles last year, helped Nissin still post a profit increase in the latest period. In that process, its gross margin rose by 2.6 percentage points from 31.4% last year to 34% in the latest report.
Saturated market
Raw materials are beyond Nissin's control, even though they are key to its profitability. Wheat prices are now bottoming out after halving from previous highs, which helped Nissin this year. But even if prices don't rise again, they are unlikely to fall much more unless the war ends. Of course, the company can find ways to hedge against raw material price increases, but such practices carry their own risks. Thus, raw materials will remain a wild card for the company.
While wheat prices and pandemics are hard to predict, the state of China's instant noodle market is a bit easier. Put simply, concerns are growing that instant noodle sales in Mainland China and Hong Kong – Nissin's two main markets – are close to the saturation point with limited room for more growth.
According to the National Bureau of Statistics, China's instant noodle output decreased for three consecutive years from 2018 to 2020, starting with a slight decline in 2018 after peaking at 11 million tons in 2017. The trend continued this year, with the country's online and offline instant noodle sales down 2% year-on-year in the first half of 2023, according to Nielsen IQ's 2023 Fast Food Industry Trends Report.
Under fire
China's instant noodle market has come under fire on a number of fronts in recent years. One of the biggest threats has been the rise of takeout food platforms like Meituan (OTCPK:MPNGF) (3690.HK) and Ele.me (ELEME), which provide a wide range of quickly delivered fast food alternatives. A wide variety of ready-made foods are also becoming popular, winning over some consumers who might have previously favored instant noodles.
At the same time, the variety of instant foods on the market has also posed a challenge. Nielsen IQ's latest report points out that performance for different fast food segments began to diverge in the first half of this year. Areas like frozen Cantonese dim sum and stinky rice noodles performed especially well, with sales up by 43.7% and 28.9% year-on-year in the first half of 2023. Another strong performer was hot and sour noodles from Sichuan A Kuan Food, which sold more than 200 million portions in 2021 alone.
Nissin has built a comfortable place for itself by focusing on the high end of the instant noodle market relative to rivals Master Kong and Uni-President (OTCPK:UPCHY) (0220.HK). But those two rivals have also begun seeking out more demanding diners in recent years. A case in point is Master Kong's recently launched dried and extra-spicy instant noodles, which count pop star Zhang Yixing as a key promoter.
Expanding overseas
As China's economy slows and competition heats up on so many fronts, Nissin is trying its best to maintain its market share in part by stepping up its promotional efforts. This year the company mobilized a Mainland Chinese squad of 1,200 marketing personnel, who held 30,000 face-to-face, in-person sales activities that saw 6 million product samples served up.
The company has drawn on its Japanese roots to also launch products co-branded with popular Japanese animated works. It previously worked with the anime title "Attack on Titan," and this year launched a co-branded product called "Jujutsu Kaisen," to set its products apart with their own sort of Japanese flavor.
Nissin has also begun to expand beyond its core Mainland China and Hong Kong markets, including its acquisition of another 33% stake in sister company Nissin Vietnam. The company said it sees big long-term potential in the Vietnamese noodle market, adding it hopes to use the purchase to expand its geographical reach, strengthen its production capacity, improve its efficiency, and boost overall sales and capacity.
Despite Nissin's efforts, investors aren't very optimistic about prospects for China's broader instant noodle market. The company trades at a price-to-earnings (P/E) ratio of around 18 times, similar to that of Master Kong parent Tingyi (OTCPK:TCYMF) (0322.HK) but higher than Uni-President's 14 times
Disclosure: None
Editor's Note: The summary bullets for this article were chosen by Seeking Alpha editors.
Editor's Note: This article discusses one or more securities that do not trade on a major U.S. exchange. Please be aware of the risks associated with these stocks.