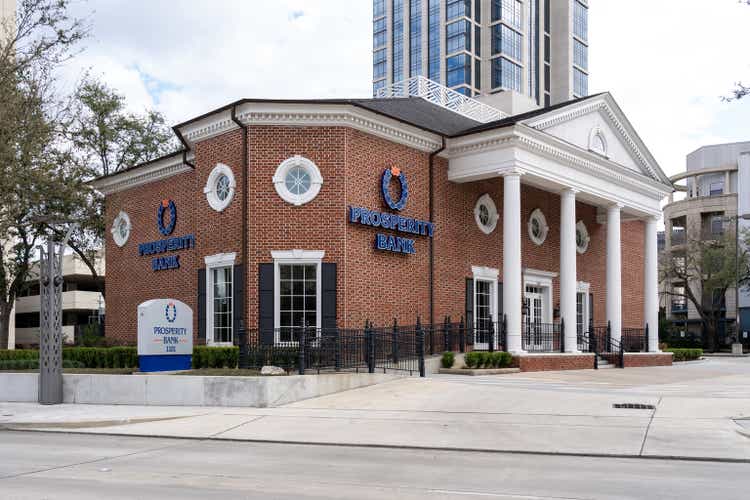 Despite a slightly underwhelming Q2 2023, Prosperity Bancshares (NYSE:PB) continues its climb from its early October low: in about 20 days the stock has climbed 15 percent.
The market had probably already discounted the difficulties of this quarterly even before it came out, and is now already looking ahead to the coming months where a number of improvements are expected.
Problems with interest-bearing liabilities
The cost of interest-bearing liabilities increased faster than the yield on assets, which led to a reduction in the net interest margin.
Inevitably, given the current Fed Funds Rate, the cost of interest-bearing liabilities has had to adjust accordingly, and in three months it has increased by as much as 65 basis points. In itself, the current 2.28 percent does not represent such a high figure when compared to other banks, but the speed with which it is rising is worrying. In addition, if this figure is deteriorating so fast it is because the composition of liabilities is changing.
In three months, savings and interest-bearing demand deposits have declined by $423 million and $730 million, respectively, de facto worsening core deposits. As a result, the bank had to remedy this situation and raised liquidity through loans with rates above 5 percent: compared to the previous quarter, other borrowings increased by $1.54 billion.
However, there is not only negative news regarding deposits, as noninterest-bearing demand has remained virtually unchanged and accounts for 37.90% of total deposits. Instead of receiving no interest, such depositors could buy T-Bills but they do not. Probably, since the average account presents only $33,600, there is no interest in immobilizing this amount for months to earn a few hundred dollars.
Finally, to wrap up the subject of deposits, management was already expecting a decline in deposits in Q2 given that it typically has some seasonality from public fund accounts.
In any case, their strategy is not to try to regain the same amount of deposits as soon as possible by offering financial instruments with high interest rates, but to try to work on increasing core deposits gradually. CEO David Zalman is focused first on reducing the cost of liability–due mainly to borrowings–and is not interested in any broker deposits that would increase interest expenses even more.
We haven't chased the money. I mean, it could have been very easy for us to increase like some of the other banks, $1 billion or $2 billion by going out and buying broker deposits this quarter. We didn't do that. Our true intent is to try to pay down Federal Home Loan Bank to a certain amount. We talked about a while ago reducing maybe the amount of home loans that we're keeping on our books and selling. So it's our goal to really reduce some of the higher cost money. And our real focus is deposits and that is to go out where the last 2 years, all we really hammered in everybody's mind was loans, loans, loans. We're hammering right now our deposits, deposits, deposits. So as this thing turns around, our goal is really to reduce some of our borrowings and to really go after core deposits.
Loan growth and securities portfolio
Loans in Q2 2023 were $21.60 billion, an increase of $2.30 billion or 12% from $19.3 billion in Q1 2023. Excluding loans from the acquisition of First Capital, loans increased by $729 million or 3.70%, 15% annually. The loan to deposit ratio remains at conservative levels, 79.10%.
Overall, lending achieved quite good growth relative to what was expected. With a Fed Funds Rate above 5 percent, a sharp slowdown concerning the origination of new loans was anticipated, but instead demand remained high. Probably aiding this result was the fact that Prosperity Bancshares has exposure to both Texas and Oklahoma, two states whose growth has been stable over time.
However, while the first half of 2023 saw fairly rapid growth in the loan portfolio, in the second half this will probably not be the case: growth of about 5-6 percent is awaited.
The reason for this decline in expected growth comes from Prosperity Bancshares' decision to start selling originated mortgages on the secondary market rather than holding them to maturity. Management believes that obtaining gains on sales is the best way to raise cash for a variety of uses including repaying borrowings. This is something that takes time to implement and currently about 30 percent of the origination volume is available for sale.
Undoubtedly, this choice is consistent with what was discussed earlier, namely that the main objective now is to reduce the cost of liabilities.
A similar approach was also taken toward the securities portfolio, in fact it was decided not to buy any securities, which is why the yield is so low, 2.07%. The $2.20 billion on average that this portfolio generates is used entirely to generate new loans or to repay borrowings.
These two operations, carried out at the same time aim to reverse the downward trend of NIM:
On the one hand, repaying borrowings would result in a major reduction in the total cost of liabilities since they are the most expensive component.
On the other hand, generating new loans is more profitable-though also more risky-than buying a T-Bond. Currently, the bank is originating new loans with an interest rate between 7.75-8.5 percent, in some cases even 9 percent.
In short, it seems that the NIM compression is only momentary since management is doing what it can to reverse the bearish trend. But how long will it take to return to levels close to 3 percent or higher?
According to the sophisticated models used by Prosperity Bancshares, a full recovery of NIM is expected in the next 12 to 24 months.
Our models we've used for the last 30 years, 35 years and they've always been, I think, very close and very spot on in. What our models show is that in 12-month time frame, our net interest margin hits and around the 3% range, maybe a little bit better than that. And then in a 24-month time range, we go back to the 3.30%, 3.40% net interest margin. But again, it just takes time and that's just the situation that we're in right now and that's just the amount of time it takes to reprice our assets.
In practice, based on these assumptions, it is only a matter of time before Prosperity Bancshares' profitability returns to what it has been in recent years. In my view, it is likely that the market is already discounting the recovery, which is why I expect further upside in the coming weeks. There is a caveat, however: Prosperity's models are based on current market forecasts for interest rates. If the Fed raises rates more than expected the models' forecasts may be too optimistic.
Personally, based on what this bank has demonstrated over the past decades, I believe its forecasts have some credibility.
After all, such models have been used for decades and have enabled Prosperity to outperform both the Nasdaq Bank and the S&P500.
What's more, the dividend has never been cut and has always grown rather fast: CAGR 11.90% between 2003-2022. The current dividend yield is 3.48%.
Assuming that the past CAGR is the same as the future CAGR, buying this bank today would mean a dividend yield on cost of 10.72% 10 years from now.
Finally, the recent buyback should also be mentioned. Management believes that at the current price Prosperity Bancshares is too undervalued and therefore purchased 1.21 million shares in H1 at an average price of $59.88 per share. The intention is to continue purchasing treasury shares, but it will depend a lot on future M&A. If there are none, we can expect the buyback to continue.
Conclusion
Like most banks, Prosperity Bancshares is facing a complicated time regarding the cost of its liabilities. Money market rates are many times higher than in the past, and as a result, it is no longer possible to offer deposits at negligible rates. All this is negatively affecting the NIM. In any case, the historical models adopted by Prosperity signal that full recovery will occur in 12 to 24 months.
In the meantime, while efforts are being made to reduce borrowings and sell 30 percent of originated mortgages, the issuance of a growing dividend continues and with it buybacks. So, shareholders while they wait to recover their capital loss can be pleased for the time being with this double remuneration.