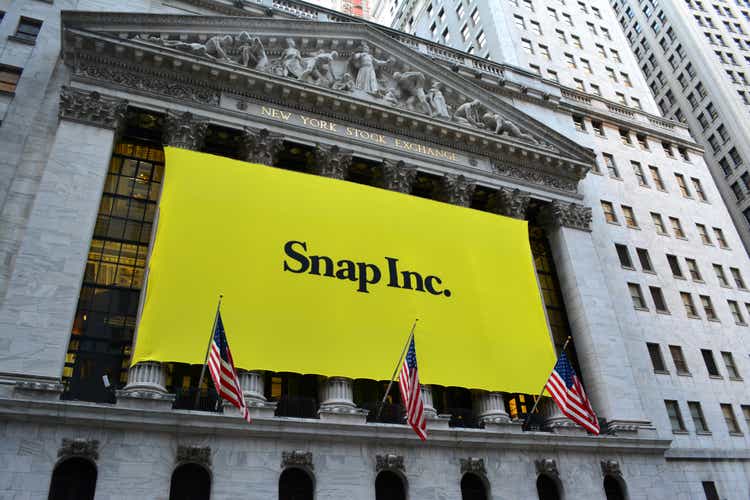 Social media company Snap (NYSE:SNAP) reported better than expected second quarter earnings last week, yet shares crashed on concerns over the company's revenue guidance for the third-quarter. Shares of Snap have declined more than 90% from its peak and fell 14% after the social media company submitted its second-quarter earnings sheet, but I believe investors are overreacting: Snap beat both on earnings and revenues and saw strong underlying daily active user growth in the second-quarter. Snapchat+, Snap's paid subscription service, especially is a promising pathway for Snap to generate incremental revenue growth and diversify away from an advertiser-only business model. While shares are not cheap and have high risks, I see Snap as a speculative buy ready to recover soon from last week's sell-off!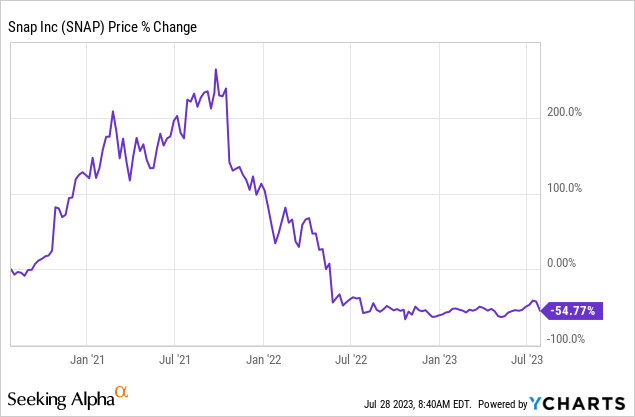 Previous coverage
I rated Snap a hold last year after the social media company suffered from the decline in the advertising industry which weighed not only on Snap but the entire social media industry, including Meta Platforms (META). I am upgrading to buy because underlying DAU trends are still favorable and investors appear to overreact to the company's third-quarter revenue guidance.
Snap beats earnings
Snap's shares cratered 14% after earnings and it wasn't the first time that Snap disappointed when it submitted its quarterly earnings. This time, however, I believe investors are overreacting because Snap's overall results were really not that bad and the social media company is seeing some momentum with its paid subscription model, Snapchat+.
To just recap earnings quickly: Snap reported Q2'23 revenues of $1.07B and earnings of $(0.02). Both metrics beat expectations for the second-quarter.
Daily active user trajectory
The most important growth metric for a social media company is its daily active user figure and in this regard, Snap is doing a fine job: Q2'23 daily global active users totaled 397M, showing 14% year over year growth. Since the same quarter in the year-earlier period, Snap added a total of 50M new users to its social media platform, proving to investors that the platform is still growing and not suffering from the arrival of other short term video apps like TikTok.
While Snap's revenues in the second-quarter shrank 14% due to economic headwinds — companies continued to reduce spending on Snap's social media platform in the second-quarter — the underlying user trend appears to be quite healthy and Snap is generating user growth that I believe could ultimately translate into Snap+ subscriptions.
Snapchat+ is a monetization opportunity for Snap
Snapchat+ is a huge revenue opportunity for the social media company and an opportunity to transition the company's business model away from advertiser reliance. Changes made to Apple's advertiser policies — the infamous iOS 14 update that limited advertisers' ability to track consumers online — as well as a broad downturn in digital advertising in FY 2022, have revealed the vulnerabilities of Snap's advertiser-centric business model. While there is definitely value in the advertising market — Snap still only captures about 2% of the U.S. digital advertising market in the second-quarter (Source) — subscriptions are a great way to expand Snap's revenue base.
Snapchat+ is an especially compelling opportunity because not only will it help to lower dependence on advertisers, but the social media company is seeing some real momentum already: Snapchat+ is Snap's subscription service which costs $3.99/month and gives early access to new features and allows for different kinds of customization. In June, Snapchat+ reached a milestone by reporting 4 million subscribers since the launch date last year. If, in the long term, only 2.5% of Snap's users take up the subscription offer, Snap could achieve close to half a billion in additional revenues. For context, Snap reported just about $1.1B in total revenues in Q2'23.
What Snapchat+ could also achieve is drive Snap towards profitability… which is still an open wound. The social media company does have a profitability problem, in part because of its heavy reliance on volatile advertising revenues. In the most recent quarter, Snap did not achieve positive EBITDA or free cash flow…
Snap's Q3 guidance disappointed, but investors may be too pessimistic
What caused the sell-off after Snap's earnings release was a disappointing revenue guidance for the third-quarter. Snap sees $1,070M to $1,130M in revenues in the third-quarter, which implies negative 5% year over year growth. However, Snap guided for its daily active users to reach 405-406M, implying a growth rate of 2% quarter over quarter. As long as Snap's daily active users are growing, I believe Snap has potential for a rebound.
Snap's valuation
Shares have been oversold after the drop last week and still are not exactly a bargain, but I believe they have recovery potential nonetheless as investors likely overreacted to Snap's guidance for the third-quarter.
Snap is not profitable and has a high valuation factor. The social media company is expected to generate 14% top line growth in FY 2024 which translates to a P/S ratio of 3.3X. Meta Platforms (META) trades at a P/S ratio of 5.4X but the social media company is deeply profitable and generates a ton of free cash flow.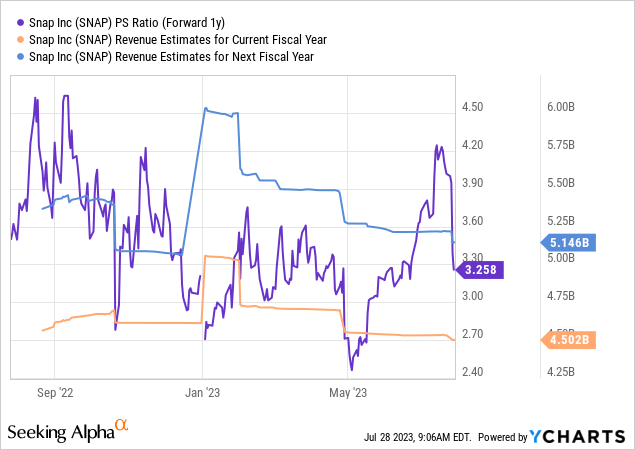 Risks with Snap
There are two big risks that I see with Snap: One is the revenue trajectory and advertising headwinds that have weighed on the platform in the last couple of quarters and the second one is that the social media company is not achieving profitability. The company is addressing its advertiser reliance by moving towards a subscription service that is seeing good momentum, but it still may take Snap years to achieve profitability.
Closing thoughts
Snap may be a speculative buy for investors that believe that the market has overreacted to the social media company's third-quarter revenue guidance. Snap continues to see healthy underlying daily active user growth and while shares are not exactly a bargain, I see recovery potential in the months ahead. Snapchat+ subscriptions have grown to 4M recently and have momentum. Going forward, achieving profitability could be Snap's biggest milestone achievement!