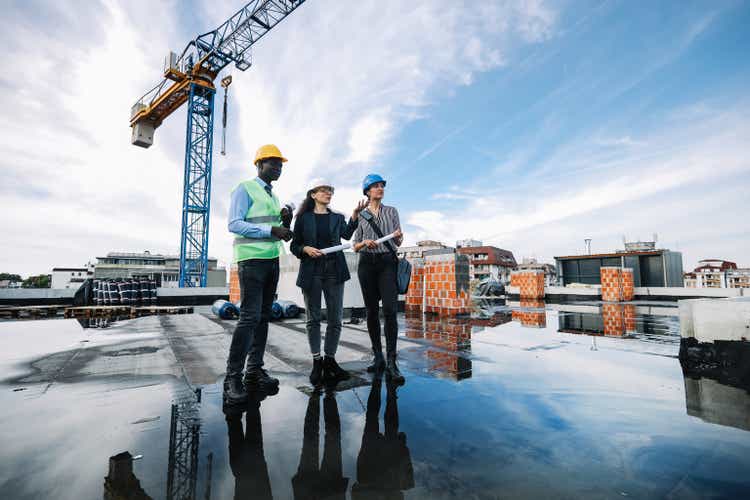 Since the first time I wrote about the building materials company CRH (NYSE:CRH) in November last year, its price is up by a huge 40%. I reiterated a Buy on it two more times since, and it hasn't disappointed, with a 20% rise since my second article and a 10% increase since the third. The Buy ratings were based on continued strong financials, a positive outlook, as well as attractive market valuations.
But a 40% rise isn't small by any stretch. For context, in the past year, the S&P 500 (SP500) has seen only a 2% rise. This of course raises the obvious question of whether it can continue to show an impressive increase. Or is it due for a correction now? Ahead of its interim results due late next week, here's a peek into what's next for the stock.
The story so far
But first, a quick look back at where the company's been at in the past months. At the time of my last update, CRH had just released its 2022 results. It had seen a healthy 12% sales rise, a 10 basis points improvement in the adjusted EBITDA margin to 17.2% and an EPS increase of 14%.
Since then, it has only released its first quarter (Q1 2023) trading update in April, which shows a winding down. Reported sales growth slowed down to 7% year-on-year (YoY) (see table below). Like-for-like sales, which is comparable to the 12% sales growth for 2022, slowed down further to 5%.
The drag came from Europe as adverse weather conditions impacted demand and unfavourable exchange rates affected the sales transaction into USD. The company's big Americas market did a whole lot better, but clearly the growth there wasn't strong enough to pull sales growth up to 2022 levels.
CRH's outlook
This is far from the best starting point for crystal ball gazing into CRH's first half of 2023 (H1 2023) numbers. At the same time, we can draw hope from the company's own optimism. It expects sales, EBITDA and margin will be ahead of H1 2022 numbers.
Specifically, it's positive about the prospects for demand from the Americas with "…robust infrastructure demand, good activity in key non-residential segments, continued pricing progress and positive contributions from acquisitions". Europe, though, can be expected to continue showing a weak performance with "…continued inflationary pressures and some slowdown in the new-build residential sector".
Forecasting profits for H1 2023
While the company refrains from giving any numerical estimates, its outlook does indicate what the numbers could look like. Based on these, I made quick estimates for the key financials for H1 2023.
They start with a sales growth assumption of 5%, in keeping with the like-for-like growth seen in Q1, 2023. This brings the number for H1 2023 figure up to USD 15.75 billion.
Next comes the EBITDA margin. The company expects a margin expansion from the 14.7% seen in H1, 2022. Note that this figure was lower than the 17.2% seen for the full year 2022. Assuming, that the margin in H1 2023 comes in at an average of these two numbers, of 15.95%, results in an EBITDA of USD 2.5 billion. This is higher than the USD 2.1 billion seen in H1 2022, as per the company's expectations.
Estimating the net profit is less straightforward, since a distinction needs to be made between profits from discontinued and continuing operations. More than half the profits in H1 2022 came from discontinued operations, resulting in an overall net profit margin of 13.4%. The margin falls to 6.25% if we consider only profits from continuing operations.
For the forecast here, I consider this lower margin, for lack of visibility on whether or not there would be any more profits from discontinued operations. Also, the company refers to these figures in its headline financials. This results in a profit of USD 1.1 billion and an earnings per share of USD 1.48.
The EPS figure is just over half the total diluted EPS of USD 2.7 in H1 2022, but it's still a 23.5% increase over the EPS of USD 1.2 for continuing operations seen last year. In other words, if we look at the detail, the EPS numbers aren't disappointing but the overall figure may still be so.
What the market multiples say
CRH's forward non-GAAP price-to-earnings (P/E) ratio is estimated to be 15.2x, which is just a tiny bit higher than the 15.1x it has averaged over the past five years. This indicates that the stock is fairly valued. Its trailing twelve months [TTM] P/E does look more favourable at 16.65x compared to historical levels (see chart below). But considering that its earnings could drop soon, leading to a higher P/E, I would deemphasise this metric for now.
Share buybacks underway
It is worth noting, however, that the company has a share buyback programme underway at present. It has already bought back USD 0.3 billion worth of shares in Q1 2023. But that was just a fraction of the total USD 3 billion of shares that are due to be repurchased over the next 12 months, in April. This will of course bump up its EPS, but the effect is unlikely to significantly change them.
What next?
Just going by CRH's forward multiple indicates that there's little upside to it for now, with its price having risen significantly over much of the past year. Further, while its financials were robust last year, there are signs of weakness now, as seen in the sales growth slowdown in its trading update, which could put pressure on its price. It's a positive, though, that earnings from continued operations might still look fine.
While CRH has been a good stock to hold in the portfolio over time, with 156% price returns over the past decade, from a short to medium-term perspective I'm not as confident as the last three times, for the above reasons, that there's definite upside to it for now. It's better to at least wait for the interim results before taking a call. I'm going with a Hold on CRH.
Editor's Note: This article discusses one or more securities that do not trade on a major U.S. exchange. Please be aware of the risks associated with these stocks.