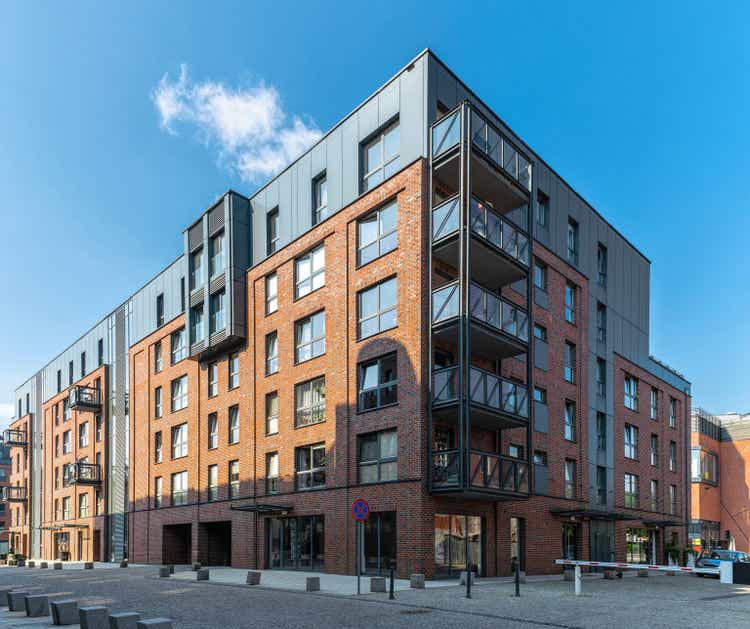 LEG Immobilien (OTCPK:LEGIF) has reported a resilient operating performance and its share remain cheap, being an interesting value play within the European real estate sector.
As I've covered in previous articles, one value play that I like within the German residential sector is LEG Immobilien, as the company has strong fundamentals and is well placed to benefit from the tight supply-demand situation in the German residential market.
As I've not covered LEG over the past six months and the company has recently updated its financial performance related to H1 2023, I think it's now a good time to analyze its most recent earnings, and update its investment case, to see if it still offers value for investors or not.
Earnings Analysis
LEG has released some couple of weeks ago its H1 2023 earnings, reporting a positive operating performance despite the challenging market backdrop. As I've analyzed in previous articles on the European real estate sector, higher interest rates have been a drag for asset valuations over the past year, and the transaction market is showing much less activity, making companies in the sector changing their business strategy from growth to cash preservation.
LEG has been no exception, showing that its business priority is balance sheet management when it decided some months ago to suspend its annual dividend despite being able to maintain it. The company decided to be conservative as lower property values put upward pressure on loan-to-value (LTV) ratios, a key measure of leverage in the sector, aiming to maintain leverage at an acceptable level and protect its investment grade credit rating.
This can be considered to be a prudent decision given that LEG's property was valued at €18.9 billion at the end of last June, a drop of 6.4% compared to the end of 2022. As debt levels remained relatively unchanged, LEG's LTV ratio increased to 46.6% (vs. 43.9% in 2022) representing an increase of 270 basis points (bps) in just six months. While there is still plenty of room to debt covenants, LEG is prudently managing its balance sheet which seems sensible considering the tough market backdrop.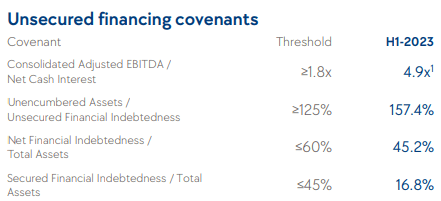 Regarding its operating performance, LEG's net cold rent amounted to €414 million in the first six months of 2023, an increase of 4.6% YoY. This growth is justified by higher like-for-like rental income, as the number of properties has remained relatively flat compared to last year. Its vacancy rate remained quite low, dropping to 2.6% at the end of last June (vs. 2.7% at the end of June 2022), being also positive for rental growth.
Its adjusted EBITDA amounted to €335 million during H1 2023, an increase of 4% YoY, but its free funds from operations (FFO) declined by 6.4% YoY to €226 million, impacted negatively by higher interest costs. On the other hand, its adjusted free funds from operations (AFFO) increased by 49% YoY to €118 million, as the company decided to lower its capital expenditures (capex) in a meaningful way to preserve cash. This led to an AFFO margin of 28% in the semester, compared to 20% in the same period of last year.
For the full year, the company has increased its guidance, showing that it's confident that a positive operating momentum will hold over the coming months. LEG expects strong rental growth to continue, expecting rental income growth between 3.8-4% in the year, while AFFO is expected to be between €165-180 million in 2023, compared to its previous guidance of €125-140 million. This improved guidance is justified by a positive market momentum that is leading to rental growth, lower tax on profits related to electricity and a reduction on new development capex.
Indeed, during H1 2023, LEG's total capex amounted to €175 million, compared to €223 million during the same period of last year, with maintenance expenses increasing slightly while new investments and construction reducing quite significantly. This trend is not expected to reverse over the coming quarters, as the company is likely to remain on cash preservation mode and new investments are basically put on hold. Until the real estate market recovers, or the European Central Bank start to cut rates, I don't expect this strategy to change much, which is slightly negative for the company's growth prospects in the medium term.
Regarding its debt refinancing needs, LEG had more than €300 million in cash at the end of last June, which together with its undrawn revolving credit facility of €600 million, are enough to cover its upcoming debt maturities in 2023 and 2024. Therefore, the company does not need to sell assets at fire-sale prices or raise mortgage loans to refinance existing loans and bonds, boding well for its liquidity management over the next eighteen months.
Regarding its dividend, investors should be aware that LEG usually pays one dividend per year and has decided some months ago to suspend its annual dividend related to 2022 earnings to preserve cash. Moreover, LEG also decided to change its dividend policy, which was based on a payout of about 70% based on FFO, and now is targeting to distribute 100% of AFFO.
This change seems sensible, given that AFFO is a better metric of cash generated than FFO, thus it should provide a more sustainable dividend going forward. Thus, if the company decides to resume an annual dividend payment next year, related to 2023 earnings, this should amount to around €2.20 per share based on the company's current AFFO guidance.
This would be a much lower dividend than compared to its history, reflecting its new rebased dividend policy. At its current share price, LEG's forward dividend yield is about 3.5%, which is acceptable but not high enough compared to other companies in the European real estate sector. For instance, Vonovia (OTCPK:VONOY) currently yields above 4% and due to its larger size is likely to have better access to capital markets than LEG in the near future, which is key to better manage liquidity in the coming quarters and distribute a sustainable dividend to shareholders at the same time.
Conclusion
LEG Immobilien continues to report a positive operating momentum despite the challenging real estate market in Europe, with the most worrying trends being external to the company, namely the negative impact of higher interest rates on its property valuations. Beyond that, LEG maintains strong fundamentals and has a highly recurring revenue profile due to its focus on the residential segment, boding well for stable financial figures over the next few years.
Due to this background and weak investor sentiment towards the sector, LEG continues to trade at a cheap valuation, considering its current multiple of 0.46x NTA. While this is slightly above the 0.39x NTA multiple it traded some six months ago when I last published an article on LEG, its valuation remains compelling and it's still an interesting value play within the German residential sector.
For investors who also seek income, I think Vonovia may be a better option, as the company has not suspended its dividend and is more likely to maintain its distribution ahead, while LEG's potential dividend resumption is more uncertain.
Editor's Note: This article discusses one or more securities that do not trade on a major U.S. exchange. Please be aware of the risks associated with these stocks.