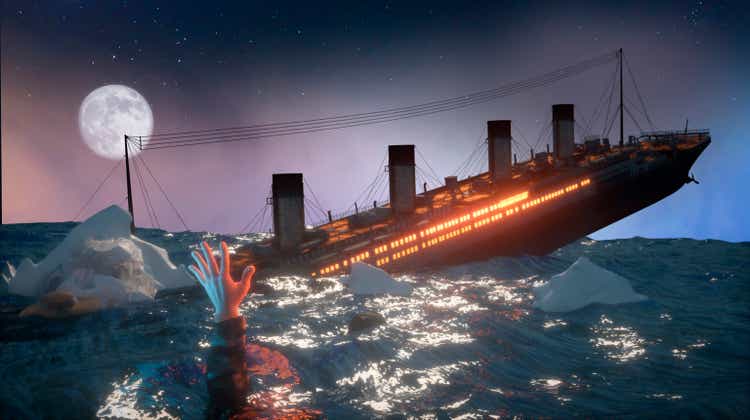 This article discusses the recently reported results for Prospect Capital Corporation (NASDAQ:PSEC) and is a follow-up to the previous article comparing it to FS KKR Capital (FSK):
Similar to last year, Prospect Capital has filed an NT 10-K indicating that the company and its auditor:
"require additional time to complete the documentation of the audit of the Company's consolidated financial statements as of and for the fiscal year ended June 30, 2023, in accordance with the standards of the Public Company Accounting Oversight Board and of the audit of the effectiveness of the Company's internal control over financial reporting."
My guess is that it is partially due to PGX Holdings (as discussed later).
As shown below, PSEC is currently trading at the lowest multiple to NAV for the reasons discussed in this and previous articles, which include its higher expense ratio and paying a VERY low dividend relative to its NAV (as shown at the end of this article). That is why its dividend yield remains near the average even though it is trading 35% below "book" value, which is likely overinflated as discussed/shown in the article linked above.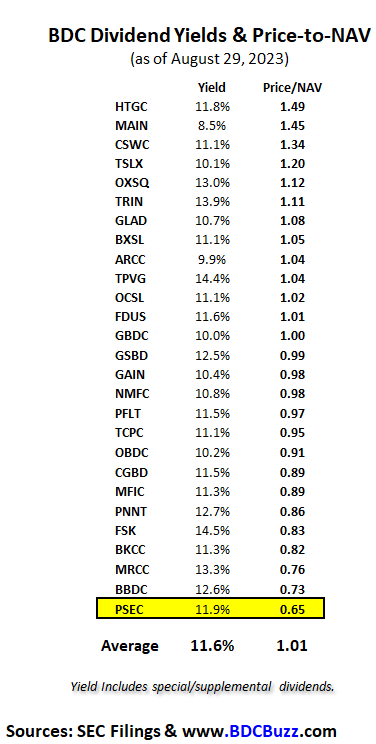 Also, PSEC is one of a handful of business development companies, or BDCs, that has not increased its dividend over the last two years similar to other lower-quality BDCs which include SLRC, MRCC, BKCC, and OXSQ. This is important to note, because 95% of all BDCs have recently increased their dividends with an average coverage of over 120% used to pay healthy amounts of supplemental and special dividends driving healthy returns paid to shareholders.
The BDCs with the largest NAV declines for Q2 2023 included PSEC, HRZN, SAR, PTMN, MRCC, and TPVG. I do not cover some of these BDCs so I'm not sure what the reasons were but PSEC is discussed below and the declines for TPVG and MRCC were predicted in the articles linked above.
Business development companies invest shareholder capital in privately-owned, small- and medium-sized U.S. companies generating income from secured loans and capital gains from equity positions, much like venture capital or private equity funds.
The BDCs in the chart below account for around 90% of the total assets and market capitalization for the sector. Over the two months, we discussed the portfolio credit quality and/or dividend coverage for most of them, including Ares Capital (ARCC), FS KKR Capital (FSK), Blue Owl Capital (OBDC), Golub Capital (GBDC), Goldman Sachs BDC (GSBD), Oaktree Specialty Lending (OCSL), New Mountain Finance (NMFC), Hercules Capital (HTGC), Sixth Street Specialty Lending (TSLX), PennantPark Floating Rate Capital (PFLT), PennantPark Investment (PNNT), BlackRock TCP Capital (TCPC), Gladstone Investment (GAIN), Gladstone Capital (GLAD), Monroe Capital (MRCC), Trinity Capital (TRIN), and TriplePoint Venture Growth (TPVG) in the following articles:
The following chart shows the average dividend coverage over the last 10 years with the last 4 quarters averaging over 120% even after taking into account the previous dividend increases. For Q2 2023, the average coverage was 131%, but with a wide range of results from the lowest being SLRC at 101% (not covered by BDC Buzz) to PNNT at 185%, partially due to the dividend income from Dominion, as predicted in the article linked above.
As discussed earlier this week in "ARCC: Assessing The Recent Results For 10% Yield," even if the underlying interest rates eventually go lower, there is a good chance that most BDCs will continue to over-earn their regular dividends.
---

PSEC June 30, 2023, Quick Update
PSEC reported between its worst and base case projections mostly due to increased non-accruals driving a lower portfolio yield partially offset by higher-than-expected fee and other income and lower "Other G & A," which includes "allocation of overhead from Prospect Administration." PSEC reaffirmed its regular monthly dividend of $0.06 per share for September and October and expects to declare subsequent distributions in November 2023. As mentioned earlier, 95% of all BDCs have recently increased their dividends with the exception of lower-quality BDCs including SLRC, MRCC, BKCC, and OXSQ.
The last line in the projected financials (included in the Deep Dive Projection reports for each BDC) shows "Operating Cost as a Percentage of Available Income." This measures operating, management, and incentive fees compared to available income. BDCs with lower operating expenses can pay higher amounts to shareholders without investing in riskier assets. As shown later, PSEC has the highest expense ratio and the company continues to issue shares through its DRIP including another 3.2 million at a 30% to 35% discount to NAV, diluting current shareholders. Also, the potential conversion of its preferred stock could drive meaningful dilution over the coming quarters.
NAV per share declined by another $0.24 or 2.5% (from $9.48 to $9.24) likely due to marking down its second-lien and equity positions in PGX Holdings which was responsible for $0.31 per share during the previous quarter. Also, there were probably additional markdowns to its CLO portfolio and/or its equity positions in First Tower Finance and National Property REIT. As mentioned earlier, PSEC has delayed its 10-K filing, so we do not have the details to assess changes in NAV and portfolio credit quality including the increase in non-accruals (likely includes PGX). However, we do know there was over $105 million or $0.26 per share of portfolio depreciation.
There are many factors to take into account when assessing dividend coverage for BDCs including portfolio credit quality, potential portfolio growth using leverage, fee structures including 'total return hurdles' taking into account capital losses, changes to portfolio yields, borrowing rates, the amount of non-recurring and non-cash income including payment-in-kind ("PIK"). As discussed in previous updates, PGX Holdings filed for bankruptcy, citing a recent loss in a court case brought by the CFPB over its billing for credit repair services seeking $3 billion in damages from PGX, after a Utah federal judge ruled in March that the company violated a federal law that prohibits up-front billing for credit repair services. PGX entered bankruptcy with about $4 million cash on hand, nowhere near enough to pay the CFPB's proposed judgment. However, PSEC only marked down the second-lien position in PGX, which was recently restructured to a 100% capitalized PIK/deferred interest and both positions were on accrual status as of March 31, 2023. This investment accounted for over $250 million or 3.3% of the portfolio at cost and around 5% of PSEC's NAV, even after the previous markdowns.
Clearly, PGX should have been placed on non-accrual but management took the aggressive approach (as usual) increasing capitalized PIK/deferred interest income that will likely be partially or fully written off over the coming quarters. PSEC has done this before, similar to other lower quality BDCs including MCC and FSC (previously restructured BDCs). As mentioned in the weekly updates, it is important to follow poorly managed BDCs to identify what to look out for in the others as well as establishing a range for target prices.
As of June 30, 2023, over 18% of the portfolio was equity positions in a small group of investments and almost 9% invested in the equity class of the collateralized loan obligation ("CLO"), which are considered non-qualified investments due to the amount of off-balance sheet leverage (typically 10 times) used to achieve returns. Together these account for 27% of the portfolio and banks will not allow these assets to be used as collateral for credit lines, which is why PSEC needs to use subordinated notes and preferred stock for most of its borrowings.
Most BDCs have around 2% to 8% PIK income and I start to pay close attention once it is over ~5% of interest income. Higher amounts of PIK are typically a sign that portfolio companies are not able to pay interest or dividend expenses in cash and could imply potential credit issues over the coming quarters. PSEC management has historically amended loan terms to include higher amounts of PIK, which has increased from 14% to 24% of total interest income for calendar Q1 2023. Again, we do not have the updated SEC filing to assess Q2 2023.
---
BDC Valuations
There are very specific reasons for the prices that BDCs trade driving higher and lower NAV multiples mostly related to portfolio credit quality and dividend coverage potential (not necessarily historical coverage). BDCs with higher-quality credit platforms and management typically have higher-quality portfolios and investors pay higher prices. This drives higher multiples to NAV and lower yields.
The following table shows the average operating cost% for each BDC over the last four quarters, with examples for MAIN and PSEC as well as the adjusted ratios for GBDC, GSBD, FSK, and TPVG.
As discussed last week in "Lower Fees Driving Higher Dividends," the recent reduction in GBDC's fees will significantly improve its cost ratio relative to the others:
The following table includes the current price-to-NAV showing that investors pay higher multiples for BDCs with lower expense ratios because these BDCs can pay higher returns relative to NAV per share and the amount of income from the portfolio.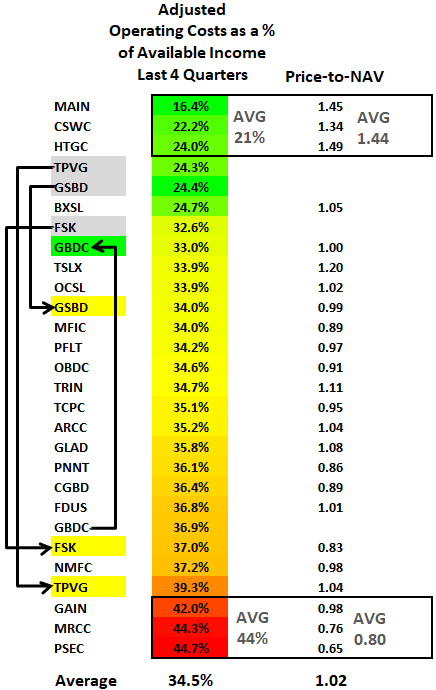 ---
Conclusion and Comparing Dividends to Book Values
Clearly, PSEC is a lower-quality BDC mostly for higher risk investors and/or traders that are not the typical "buy-and-hold for income" BDC investors. Please set your target prices accordingly.
The following table shows the current annual dividends divided by NAV per share as a simple proxy for current returns on equity ("ROE") to shareholders. BDCs with higher-risk portfolios should be able to deliver higher returns through higher portfolio yields. Conversely, lower-risk BDCs have lower portfolio yields due to safer assets/investments (including GBDC and OBDC) responsible for their lower return ratios.
However, many of the other BDCs with lower return ratios are due to higher operating costs (including PSEC and MRCC) as discussed in previous articles, and/or credit issues driving lower prices paid by investors. Also, PSEC management uses aggressive valuations for some of its equity investments, as discussed later, and is partially responsible for having a lower payout ratio relative to its inflated NAV per share.
Please note that we do not cover most of the lower quality and/or lower return BDCs including PFX, LRFC, SLRC, BKCC, BBDC, and SAR.