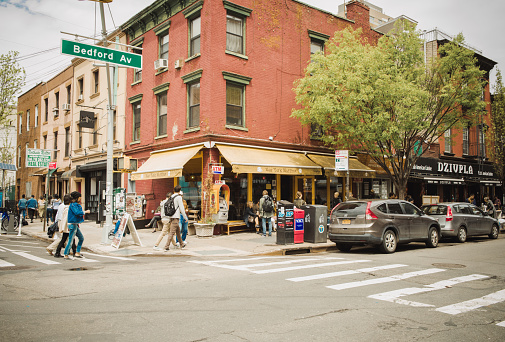 Acadia Realty Trust (NYSE:AKR) last declared a quarterly cash dividend of $0.18 per share, in line with its prior payment and for a 4.8% dividend yield. The internally managed equity REIT has dipped by 8% over the last 1-year with a quarterly dividend that sits around 11 cents below its immediate pre-pandemic level. The retail-focused REIT operates dual investment platforms. The core portfolio platform owns and operates retail properties across the US and is aggregated with a series of discretionary, institutional funds that target more opportunistic investments. The REIT had ownership interests in 149 properties within its core portfolio as of the end of its fiscal 2023 second quarter.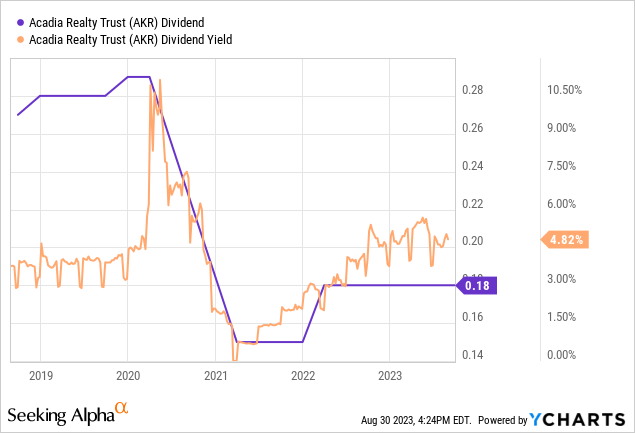 The core portfolio was also 95.2% leased as of the end of the second quarter, up 60 basis points from a leased rate of 94.6% as of the end of its first quarter. However, the core portfolio occupancy rate dipped to 92.2% in the second quarter from 92.8%. In view of the bulls is an eventual recovery of the quarterly dividend back to its pre-pandemic level as the REIT continues to trade at a unique discount to its tangible book value of $1.6 billion as of the end of this second quarter. Acadia also has ownership interests in 51 properties within its opportunity funds with the consolidated portfolio constituted of street and urban retail and suburban shopping centers including City Point in Brooklyn, New York, and 555 Ninth Street in San Francisco, California.
Debt Maturities And The Direction Of Tangible Book Value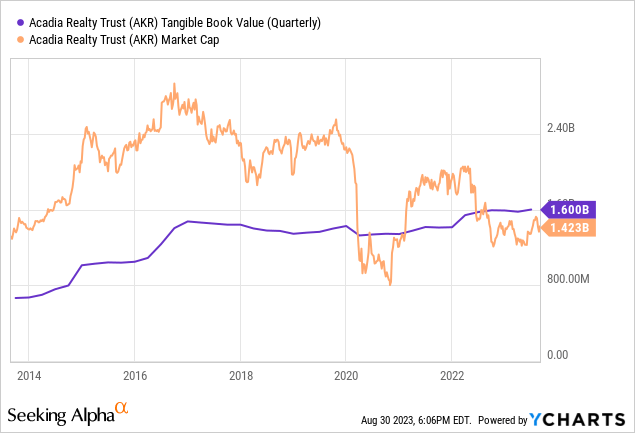 Acadia is currently swapping hands for an 11% discount to tangible book value per share of $16.78 as of the end of its second quarter. This discount opened up as the Fed moved more aggressively to bring down headline CPI inflation back to its 2% target with what would eventually become ten consecutive rate hikes, a pause, and another 25 basis points hike at its July FOMC meeting to bring interest rates to a 22-year high at 5.25% to 5.50%. This has placed REIT balance sheets and near-term maturities as core determinants of price volatility and shareholder returns.
Acadia has limited near-term maturity risk on core portfolio debt of $1.2 billion as of the end of its second quarter. Around 3.7%, 3.4%, and 11.1% of the core portfolio total are maturing in 2023, 2024, and 2025, respectively under the assumption that all extension options on the underlying mortgages and unsecured notes payable are exercised. Stripping out the extension options and taking into account the consolidated indebtedness Acadia would have around $154.6 million of debt coming due through to the end of 2023 with $252.76 million coming due in 2024.
Further, roughly 96% of the core portfolio debt was fixed, inclusive of interest rate swaps, at a blended interest rate of 4.28% as of the end of the second quarter. This came as the REIT recorded second-quarter revenue of $89.95 million, up 6.8% over its year-ago quarter and a beat by $13.98 million on consensus estimates. The core portfolio generated GAAP and cash leasing spreads of 21.6% and 13.1%, respectively, on new and renewal leases. Hence, bulls would be right to question the staying power of the current discount against this. Indeed, the REIT also recorded a $0.09 beat on second-quarter funds from operations of $0.37 per share. This was around $0.36 per share before special items and up from $0.32 per share in the year-ago quarter.
Strong Dividend Coverage
Acadia had a truly strong quarter with same-property net operating income growth of 5%. This figure has averaged just under 7% for more than two years with the REIT also raising their earnings forecast six times. The question from shareholders is now the dividend. The company was able to cover its quarterly cash dividend by 205% from its second-quarter FFO. This came as it revised its fiscal 2023 guidance upwards. FFO is now expected to come in between $1.28 to $1.36 from an earlier guidance of $1.19 to $1.26 to outperform consensus estimates of $1.23 at the low end. This would mean the REIT is set to pay out 56% of fiscal 2023 FFO as a dividend.
Critically, the REIT could hike the quarterly payouts to their pre-pandemic level of $0.29 per share and still cover this by 110% with its upwardly revised FFO guidance for its fiscal 2023. A 2023 recession could hit discretionary consumer spending to negatively impact its retailer tenants and perhaps lead to some weakness in leasing if prolonged. However, the REIT's currently healthy level of dividend coverage, limited near-term maturity risk, expanding cash leasing spreads, and unique discount to tangible book value render it a buy.