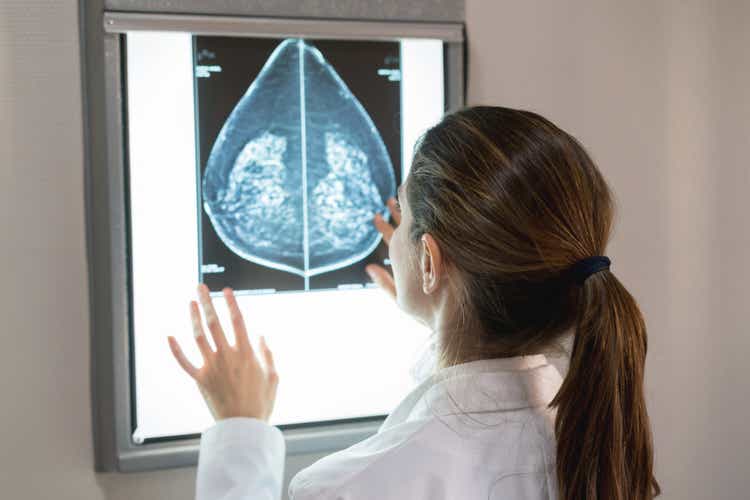 Topline Summary
Atossa Therapeutics (NASDAQ:ATOS) in a biotech company focused on the development of a novel hormone therapy for women with the most common subgroup of breast cancer: hormone receptor-positive disease. Although they have funds to continue for a few more years, the indications they're chasing are going to be very tough, with a long road to approval if they ever reach it. Therefore, I don't believe that now is the time to seriously consider an investment here.
Pipeline Overview
ATOS is currently hitching their wagon to a hormone therapy called (Z)-endoxifen, which I'll call endoxifen from here on. This molecule is a selective estrogen receptor modulator (SERM) in the same vein as pillar drugs for breast cancer like tamoxifen. In fact, endoxifen is a metabolite of tamoxifen, and one of the more active ones at that.
This agent has an interesting history already, too, since you can use it to track how well women are breaking down tamoxifen, with lower plasma levels of endoxifen being associated with worse event-free survival in women undergoing therapy for breast cancer.
In essence, ATOS is hoping to capitalize on one of the more active metabolites of tamoxifen while minimizing the toxicity associated with hormone therapy, which they hope can allow for hormone therapy in other settings where it's not currently used.
The first setting is so-called "neoadjuvant" therapy, where a patient with breast cancer that can be removed surgically will undergo some kind of therapy to shrink or eradicate the tumor before removal. This is not a new approach by any means, but in hormone-positive breast cancer it's not currently the standard of care here. Most patients will have surgery and then proceed to hormone therapy for upwards of 10 years.
The phase 2 EVANGELINE study is a randomized, non-inferiority study assessing endoxifen vs exemestane plus ovarian function suppression as neoadjuvant therapy for premenopausal women with hormone receptor-positive breast cancer. The company announced that the pharmacokinetic run-in cohort of this study completed its accrual back in June, so it's lively we'll see some kind of data from EVANGELINE at the end of the year. But it is worth tempering your excitement for these findings, since this only includes 6 patients so far, so there's only so much we will be able to learn from this presentation.
Endoxifen was also added as an arm in the I-SPY2 Endocrine Optimization Protocol, a long-running study aimed at refining the use of endocrine therapy in breast cancer.
Another avenue ATOS is pursuing is using endoxifen as risk reduction in women with dense breasts. This is a known risk factor for breast cancer (and particularly in terms of finding the cancer early), and currently there are no systemic treatments that have been shown to protect against breast cancer in these women. ATOS has been running a phase 2 trial called Karisma-Endoxifen testing 2 doses of endoxifen versus placebo in premenopausal women with high mammographic breast density, with a primary endpoint of reducing breast density over baseline. It's worth noting that the 2 doses being tested (1 mg and 2 mg) are far lower than in the EVANGELINE study, which is testing 40 mg a day.
The company announced that 170 patients had been enrolled in Karisma-Endoxifen as of July 10 this year, with full enrollment (240 patients) anticipated by the fourth quarter.
Side note: CAVEAT EMPTOR
Now, one big wrench here is that breast density is not currently something that we try to intervene on, since upwards of half of all women have it. Even though it's a risk factor, there's little to no evidence that reducing breast density will prevent breast cancer, and Karisma-Endoxifen is not assessing this risk. Per the company's guidance:
Based on input from the FDA and Swedish Medical Products Agency, reduction in MBD may not be an approvable indication unless we can demonstrate that our (Z)-endoxifen also reduces the incidence of breast cancer. We may therefore conduct additional studies of (Z)-endoxifen to assess its correlation with the risk of breast cancer and/or reduction in the incidence of new breast cancers.
So temper your enthusiasm when looking at the massive number of people who could potentially be recipients of endoxifen for high breast density. A positive study here will almost certainly not lead directly to an approval.
Other programs
Anyone who has read a bit on ATOS in the past may be wondering what happened to their COVID-19 program. In their Q2 guidance, they state that they no longer plan to pursue this program, despite finishing up a trial in healthy volunteers.
ATOS also has 19% ownership of the outstanding shares of Dynamic Cell Therapies, a pre-clinical company trying to make "controllable" CAR T cell therapies.
Financial Overview
At the end of Q2, 2023, ATOS held $99.4 million in cash and equivalents, with total current assets reaching $108.3 million. Meanwhile, their operational loss was $7.8 million, with a one-time impairment charge on investment in equity securities and other factors bringing the net loss to $9.8 million.
At this burn rate, assuming it stays steady, ATOS would have between 13 and 14 quarters of cash on hand to continue funding operations. However, if year over year costs continue to increase at the same rate (the company had a loss of $6.6 million in Q2 2022), this runway could shrink to as little as 8 quarters.
Strengths and Risks
Not to mince words here: new hormone therapies are pretty murky science. Endoxifen has been shown to have some efficacy after failure of tamoxifen, but it has never really moved past very early-stage trials. And now they're moving into very different areas of breast cancer care that don't currently use hormone therapy as standard.
Obviously, the company has rationale for doing this, but when you're moving into new frontiers, you're taking a big risk. Specifically, neoadjuvant hormone therapy is not standard of care; ATOS would need to establish that this is going to do better long term than what we do now, and post-operative tamoxifen has decades and decades of research and experience solidifying it as the treatment of choice for these patients.
Reduction of breast density has an even more uphill battle. You're talking about giving a hormone pill to women, and it's not clear whether this will ultimately need to be indefinite prevention, or if you can stop after achieving a reduction in breast density. And that's even IF endoxifen shows a reduction in breast density in the first place, which is what the phase 2 trial will hopefully shine some light on.
But it's worth keeping in mind the reticence of the public to undergo interventions to prevent relatively soft risks. HPV vaccine to prevent cervical cancer is a good example. It's approved, and it has good data to show that it actually works at preventing cancer. But it remains controversial, and uptake in the United States has been far from complete.
This is not to comment on the political issue of vaccination, but the slow march that these kinds of interventions need to take to become accepted. I think modifying breast density is one of these, and if this drug works, it's going to take a long time to find out.
Meanwhile, ATOS has a fairly healthy cash pool to draw from for now, but it's difficult to imagine that 2 years (my estimated minimum cash runway) will be enough time to bring a drug to market. Therefore, investing right now is going to be getting on the roller coaster, and given this company's propensity to add and drop programs as the tides go, it makes me wonder about their long-term focus, as well.
To summarize the strengths and risks: huge potential market, but we're talking about indications that would generate a lot of skepticism unless they can show monumental improvement over what we do right now, which is 1) give post-operative tamoxifen to women with breast cancer, and 2) watch women with high breast density more closely as much as possible.
Bottom Line Summary
ATOS is still scrabbling for a niche that they can carve for their drug. Until they've really solidified on what endoxifen can offer, it's very hard to recommend this as a good investment. Without a doubt, there is volatility to be had at the company will make positive announcements. But they're also struggling to keep up with listing requirements, and cash will almost certainly become an issue before they're able to get to see really strong data, let alone getting marketing approval. Therefore, as of right now, ATOS is a strong sell for me, translated as a stock not worth getting into as an investment under pretty much any near-term circumstance. But it will be an important story to follow as they map out their path.
Editor's Note: This article covers one or more microcap stocks. Please be aware of the risks associated with these stocks.