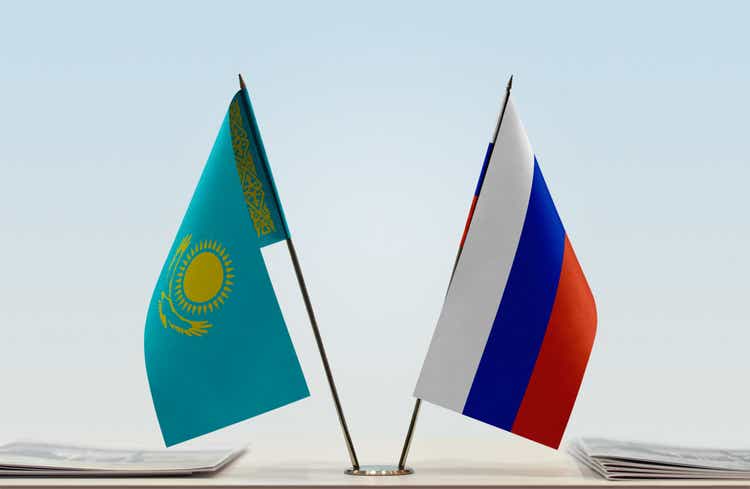 A recent report by short seller Hindenburg Research alleges various irregularities at Almaty, Kazakhstan based brokerage company Freedom Holding Corp. (NASDAQ:FRHC); I will refer to the company as "FRHC" hereafter. Hindenburg alleges systematic sanctions evasion as well as signs of fake revenue. They also point out signs of irregularities in connection with FFIN Brokerage Services Inc., a Belize based and licensed broker-dealer which is personally owned by FRHC CEO Timur Ruslanovich Turlov and accounts for significant related party revenues (I will refer to this entity as "FFIN Belize", in order to employ the same terminology as the Hindenburg report, which I will repeatedly reference throughout this article).
While the stock tanked in the immediate aftermath of the report, it has marked all-time highs since and trades about 25 percent higher than before the release of Hindenburg's report. At these levels, I believe that there is considerable downside risk. Below, I will explain my thesis with a focus on the contents of the Hindenburg report as well as on other factors.
The Allegations Are Serious
The allegations made by Hindenburg Research are fairly serious. I do not see much value in detailed repetition of what has already been written elsewhere. Chances are that if you are reading this article, you will do so because of an interest in FRHC and thus be already aware of the aforementioned report. I will, therefore, not repeat its entire content in detail. Suffice it here to say, that Hindenburg alleges that FRHC is helping customers (particularly Russian individuals) to evade sanctions. The following quote that Hindenburg attributes to a former account manager with Freedom Finance in Russia it claims to have interviewed underlines the severity of the allegations:
Literally nothing. Just bring your money. There's no source of income, source of funds. There's no KYC. Nothing. The best part is this is violating almost every country's anti-money and anti-terrorist financing laws. They could bring cash. I've personally seen suitcases with $2.5 million brought in cash by a client.

– a former employee as quoted by Hindenburg Research
Formally, FRHC has cut all ties to Russia. The company divested its Russian business. CEO Timur Turlov, while born Russian has since renounced his citizenship and is now a naturalized Kazakh citizen. However, the buyer Maxim Sergeevich Povalishin is a longtime associate of both FRHC and its founder, Mr. Turlov. Notably, Ukrainian government body NAZK explicitly calls for sanctions on Mr. Povalishin (NAZK also sanctions Turlov and FRHC president Askar Bolatovich Tashitov). Furthermore, Kazakhstan has seen an unprecedented influx of Russian money since the invasion of Ukraine (I would, however, caution that in many the driving force behind such transactions may be the aim to shield assets from the Russian government, not Western sanctions). In fact, Mr. Turlev states in a recent interview that "[FRHC] tried to transfer some of [their] clients to Kazakhstan." So, all in all, it appears not too far-fetched that FRHC still relies heavily on Russian money in the broadest sense. Thus, I believe Hindenburg's claims to be at least plausible (which does not necessarily make them true).
Sanctions Accusations Are Negative, Regardless
Regardless of whether or not Hindenburg's accusations of "brazen sanctions evasion" are factually correct or not, I think that fallout is likely. Unlike in a court of law, I believe that FRHC will have to prove its innocence beyond a reasonable doubt (which so far it has not, as far as I am concerned), or otherwise risk its business to be negatively affected by the mere suspicion.
If indeed there are sanctioned individuals or their affiliates among FRHC's customers, they will, I believe, be highly incentivized to withdraw their funds to continue evading asset freezes. I suppose that there would also be a clear sense of urgency, as heightened regulatory scrutiny is to be expected following the Hindenburg report. This additional scrutiny may have another negative effect: even (potential) customers who are not sanctioned may reconsider their existing or future relationship with FRHC and its affiliates for fear of being caught in the crossfire, so to speak. I imagine that to be especially true for Russian customers or customers with ties to Russia, as such individuals tend to have experienced the negative impact of sanctions imposed on Russia by the nations of the free world in one form or another in their daily lives. And usually if this kind of bank-run scenario begins, there is obviously the inherent risk of a snowball effect.
FFIN Belize
Independent of any (potential) sanctions breaches, the alleged commingling of customer assets with FFIN Belize's assets in a unified account, is a problem in its own right. Section 8 of FFIN Belize's risk disclosure statement refers to a special brokerage account in which customer funds are unified. Section 8.2 in particular states that "[FFIN Belize] shall have the right to use the Client's [assets] in its own interest (…)". Hindenburg suspects "an attempt to provide legal cover and carte blanche authorization for highly irregular conduct that puts customer assets at extreme risk." Notably, FFIN Belize has been blacklisted in the past by Kazakh regulators (cf position 55 on the entity list) for signs of illegal conduct.
Personally, I feel that Hindenburg is providing a plethora of circumstantial evidence, but not a smoking gun. But once again, I believe that the bad optics alone pose more than enough of a risk to the business. Even without any proof of commingling actually taking place, the mere possibility has the potential to scare off customers. There are, after all, very good reasons, why brokerages and banks ringfence customer assets from their respective operations and associated liabilities. So, again, I see the risk of a customer exodus due to diminished trust.
Nasdaq Listing Problems
Unrelated to the Hindenburg report or its contents, there are also some other issues specific to FRHC that investors should be aware of. First of all, there seem to be some problems in connection with Nasdaq rules, which may pose a risk to FRHC's listing. The company has received at least two notifications of noncompliance with Nasdaq listing rule 5250 (C) (1) the first on June 16th and a subsequent one on August 14th.
"A Company shall timely file all required periodic financial reports with the Commission through the EDGAR System or with the Other Regulatory Authority. A Company that does not file through the EDGAR System shall supply to Nasdaq two (2) copies of all reports required to be filed with the Other Regulatory Authority or email an electronic version of the report to Nasdaq at continuedlisting@nasdaq.com. All required reports must be filed with Nasdaq on or before the date they are required to be filed with the Commission or Other Regulatory Authority. Annual reports filed with Nasdaq shall contain audited financial statements."

– Nasdaq Listing Rule 5250 (C) (1)
The impact of the company losing its listings on investors can not be overstated. Without it, it will be significantly harder to sell stock in the company or otherwise access one's holding in FRHC. Now, to be perfectly clear, this notification of non-compliance does by no means translate to an imminent delisting. But it surely does not exactly build confidence, either. Especially when taking into account that FRHC faces accusations of showing signs of fake revenue and sanctions evasion, I believe that delayed SEC filings are a potential red flag.
Other Factors
The acquisition of a majority interest in Kazakh online supermarket Arbuz makes little strategic sense from my point of view. While I will concede that I may lack insight into the consumer behavior of Kazakh brokerage customers, I nonetheless fail to see any meaningful synergy. On the contrary, the combination of brokerage services with food and grocery delivery has the potential to make it more difficult to assign a fair valuation to the overall business.
More importantly, despite all the negative factors discussed so far, FRHC appears far from a bargain at its current share price. The stock trades at close to 30 times trailing earnings. To put that into perspective: that is almost twice as expensive as Charles Schwab (SCHW) or Interactive Brokers Group (IBKR). And these companies are much larger as well as headquartered (and regulated) in America. Nor do they face any allegations comparable to what Hindenburg accuses FRHC of. I am, thus, confident to say, that I view them as far less risky in comparison. Hence, in order to justify its higher valuation, FRHC would have to display rapid growth or sport another significant advantage.
But looking at the most recent income statement, I do not find much growth. For the fiscal year ended March 31st the company reported flat commission revenue (actually, it even slightly decreased). I believe commission revenue to be of particular importance for assigning a fair valuation, as it is not only the largest source of revenue, but also the most comparable revenue metric (as gains/losses on trading securities, foreign exchange operations or derivatives are inherently more volatile).
The YoY increase in total revenue (+15 percent to $795.7 million) is entirely a result of higher interest income (+142 percent from $121.6 million to $294.7 million). This is not only a factor outside the company's immediate control, it is also a double-edged sword, as, on the other hand, the interest expenses grew even faster to almost $209 million (+170 percent YoY). As a result, the company's profit decreased to $205.1 million (from $227.5 million).
Thesis Risks
My bearish thesis is, of course, not entirely without risks. In order for allegations to spook customers, they obviously have to be aware of them. I cannot assess how interested for example Kazakh (retail) brokerage customers are in (from their point of view) foreign sanctions, as long as they are not (yet) directly impacted. Keep in mind, that, so far, there has been no legal action against or formal inquiry into FRHC or its subsidiaries and affiliates (apart from the aforementioned Ukrainian sanctions). Similarly, it appears not too far-fetched to assume that by far not every customer has carefully read FFIN Belize's risk disclosure statement (which itself is Annex 5 to another terms and conditions document) up to Section 8.2.
I could even imagine that the allegations made by a (foreign) short seller against one of the largest financial services companies in the country could lead to public support rather than loss of trust. While that may seem counterintuitive at first, there have been some reactions like that in the case of Adani Group which has been criticized by Hindenburg Research in the past. There is also the possibility of investors betting on a short squeeze.
In the long run, it is also not impossible that FRHC will be able to expand into new markets and/or gain market share outside of its home market (for example, the broker already has a presence in Germany, where it notably emphasizes being an American entity). If the company were to kick-start growth, higher multiples could, naturally, become justified.
Conclusion
Even if the Hindenburg allegations regarding sanctions evasion were entirely untrue, I see little justification for a valuation at twice the earnings multiple of the likes of Charles Schwab. Consequently, I see a downside of at least around 50 percent, translating to a share price of around $50. In a worst case scenario (e.g. if there is indeed proof of systemic and intentional sanctions breaches), I believe the stock could potentially even become essentially worthless. Therefore, I view Freedom Holding Corp. as a strong sell.