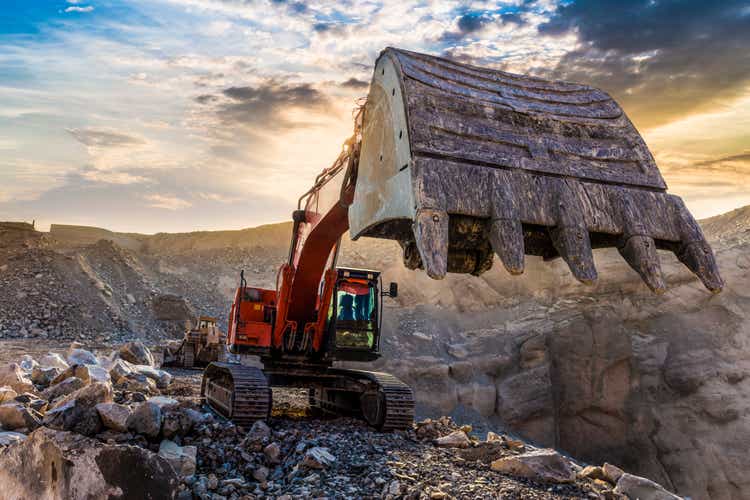 It's been a rough year for most development-stage companies in the precious metals sector and most have underperformed their producer peers. And those scrambling to update in-situ values (calculating the value of all resources) for these deposits and proclaiming that these stocks are dirt-cheap may be having a tough time from a drawdown standpoint, but they're missing the bigger picture. This is the fact that while market to in-situ value multiples and even P/NAV multiples may look depressed, cost of capital has continued to rise (higher rates), costs to build projects has continued to rise (inflationary pressures), and some jurisdictions have become less attractive which has led to further multiple compression. And while the decline in market caps with relatively stable in-situ values might suggest an even deeper valuation, the opposite is true, with it being near impossible to fund these projects as the market cap to initial capex figure drops.
As I noted in mid-2022, this is one reason that owning most developers has been a losing trade, and this is arguably even more true today given that the outlook for share dilution continues to get worse as share prices fall and inflation remains high. This is because the result is ultimately a higher cost to get to first production (higher drilling costs, higher costs to complete studies, higher construction costs) combined with lower share prices (less value per dollar raised) means significantly more share dilution than some investors might have factored into their calculations pre-2020 when guessing where a company's share count would land at the start of construction or first gold pour. Worse, even some producers like Guanajuato Silver (OTCQX:GSVRF) have had to resort to offering full warrants with raises, bloating what are already colossal share counts.
That said, there are always exceptions to the rule of avoiding developers, and for those willing to dig through the rubble, Marathon Gold (OTCQX:MGDPF) looks to be one of these exceptions. This is because it's already permitted for two of its three pits at its Valentine Gold Project in Newfoundland with third approvals expected by 2024, Marathon's share price has been beaten to a pulp, and it's already raised necessary capital for construction with construction nearly 20% complete. This suggests limited further share dilution, visibility into future cash flow, and a target on its back from potential suitors that are looking at their lack of exposure to Tier-1 jurisdictions and thinking that some diversification might be the right move to keep pace with peers that have also begun to diversify.
In this update, we'll dig into the Q2 results, recent developments since my June update when I highlighted the stock as a Buy at US$0.55 given its multiple paths to an upside re-rating as it inched closer to mill commissioning at year-end 2024, and why this persistent undervaluation has created a buying opportunity:
All figures are in United States Dollars unless otherwise noted with a C$ in front of the Dollar figure (Canadian Dollars).
Q2 Results
Marathon Gold released its Q2 results last month, reporting that it had completed 500,000 hours with no lost time injuries, and that project completion was at 35%, with engineering at 87%, procurement at 60%, and overall construction at 15% complete. This has continued to place the company on track for its first gold pour in Q1 2025 (full-scale or commercial production in H2 2025), and the company also noted that its permanent camp has been completed, earthworks at the process plant site were complete and foundations are being poured. Finally, Marathon provided additional disclosure that project daily average mining volumes came in above 16,000 tonnes per day in June once a second mining shift was added, pointing to the potential of mining ore sooner than planned, given the strong rates achieved to date.
So far 2.1 million tonnes of waste rock construction material and 235,000 tonnes of overburden had been moved, consistent with internal targets.
As for other developments, Marathon noted that Newfoundland Hydro completed the pole installation and right-of-way clearing along the 44.5 kilometer length of the Valentine Project's 66kV power line and conductor stringing was complete as of July. This suggests that it will energize the line on schedule in November, reducing the need for diesel generators and on-site fuel requirements with access to lower-cost grid power. And from a permitting standpoint, the company is still awaiting permits for one of its three pits, but given the economic benefit to Newfoundland, I don't see any risk around ultimately getting this permit for Berry which is required to begin mining this deposit in line with the planned schedule in Q2 2025. Marathon confirmed in recent news that only an EA approval is required, not a new Impact Assessment under the Impact Assessment Act.
As it stands, Marathon expects the review process for the EA approval (EA of a new undertaking b provincial regulator and a modified decision statement by the federal regulator), to be completed in 2024 and 2024, well ahead of planned mining in Q2 2025. As highlighted in a previous update, this is a relatively small modification to the initial mine plan with a third pit that's right next to the planned infrastructure, and this is not a case of having to make major changes to the project that might affect the ability to receive permits in a timely manner. These might include the need for an entirely new plant to process a different type of material, a new mining operation that was well outside of the planned disturbance area, or a doubling or tripling of the TSF if the company suddenly wanted to change its grade profile and mine much lower grades and processing exponentially more tonnes. Hence, with this being a minor modification, I see this as a very low risk to Marathon Gold.
Finally, from a financial standpoint, Marathon noted that cost to completion sits at C$391 million, with this included an un-used contingency of C$31.6 million. This compares to liquidity of roughly C$380 million, suggesting that if the project comes in on schedule (without burning through the contingency allowance), there will be no funding gap. Marathon noted it has spent C$113 million to date, it spent C$33.5 million in Q2 2023 (Q2 2022: C$9.2 million), and C$271 million has been committed to date, suggesting a relatively low risk of a cost overrun on the project. Meanwhile, the company was sitting on C$132.9 million in cash and had ~$248 million available as part of the US$225 million Credit Facility, of which US$50 million was released to its cash balance to date.
Recent Developments
While things are progressing smoothly, the big news in Q2 was that Marathon Gold's sale of an additional 2.0% NSR for the Valentine Project had successfully eased any worries about a funding gap without needing to do any major share dilution at depressed prices. However, this is no longer the case. This is because the company approved a C$33 million increase in the budget for design modifications in the process plant. These include a larger footprint for the 4.0 million tonne per annum grinding circuit (benefits: ease of maintenance and improved operability at higher throughput rates with a simpler layout/larger building), optimization of the 4 million tonne per annum gravity circuit (benefits: pre-designed capacity for a second parallel gravity concentrator if required), and an additional large leach and aeration tank, larger CIL tanks, and pre-installed concrete footings and piping for additional leach and detox tanks at the 2.5 million tonne per annum CIL circuit.
These changes should allow Marathon having an easier time pushing past the planned 2.5 million tonne per annum throughput rate, with Marathon contemplating to stay at this throughput rate until Year 4 previously when throughput increases to 4.0 million tonnes per annum. Marathon noted that the design changes should de-risk operability and translate to better mill availability, as well as the potential to pull forward ounces that might have otherwise been waiting until Year 4. The negative offset is that this has created a minor funding gap and tightened the budget, so I see the update as neutral overall. However, if we look at the big picture (which we'll discuss later), a potential suitor looking at Marathon and hoping to potentially acquire Marathon for its Valentine Project would hardly be bothered by the news, with this ultimately leading to a better design with the potential for higher gold production earlier (quicker payback), and having the balance sheet to easily cover any minor scope changes.
Valuation
Based on ~512 million fully diluted shares and a share price of US$0.56, Marathon trades at a market cap of ~$286 million, a figure that is a fraction of that of some Newfoundland developers and less than half that of many gold developers that won't pour before gold before 2030. Meanwhile, the stock is trading at just ~0.42x its estimated NPV (5%) of ~$680 million (6.5% discount rate, $1,875/oz gold), which is also a depressed multiple when considering that Tier-1 jurisdiction developer peers have typically been acquired by suitors at or above 0.80x P/NAV at a 5% discount rate. Finally, from a market cap per ounce standpoint, Marathon remains massively undervalued, with an average price paid per gold ounce of ~$204/oz for M&I resources and $143/oz for total resource ounces (measured, indicated, and inferred), and the most three recent acquisitions (Windfall 50%, Sabina, Musgrave) coming in at an average of ~$292/oz and ~$159/oz, respectively.
To put these numbers in perspective with Marathon's valuation today, the stock trades at barely ~$47/oz on a fully diluted basis which excludes out-of-the-money warrants at US$1.05 or ~$57/oz and ~$72/oz based on ~3.96 million M&I ounces. If this were an un-permitted project (currently fully permitted ex-Berry), a highly complex project with unproven technology or Marathon had little hope of funding it on its own, I could understand the steep discount. I could also understand the steep discount if this was a low-grade project that was highly sensitive to the gold price ($1,400/oz plus costs) or a project in a Tier-2 or Tier-3 ranked jurisdiction. However, this is not the case at all, and this is one of the best medium-scale gold projects in construction today, with it expected to produce ~200,000 ounces per year in its first twelve years at sub $1,050/oz all-in sustaining costs [AISC], a figure that's ~25% below the estimated FY2025 industry average (~$1,380/oz) in a safe jurisdiction.
So, Why The Discount?
Unfortunately, with several projects coming in above budget across multiple jurisdictions, investors have become more accustomed to capex blowouts. Second, while Marathon had taken care of any potential funding gap with the sale of a 2.0% NSR to Franco-Nevada Corporation (FNV), we're back to a setup of uncertainty related to a minor funding gap following the decision to increase project scope announced in August. However, on the first point, currency movements have been favorable to date year-to-date, with an average exchange rate of 0.75 CAD/USD vs. a budgeted rate of 0.78 CAD/USD. In addition, cost estimates were tightened up considerably, with a recently updated FS suggesting no big surprises vs. stale studies in 2020/2021 that saw blowouts (Cote Gold, Magino). Finally, Marathon still has an undrawn contingency of C$32 million still, so I see capex risk as quite low, especially if the Canadian Dollar can remain at favorable levels.
On the second point, a potential funding gap is not ideal, but this is not a $250+ million funding gap like Iamgold (IAG) had last year, which put enormous pressure on the stock and ultimately forced it to divest multiple assets. Instead, this is the potential for a C$30 – C$50 million funding gap which investors may worry might have to be funded from additional share dilution, but with supportive lenders, I would think that there is the possibility for more creative financing options to avoid share dilution at current levels. That said, even if we assume additional share dilution (40+ million shares), I am already assuming ~512 million fully diluted shares for Marathon and that ~88 million warrants that are far out of the money are exercised, and the stock is still heavily undervalued. So, I don't see this changing the valuation at all, but with the potential for further share dilution in the next 15 months, I think it's best to model a higher share count to be on the safe side.
While some investors might think that this is a reason to avoid the stock, there are other potential buyers in the market that couldn't care less. This group of potential buyers is a possible suitor for the Valentine Project, given that it would offer a solid production profile at industry-leading costs in a Tier-1 jurisdiction with the ability to lock up a mostly untested 20 kilometer gold belt. In fact, the lower for longer Marathon's share price is, the lower the ultimate buy-out price is in a takeover scenario, and the more accretive the deal. So, while it's easy to focus on the negatives, I continue to see the situation being a perfect storm for M&A for the best developers, given that some producers need to de-risk their jurisdictional profiles and need low-cost assets to claw back lost margins because of inflationary pressures, and companies like Marathon that own exceptional projects (modest capex, safe jurisdiction, above-average open-pit grades, partially constructed) fit this bill.
Hence, if Marathon has a decent chance of being acquired which I believe (obviously this isn't the same for most developers as not all companies have exceptional permitted assets in safe jurisdictions), all the worry about potential share dilution will be for naught and investors sitting on the sidelines won't reap the rewards. Plus, a suitor is not worried about any potential funding gap nor higher-cost debt as it can do what B2Gold (BTG) did at the Goose Project (Sabina acquisition) and come in and fund the project on its own and bring its own construction/development team and build the project as it sees fit. Therefore, the ideal time for a takeover is actually during the construction phase, which places Marathon in a favorable window if suitors are indeed sniffing around.
Finally, from a free cash flow standpoint, Marathon is one of the most undervalued names in the sector today. This is because even if we add net debt of ~$142 million to its current market cap, the stock trades at an enterprise value of ~$430 million vs. an estimated ~$125 million in FY2026 free cash flow ($1,950/oz gold), leaving it trading at barely 3.4x FY2026 free cash flow estimates. And with over $270 million in expected free cash flow generation from 2025 to 2027, a suitor would enjoy a rapid back on its investment with the added benefit of diversification. To summarize, I think the reward far outweighs the risks, which is why I've added to my position at US$0.55.
Summary
While gold developers are not without risk, I believe the key to investing in the space is focusing on those companies with the best projects, a modest risk profile (permitted plus fully or near-fully funded), and those that have high margins and modest capex. The latter is important because it means that unfavorable gold price changes during the build period won't severely dent change the economics, and any excess inflation will be tempered by a relatively low capex project (a 20% increase on a ~$400 million project is much easier to absorb than the same 20% increase on a $1.5 billion project). These restrictive rules (among several others) mean that developers are rarely worth investing in at all, but occasionally opportunities come along that are as close to a fat pitch as one can get when adjusting for investing in a speculative area of the gold sector.
After an ~80% decline, Marathon Gold looks to be one of these opportunities, with a great asset in a safe jurisdiction. And using a 70/30 weighting to P/NAV (6.5%) vs. P/FCF (2026) and fair multiples of 1.0x and 6.0x, respectively, I see a fair value for the stock of US$1.37 [C$1.85] to its 18-month target price at first gold pour (Q1 2025). So, with over 140% upside to fair value, the potential for an accelerated re-rating if a suitor swoops in, I continue to see the stock as a steal at current levels. Hence, if I were looking to put new capital to work in the gold sector, I see Marathon as a top-10 opportunity currently, and of the best buy-the-dip candidates in the sub $500 million market cap space.
Editor's Note: This article discusses one or more securities that do not trade on a major U.S. exchange. Please be aware of the risks associated with these stocks.