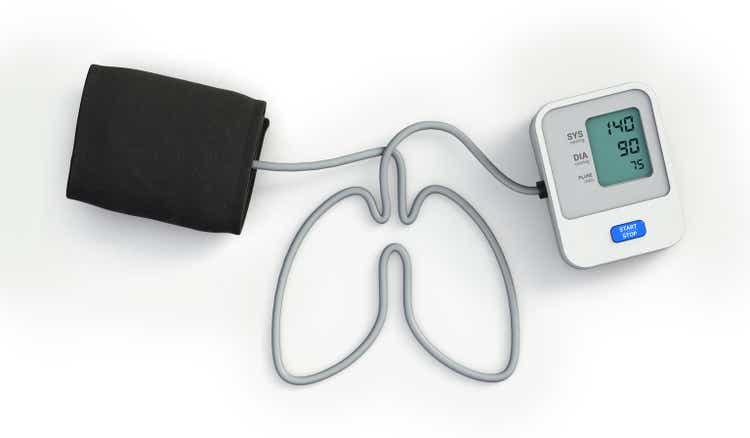 I can't complain too much about the performance of Alnylam Pharmaceuticals (NASDAQ:ALNY) operationally or in stock market terms since my last update on this biotech. The company has continued to deliver positive data from significant clinical programs as well as basically on-target commercial performance. With that, the shares have outperformed the broader biotech space over the last six months or so (rising about 7% versus a 3% decline in the SPDR S&P Biotech ETF (XBI)).
With the upcoming FDA advisory committee (or AdComm) meeting on the company's application to market Onpattro for transthyretin amyloid cardiomyopathy (or ATTR-CM), though, I do see an elevated near-term risk of volatility. I expect sharp questions over the efficacy of the drug in this indication and the use of surrogate efficacy endpoints instead of the FDA's former "gold standard" of cardiovascular outcomes. I do think the totality of data should drive approval, and that is still my base-case expectation, but the risk of a negative panel recommendation can't be ruled out.
Should Alnylam get the thumbs up, I believe the shares could move around 10% or so. A negative outcome could drive a 15% downward move (though the FDA could still choose to approve the drug), with some of that downside mitigated by upcoming data on Amvuttra (vutrisiran), the successor to Onpattro, in the same indication. With the shares more than 20% below my revised fair value estimate, I believe these shares are still worth considering, and particularly so if the panel were to vote against the approval of Onpattro in ATTR-CM.
The Upcoming AdComm Isn't Make Or Break, But It's Not Nothing Either
Alnylam is looking to get FDA approval to expand Onpattro's label and market the drug for ATTR-CM. Currently the drug is approved and marketed for ATTR-PN (transthyretin amyloid polyneuropathy) and the drug has enjoyed strong commercial success since its introduction. ATTR-CM is a larger market opportunity, though, and Pfizer's (PFE) tafamidis (marketed as Vydnamax) booked about $2.4B in revenue in 2022 versus the $651M that Alnylam earned from Onpattro and Amvuttra in ATTR-PN in 2022.
Vyndamax isn't a perfect solution, and setting aside the debate about head-to-head efficacy between Vyndamax and Onpattro and/or Amvuttra, the reality is that about 15% to 25% of patients on the Pfizer drug continue to progress. Even if Alnylam were to struggle to convert patients away (and there are solid arguments for combo therapy), simply bringing in those who progress on Vyndamax would still be commercially meaningful for Alnylam.
The question now is whether Alnylam will get the clearance it needs. The market was disappointed earlier this year when the FDA announced it would schedule an AdComm meeting to consider Alnylam's application, and now the date of that meeting (Sept 13) approaches, with pre-meeting documents scheduled for release on Sept 11.
I expect aggressive and pointed questions on the subject of efficacy and whether Alnylam has sufficiently proven the efficacy of Onpattro in ATTR-CM. As a reminder, this is the first candidate up for consideration under new FDA rules that allow for approval without cardiovascular outcomes as the primary endpoint (using surrogate endpoints like 6-minute Walk Test (or 6MWT) and the Kansas City Cardiomyopathy Questionnaire (or KCCQ) instead).
Data from the Phase III APOLLO-B study of Onpattro in ATTR-CM have been positive, and the company reported in late May that those benefits continue on at 18 months (through an open label extension study). Looking back at the 12-month data (the basis for the application), Onpattro delivered statistically-significant improvement in 6MWT (14.7m benefit, p=0.0162) and KCCQ (3.7pt benefit, p=0.0397), as well as favorable trends in all-cause mortality and cardiac biomarkers.
While Onpattro met and exceeded the targets that Alnylam established with the FDA, I expect pointed questions about the relevance of endpoints like 6MWT. I also expect some quibbling about the relative efficacy of Onpattro and Vyndamax – I believe this can be explained by a difference in the severity of disease between the patient groups, but I'm sure it will come up.
Ultimately I believe that Alnylam will get its FDA approval, though it may well come despite a negative panel vote (the FDA is not bound to follow advisory committee votes) – at a minimum, rejecting Alnylam's application when the drug exceeded the established clinical trial endpoints would set a questionable precedent for the FDA and the broader biotech space. Should the panel vote against approval, I believe Alnylam shares could decline around 10% to 20%.
Should approval come, I think it will provide a meaningful boost to Onpattro revenue, but likely only for a couple of years. Alnylam is also developing Amvuttra for ATTR-CM (the HELIOS-B study), and assuming a successful trial read-out and future FDA approval, Amvuttra will eventually supplant Onpattro. As a reminder, the HELIOS-B study is using all-cause mortality and recurrent hospitalization as its primary endpoint, with 6MWT as a secondary endpoint.
Encouraging Data From KARDIA-1, But A Long Way To The Finish Line
Alnylam also recently reported positive top-line data from its Phase II KARDIA-1 study of zilebesiran in hypertension. The two highest doses studied showed a better than 15mmHg reduction in mean systolic blood pressure after three months and a sustained reduction through six months. There was one death reported in the zilebesiran group, but it was not drug-related and the overall safety profile looked good (a serious adverse event rate of 3.6% for zilebesiran versus 6.7% for the placebo group).
Reaction to this clinical read-out has been a little muted, and I think there are a couple of reasons. First, this is only the first of two Phase II read-outs, with results from KARDIA-2 (a study of zilebesiran in combination with other established anti-hypertensives) expected later this year. Second, expectations were already high – I believe the market took it as a given that the drug would show better than 10mmHg reduction in SBP (an oft-repeated benchmark for "meaningful" efficacy) and I think hopes were that KARDIA-1 might show as much as 20mmHg or better reductions.
As a reminder, Alnylam recently partnered this drug with Roche (OTCQX:RHHBY), with the companies splitting development costs and agreeing to split U.S. profits and Roche paying royalties on ex-US sales. Roche also agreed to an upfront payment of $310M and up to $2.8B in milestones, $365M of which could be unlocked relatively soon ($65M for the start of the KARDIA-3 study in patients with uncontrolled hypertension and high cardiovascular risks and $300 for the start of a Phase III cardiovascular outcomes study in the same sort of patient population).
I like the Roche deal. Alnylam doesn't need validation from Big Pharma, but marketing a drug for an addressable patient population that could number in the tens of millions is a different challenge than Alnylam has faced thus far. Having a Big Pharma partner with a large established commercial sales effort outside of specialty medicine will help maximize the value of the drug.
Waiting For More Clarity On ALN-APP
There has been frustratingly little to report on ALN-APP since positive interim Phase I data in April and a modest update in July. In this Phase I Part A study, Alnylam has seen good knockdown of serum APPα and APPβ (69% and 82%, respectively, at 2 months at the highest dose, with 56% and 65% knockdown persisting at 6 months). Safety data have been clean so far, with no SAEs, normal CSF levels, and no significant neurofilament light chain abnormalities. As a reminder, this study is being conducted in patients with early-onset Alzheimer's disease.
The issue is that the Part B side of the Phase I program is still under a clinical hold due to preclinical toxicology concerns. While the data in question were generated with doses well above what Alnylam intends to give to patients, I can understand the FDA's caution. The company can still move forward in Europe and Canada, suggesting that the safety concerns aren't too serious, but I would like to see more clarity on when this hold may be resolved so that the company can move forward.
The Outlook
In my opinion Alnylam has continued to make progress, although not everything has gone the company's way. Sales of Leqvio (marketed by Novartis (NVS)) have been slower than expected out of the gate, with 22% quarter-over-quarter growth in Q2'23 to $78M. Reimbursement challenges have been greater than expected and it's likely to take time and longer-term cardiovascular outcomes data to drive this drug closer to its potential peak of $2B or more in revenue (and this is also likely informing Alnylam/Roche's decision to launch a CVOT for zilebesiran from the get-go).
I also have my questions about whether fitusiran (licensed out to Sanofi (SNY)) will live up to prior hopes – clinical development has dragged on longer than initially expected and there are some well-established alternatives in the market (including Roche's Hemlibra) that fitusiran's data may not be strong enough to really supplant.
Still, on balance, things continue to develop favorably for Alnylam. The passage of time (getting closer to peak revenue periods) has helped boost my fair value, with the ATTR program (Onpattro, Amvuttra and earlier-stage assets like ALN-TTRsc04) still accounting for a large portion of my fair value estimate (about $152/share). Givlaari and Oxlumo account for another $42 or so combined, and Leqvio and fitusiran combine for around $20. The positive KARDIA-1 data lead to a small boost in my fair value estimate there (to $17) and there is still significant potential in this program, as well as early-stage assets like ALN-APP and ALN-KHK. All told, my fair value moves to just under $250 today.
The Bottom Line
Given the potential of a double-digit decline on a negative AdComm vote, I can understand why some investors may opt for the sidelines today. I believe Onpattro will get FDA approval for ATTR-CM, but the path to that approval could yet be controversial and rocky. Still, even in a worst-case outcome for Onpattro, I expect positive data from the HELIOS-B study and eventual FDA approval. With ongoing growth potential in the core ATTR franchise, a proven R&D platform, and high-potential drugs in the pipeline, I still believe Alnylam is a name worth owning in the space.
Editor's Note: This article discusses one or more securities that do not trade on a major U.S. exchange. Please be aware of the risks associated with these stocks.