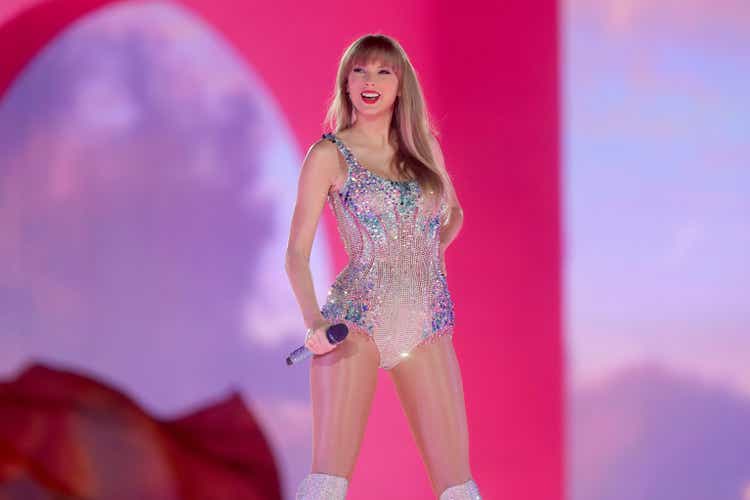 AMC Entertainment Holdings (NYSE:AMC) was one of the few meme stocks that I always monitor on the regular basis due to the immense buying power of retail traders. Retail traders are powerful and it's no secret that AMC remains a popular holding amongst Generation Z and Millennial investors.
Unfortunately, most retail traders have lost their savings due to AMC's terrible YTD stock price performance. AMC shares are down 76% YTD while the S&P 500 is up 16%.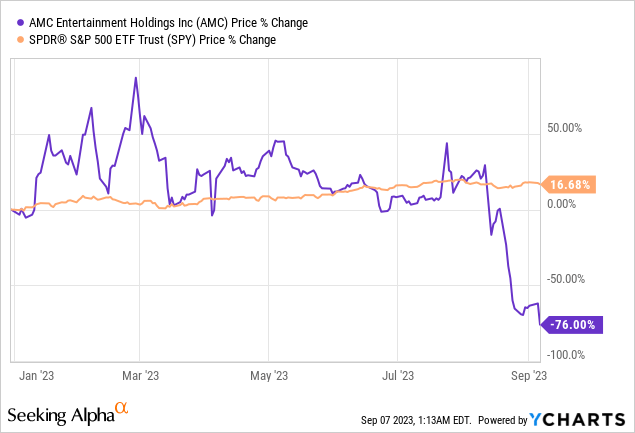 I couldn't believe my eyes when I read that singing sensation Taylor Swift, who built a massive $740 million net worth through music, signed an exclusive partnership with AMC Entertainment to release her The Eras Tour film starting on October 13th, 2023.
I have a lot of moving parts in this article to discuss so grab some popcorn (pun intended) and discover why AMC stock could skyrocket in value from this revolutionary partnership with the world's most powerful woman in music at the moment.
AMC's Q2 Results and Potential Blowout Q3 Earnings Report
Q2 2023 was the beginning of a glorious turnaround for AMC Entertainment because the company posted a positive EPS for the first time since Q4 021.
AMC Entertainment generated $1.3 billion in revenue and earned a net profit of $8.6 million (0.01 EPS) compared to a loss of $121.9 million in Q2 2022.
The company welcomed more than 66 million guests worldwide and improved in key metrics such as revenue, net income, food and beverage revenue per patron, adjusted EBITDA, etc.
AMC's 0.64% net profit margin remains an issue but I believe the Taylor Swift deal changes everything moving forward. AMC's Q3 earnings report could shock the world due to the release of popular Movies such as:
Barbie
Oppenheimer
Mission Impossible – Dead Reckoning Part One
Sound of Freedom
July 2023 was the highest monthly revenue period of the company's 103-year history with more exciting Q3 & Q4 news to come via the Taylor Swift partnership.
Hollywood Missed Out on The Eras Film Deal
According to Insider, the Swift family attempted to work with Hollywood to release a film covering Taylor Swift's The Eras tour but producers wanted to release the film in 2025.
The Swift family balked at this idea and wanted to release the film during the peak hype of the tour instead of waiting nearly 2 years to capitalize on the tour's staggering interest.
The goal was to release a film in North America during Taylor Swift's international tour covering the United Kingdom, Japan, Singapore so her American fans could watch her concert in theatres while she was touring overseas.
How AMC Landed The Historic The Eras Film Deal
AMC Entertainment CEO Adam Aron and the Swift Family did something unheard of by cutting out Hollywood from the deal and distributing the film directly to theatres. The Swift family funded 100% of the movie (roughly $10 to $20 million) and hired director Sam Wrench to direct the film.
AMC Entertainment will distribute the film in its theatres as well as 3rd party theatres such as Cinemark at least 4 times per day on Thursdays, Fridays, Saturdays, and Sundays.
Taylor Swift's Family will receive 57% of the gross revenue from the film while 43% going to AMC Entertainment.
AMC's Presale event for The Eras Concert film grossed $27 million on its first day and broke the 103-year-old one-day sales record by a staggering $9 million. The previous record was held by Spiderman: No Way Home that grossed $16.9 million back in 2021.
The Spiderman movie went on to gross over $2 billion worldwide and it's exciting to estimate how much of an impact this partnership could create for AMC Entertainment and the entire film industry moving forward.
Swiftonomics: The Taylor Swift Effect Explained
Taylor Swift is arguably one of the most brilliant marketers at the moment and could single handily save AMC entertainment from bankruptcy risk with this unique partnership.
Taylor Swift's The Eras Tour is projected to gross $2 billion in North America ticket sales and generate $5 billion in consumer spending throughout the United States alone.
Don't underestimate the power of Taylor Swift's followers aka Swifties who are die hard loyal fans that spend upwards of $20,000 (!) per ticket to see her perform live in person.
According to MorningConsult, 53% of American adults are Taylor Swift fans with nearly an even mixed of women (52%) and men (48%).
Here's a quick breakdown of Taylor Swift's massive 437 million social media following across her most active networks:
Instagram: 271 million followers
X (formerly known as Twitter): 94 million followers
Facebook: 79 million followers
Using these free social media platforms gives Taylor Swift a huge marketing platform to promote her concert and films at zero cost other than her time.
That's good news for AMC shareholders aka "Apes" who watched AMC stock fall nearly 90%+ since its 2021 all-time highs.
Not only does Taylor Swift bring excitement back to AMC stock but she can also deliver unbelievable top and bottom line results due to her immense fame and financial acumen.
Revenue and Net Income Estimates for AMC-Taylor Swift Deal
I dug through AMC's Q2 earnings report to figure out how much money the company could make from the Taylor Swift The Eras film partnership.
The company should expect a massive jump in total attendance, average ticket price, and food and beverage revenue per patron.
I'm projecting $2 billion in total revenue in North America from Taylor Swift The Eras film.
These numbers are estimates based on data from AMC's financial results.
Projected The Eras Film Revenue + AMC's Gross Income
| | |
| --- | --- |
| Revenue Source | $USD |
| The Eras Film Ticket Sales (54%) | $1.08 billion |
| Concessions (36%) | $720 million |
| Other Theatres (10%) | $200 million |
| AMC Entertainment's Gross Income (43% of total revenue) | $860 million |
Here's a quick breakdown of how I computed these numbers:
Ticket Sales: The Eras Film tickets are selling for $19.89 (adults) and $13.13 (children and seniors). It's important to note that AMC generates 80% of its revenue from U.S. markets. This is where most of the money will be made.
Concessions: AMC is releasing limited edition popcorn tubs ($14.99) and soda cups ($11.99) for the Eras tour film patrons.
Distribution: I'll estimate that AMC will earn an extra 10% in gross income due to its distribution deals with 3rd party theatres.
The film will run for 26 weeks in theatres and should become one of the highest grossing films of all-time. Again, these are my estimates based on consumer demand, elevated ticket prices, limited edition concession containers, and overall hype.
If AMC adds an additional $860 million to its bottom line then the company has plenty of cash to pay down its debt, achieve positive free cash flow, and avoid diluting shareholders via stock sales.
AMC Stock is Oversold on the RSI Weekly Chart
I'd like to point out some bullish technical indicators that helped me plug the trigger on AMC stock after the Taylor Swift partnership news.
AMC stock sold off sharply after the APE conversion and reverse stock split. Take a look at the weekly RSI chart to see that looks like a strong buy from a technical standpoint.
AMC's Weekly RSI of 27 shows how many investors are afraid of AMC Entertainment going bankrupt.
I used the weekly RSI on my two previous articles on Moderna (MRNA) and Canopy Growth (CGC) to buy each respective stock at its short-term bottom.
Hopefully, the same strategy works for AMC Entertainment shares as well.
BlackRock Joined the AMC Movement
According to Marketbeat, institutions have been buying up AMC stock in Q2 2023 with a net inflow of $237 million. Not only that but Blackrock, the world's largest asset manager, owns just over 2 million AMC shares stake (worth ~$28 million) in the company despite all of negativity surrounding AMC Entertainment.
My mantra is to be greedy when others are fearful and follow the money. AMC investors should understand that several major institutions were buying up AMC stock while everyone else was running for the exits.
Risk Factors
Investing in any meme stock has major risks since most retail traders focus on hype rather than fundamentals. Here are some of the risk factors you may want to beware of:
Share Dilution: AMC Entertainment is authorized to sell up to 40 million shares after the APE conversion in order to pay down its debts. Dilution is the #1 risk at the moment but the Taylor Swift deal helped me overcome this fear.
$4 Billion in Long Term Debt: AMC finished Q2 2023 with over $4 billion in debt and most bears claim the company will go bankrupt. However, the Taylor Swift partnership changes everything and this deal can help AMC pay off its debt without issuing new shares. Now, the company should be able to cover its $100+ million quarterly interest payments on debt (paid $102 million in Q2) with plenty of free cash flow to reduce the debt further and sign new deals in Q4 and beyond.
Uptick in COVID-19 Cases: Flu season is approaching soon and COVID cases continue to rise. People tend to avoid crowded indoor spaces during virus outbreaks. Perhaps even Taylor Swift's army of fans will avoid theatres if things get worse.
Lackluster The Eras Film Ticket Sales: The presales record is great news but we don't know how things will pan out in September in terms of ticket sales leading up to the October 13th release date. Swifties are loyal but I could be overestimating the financial impact of this deal.
My Gameplan for AMC Stock
Last time I bought AMC stock at $6 pre-split, I watched the shares skyrocket to $60+ and sold most of my shares for a handsome profit.
I bought more AMC shares at $12.76 to ride the Taylor Swift wave in hopes of a massive Q3 earnings beat and potential short squeeze.
I also bought calls expiring on 10/13 (the same date as The Eras film release) to profit from a potential upswing in share price.
A Final Word for Apes and Naysayers
Will AMC stock squeeze to ridiculous heights thanks to Taylor Swift? AMC's short interest is only 12% at the moment and a lot of the short sellers covered to limit their losses.
I think AMC becomes a much strong company due to Taylor Swift's influence and you could actually make money holding the shares rather than praying for a massive, short squeeze.
Lastly, I want to address the haters who believe AMC Entertainment will go bankrupt due to its $4 billion in debt.
Do you really think Taylor Swift would partner with a company on the verge of bankruptcy?
Like it or not, AMC Entertainment has transformed into a legit business and could shed its meme stock label if the Taylor Swift partnership becomes a huge success.
With at most 200 million shares outstanding, I believe now is a great opportunity for value investors to buy AMC stock when everyone else is fearful.