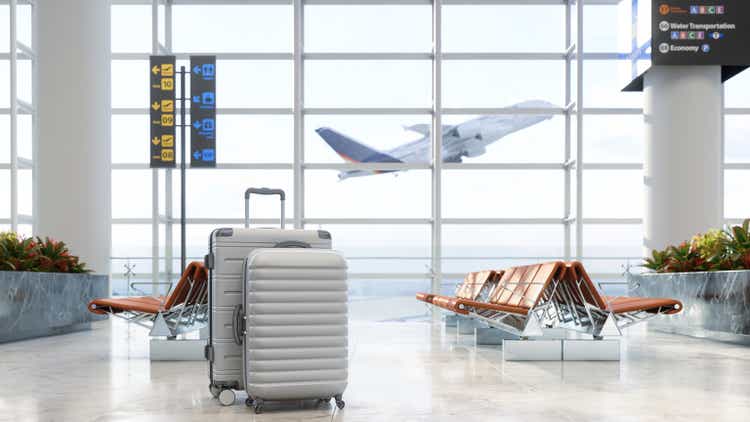 Investment Thesis
Corporacion America Airports (NYSE:CAAP) is a leading global private airport operator, currently operating 53 airports in 6 countries across Latin America and Europe (Argentina, Brazil, Uruguay, Ecuador, Armenia and Italy). They operate some of the largest and most important airports in the countries they are present. In 2021, their airports served 35.7 million passengers, 57.6% lower than the 84.2 million served prior to the pandemic, in 2019. Argentina is their largest and most well established market where they operate and manage 37 of the 56 airports in the national airport system.
The company has fully recovered from the pandemic and despite the recent rally in the shares we believe they are still undervalued. CAAP continues to operate at a stellar performance and has various tailwinds that should drive growth for the business in the coming years.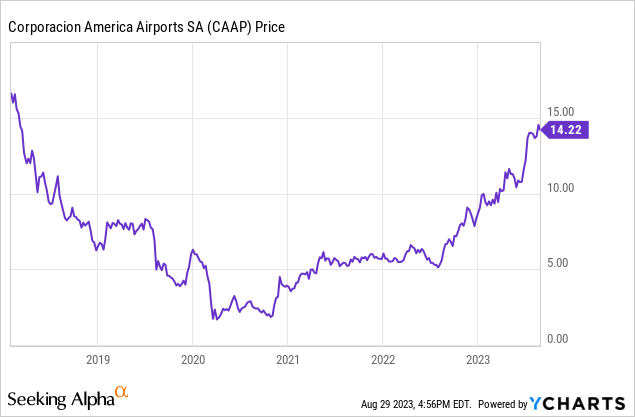 Financial Results
CAAP reported its 2Q 2023 financial results on August 17th. Revenue was $422.7 million, a 27.1% increase YoY or 2.5% above 2Q 2019. Looking at the first half of the year, sales came in at +36% for the quarter compared to 6M22 and +1% vs. 6M19.
Total passenger traffic increased by 30.6% YoY to 19.7 million, reaching 98.6% of pre-pandemic levels, up from 89.9% in the previous quarter. In June, the latest month of the quarter, passenger traffic exceeded pre-pandemic levels.
The cargo volume increased by 3.3% to reach 90.8 thousand tons, corresponding to 86.0% of the levels seen in the second quarter of 2019. Additionally, there was an 18.6% rise in aircraft movements, reaching 103.9% of the levels recorded in the second quarter of 2019.
The bottom line was also very impressive. Operating income was $110.4 million, up from $72.1 million in Q2 2022, as the operating leverage improved amid higher traffic volume. The operating margin also expanded by 660 basis points from 21.7% to 26.1%. Adjusted EBITDA increased by 36.5% YoY from $110.6 million to $150.9 million, accounting for 35.7% of total revenue. Net income was $69.8 million, remaining flat YoY.
Thanks to the increased EBITDA, and despite an increase in debt of $93 million, the net debt/adjusted EBITDA ratio declined from 2.1x in March 2023 to 1.8x in June, compared to 3.5 in 2Q 2022. Total debt amounted to $1.45 billion, and they had $448 million in cash and equivalents.
Outlook
Despite the impressive recovery from the pandemic, there are still several catalysts that could drive significant growth for CAAP.
Firstly, CAAP still has to recover the entire volume of international traffic in Argentina. While domestic passenger activity in the country has exceeded pre-pandemic levels by 11% in the most recent quarter, the volume of international traffic remains 18.3% lower than in Q2 2019 (or about 1.1 million fewer passengers). CAAP receives $57 per international passenger that arrives in Argentina, so a full recovery would mean an incremental $62.7 million in revenue for the group.
Secondly, CAAP is investing heavily to increase capacity at existing airports. In Armenia, their fastest-growing market, they are in negotiations with the government regarding the Capex plan to address the growing demands. In Italy, the process for the new master plan for the Florence airport continues to advance.
Finally, expanding their airport network is also an important growth opportunity that CAAP is focusing on. Currently, they are negotiating with Nigerian authorities in connection with the concession agreements for Abuja and Kano airports and are analyzing two additional attractive airport concession investment opportunities in other countries.
Valuation
CAAP is not the bargain it was a year ago, but it is still very attractive. The market expects the company to generate $600 million in EBITDA in 2023, which yields an EV/EBITDA multiple of 5.5x at current prices. When compared to its closest peers, we can see that CAAP is significantly undervalued.
CAAP is also trading at a discount relative to historical averages. Overall, we think shares could keep rallying even after rising 64% YTD.
Risks
The primary concerns for CAAP revolve around Argentina and macroeconomic challenges. With a significant presence in Argentina, the company's prospects are closely tied to the nation's condition. Argentina's political landscape remains volatile, and its economy continues to weaken. An illustrative example is the escalating inflation rate, which recently surged to 113.5% YoY in May. This inherent instability in the country could potentially affect both outbound and inbound travel, making it an aspect to monitor closely.
Another issue that may arise is the sizable amount of long-term debt the company holds on its balance sheet. As we mentioned, the company has $1.45 billion of debt. The financial burden on the company may increase as interest rates rise. However, CAAP's interest expense has decreased by 44.6% compared to $49.1 million in 2Q 2022.
Takeaway
CAAP is a reliable operator with a very stable business, good concession contracts, and growth prospects. Despite the increase in share price, we still believe there is a great opportunity to go long some shares.