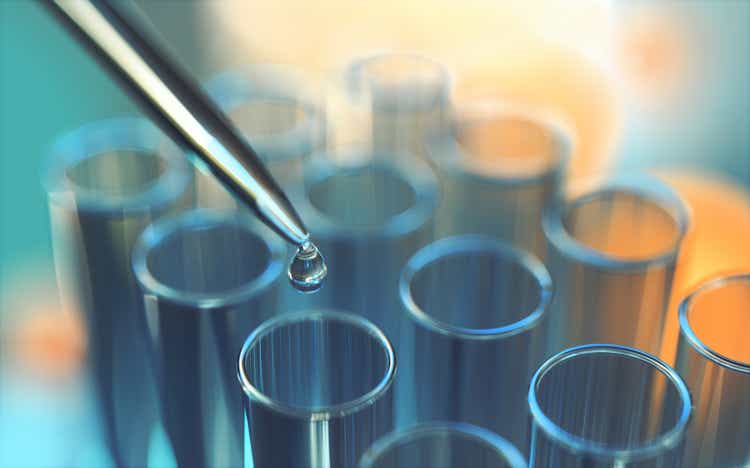 If only the human body could handle trauma as well as biotechnology stocks do. – Alex Berenson.
The biotechnology sector has been a hotbed of innovation with companies in the industry pushing the boundaries of medical and scientific research. On the surface, it's a part of the market that one would think could have substantial returns given the risk. The unfortunate reality, however, is that overall the group has disappointed, and there are better ways of getting exposure to the Healthcare sector.
The iShares Biotechnology ETF (NASDAQ:IBB) is an exchange-traded fund ("ETF") that tracks the investment results of the NASDAQ Biotechnology Index. This index is comprised of U.S.-listed equities in the biotechnology sector, providing investors with exposure to a broad spectrum of companies involved in biotechnology and pharmaceuticals.
When we look at IBB relative to the Health Care Select Sector SPDR® Fund ETF (XLV), we can clearly see that the fund is at relative levels far below where they were 10 years ago.
Key Holdings
Perhaps the reason for weakness relates to the idiosyncratic risks of biotechnology companies more generally. The ETF's top ten holdings include well-known biotechnology companies such as Amgen Inc. (AMGN), Gilead Sciences Inc. (GILD), and Regeneron Pharmaceuticals Inc. (REGN).
Comparing the iShares Biotechnology ETF with its Peers
When considering an investment in IBB, it's worthwhile to compare it with other similar ETFs. Two notable peers to the IBB are the First Trust NYSE Arca Biotechnology ETF (FBT) and the VanEck Biotech ETF (BBH). The results are underwhelming on both a relative and absolute basis.
While IBB provides targeted exposure to the biotechnology sector, it's worth considering the benefits of investing in a broader Healthcare ETF like the Health Care Select Sector SPDR® Fund ETF instead. XLV offers exposure to a broader range of healthcare companies, including pharmaceuticals, healthcare providers, and medical equipment manufacturers.
Investing in a broader Healthcare ETF like XLV can offer several advantages. First, it can provide more diversification, as it includes companies from various sub-sectors within the healthcare industry. This can help to reduce risk, as the performance of one sub-sector may not necessarily affect the performance of others.
Second, a broader Healthcare ETF may be less volatile than a biotechnology-specific ETF. The biotechnology sector is known for its volatility, driven by factors such as regulatory approvals, clinical trial results, and patent disputes. By investing in a broader healthcare ETF, investors can potentially avoid some of this volatility.
Finally, a broader Healthcare ETF may offer better long-term growth prospects. While the biotechnology sector can offer significant growth opportunities, it can also be risky, with many companies failing to bring their products to market. In contrast, the broader healthcare sector includes many established companies with steady revenue streams and solid growth prospects.
Conclusion
Investing in the iShares Biotechnology ETF can offer investors targeted exposure to the biotechnology sector, a sector known for its potential for high growth. However, this exposure also comes with a higher level of risk due to the inherent volatility of the sector, and the idiosyncratic risks are very real.
For investors looking for a more diversified and potentially less volatile investment, a broader Healthcare ETF like the XLV may be a more suitable option, if anything as a defensive sector play as opposed to a speculative growth one in what could be a risk-off period to come.

Anticipate Crashes, Corrections, and Bear Markets
Are you tired of being a passive investor and ready to take control of your financial future? Introducing The Lead-Lag Report, an award-winning research tool designed to give you a competitive edge.
The Lead-Lag Report is your daily source for identifying risk triggers, uncovering high yield ideas, and gaining valuable macro observations. Stay ahead of the game with crucial insights into leaders, laggards, and everything in between.
Go from risk-on to risk-off with ease and confidence. Subscribe to The Lead-Lag Report today.
Click here to gain access and try the Lead-Lag Report FREE for 14 days.