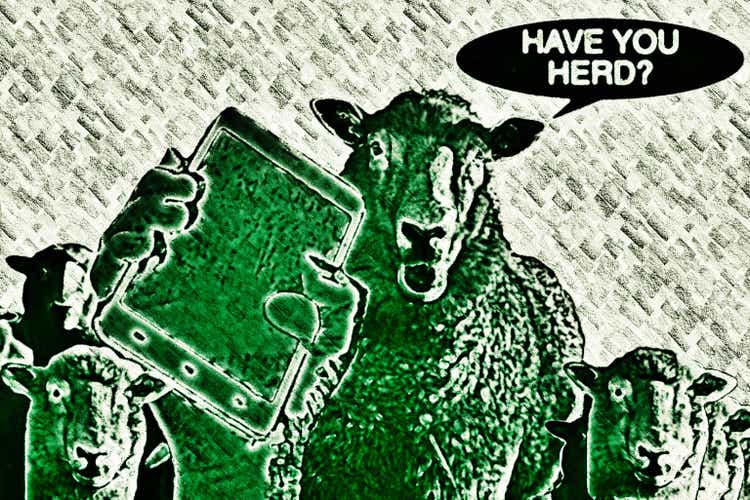 It was five years ago in September of 2018 when I wrote this article Equity CEFs: Peak Insanity? when the markets were at their year-to-date highs and I was calling out the number of equity CEFs I followed that were at premium valuations even while the threat of lower liquidity and more rate hikes from the Federal Reserve were on the table.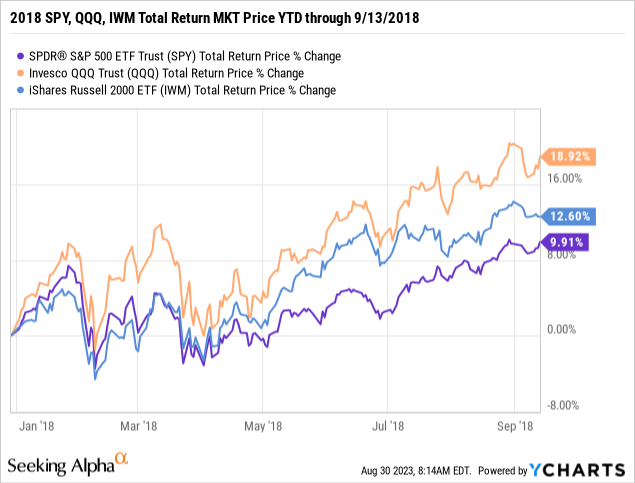 Sound familiar to today? Well, three months later in 2018, I wrote this article on Dec. 18, Equity CEFs: Peak Despair? when indeed the Federal Reserve did raise rates again on Sept. 27 of 2018 and would do so one more time on Dec. 20 of that year thus ensuring that 2018 would end in a correction and a bear market for the month of December that year: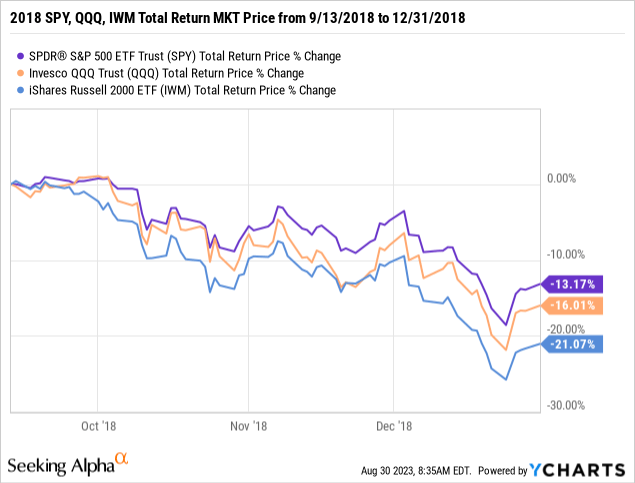 Though clearly, the dynamics of 2023 are not exactly the same as in 2018 since the Federal Reserve was in a much slower tightening cycle back then and would only bring the Fed Funds rate from 0.25% prior to 2015 up to 2.5% by the end of December of 2018.
Today, we've seen the Fed Funds skyrocket from essentially the same starting point, 0.25% post COVID-19, all the way up to 5.25% to 5.5%. And here we are on the outset of September of 2023 and how have the markets performed so far this year?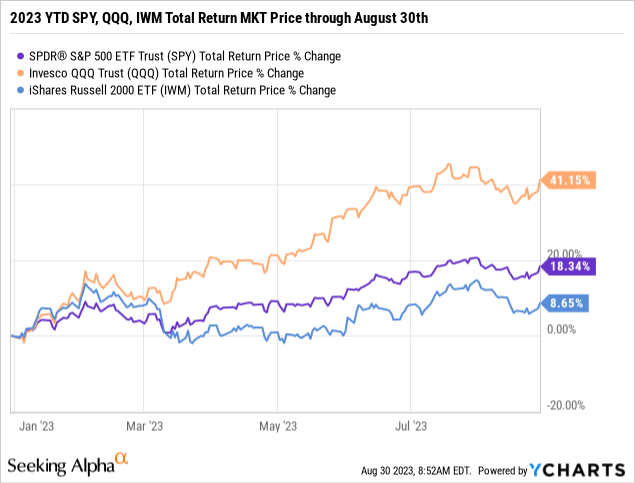 Now, I have no idea how the rest of the year goes for 2023 but I find it interesting that any concern back in 2018 over what the Fed might do in the future was completely set aside and all investors cared about back then was that stocks were going up, up, up. And look how 2018 ended.
Did I call the top in 2018 with my Peak Insanity article? Just about. But what was it that made me worry that investor complacency had taken over the markets?
Equity CEFs Can Be A "Canary In A Coal Mine"
One big advantage of following CEFs is that you can actually see investor fear and greed in all its glory, just based on the premium and discount valuations these funds exhibit.
Did you know that in the fall of 2008 during the worst of the financial crisis that most equity CEFs spiked down to –25% or more discounts? This was an extreme fear moment and it turned out to be one of the best buying opportunities for CEFs in history. And even though the broader markets would not hit their lows until March of 2009, equity CEFs did not spike down again, and in fact were at much better valuations in March of 2009 even as the markets bottomed.
The takeaway, if you were following CEFs back then, was that based on CEF valuations, and perhaps more importantly, the direction of their valuations, you could make some pretty accurate assumptions about the direction of the broader markets too.
And back in September 2018, I was seeing more and more equity CEFs rising to premium valuations, which to me was a red flag. Here's the table I included in that Peak Insanity article showing the number of funds at a premium valuation: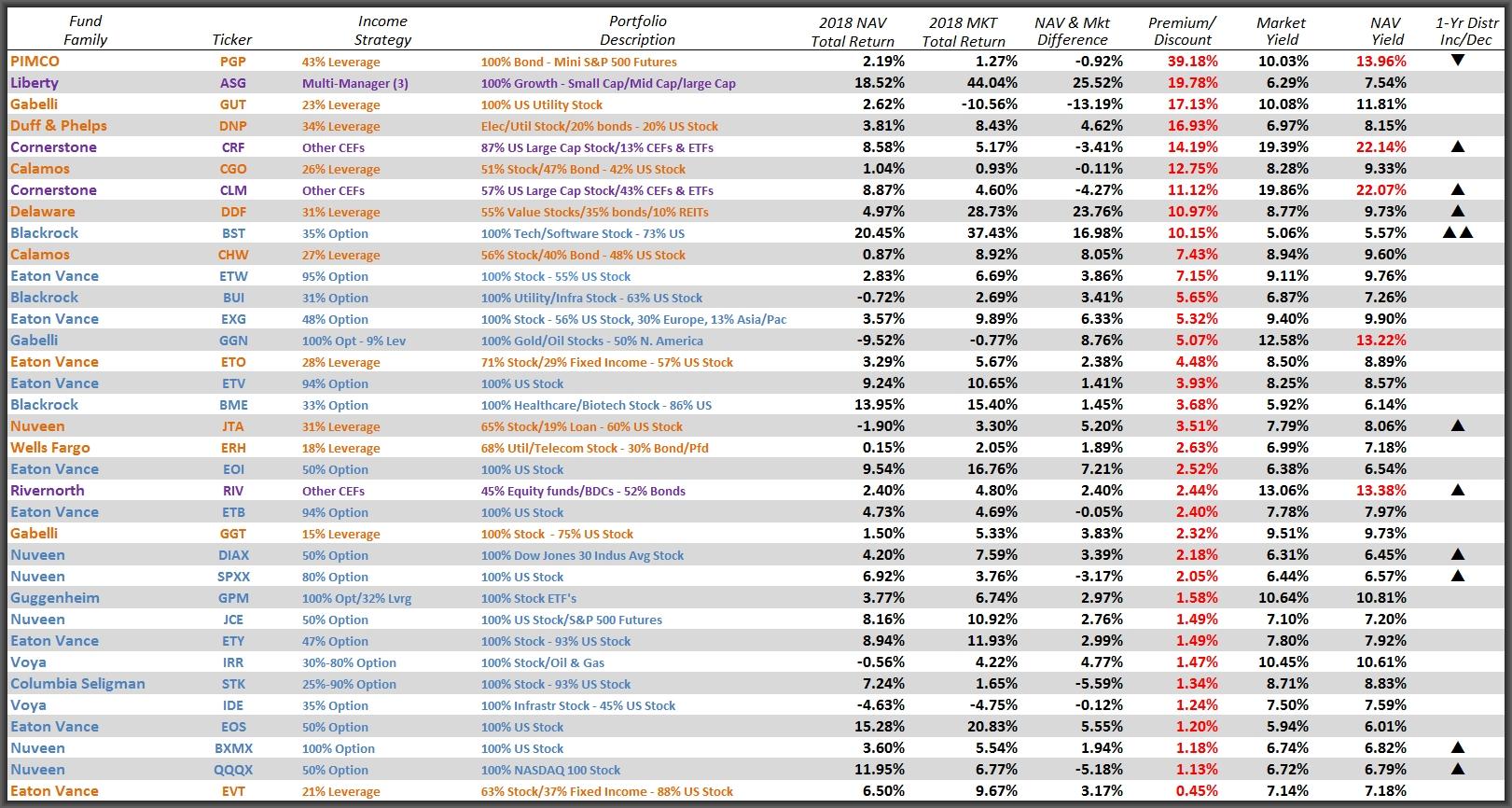 What does it look like now? Well, it isn't so much the number of funds at premium valuations today, as it's the degree of valuation differences.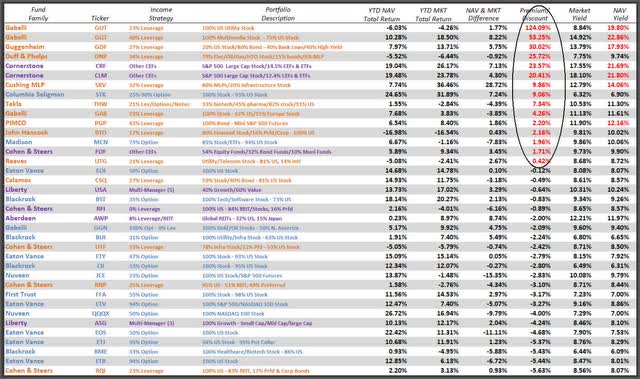 What we're seeing today is some funds at ridiculously high premiums (in red above) and yet with a multitude of equity CEFs at very wide discounts (in green below). In fact, I can't even list out the number of funds I follow that were at double-digit discounts as of Aug. 25, 2023: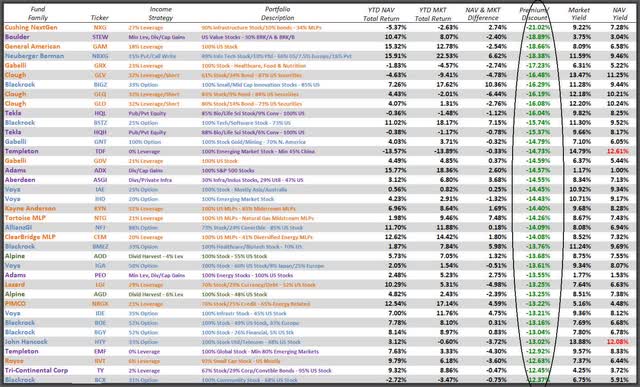 Now you may think that is a positive that there are so many equity CEFs at such low valuations today, but I have another take on it.
I believe back in September of 2018, institutional ownership of CEFs was at a high due to ultra-low interest rates and plenty of liquidity. Today however, liquidity is being drained, interest rates are dramatically higher and the regional banking crisis has forced many institutional participants to take down their risk and withdraw from less liquid securities like CEFs.
As a result, I believe what we have seen over the past year is that many institutional shareholders have reduced or liquidated their CEF exposure, resulting in the current wide discounts for many funds. And in their place, what we've seen is more retail ownership of CEFs.
And if that's the case, then that's NOT a positive development since retail investors tend to be more emotional in their investing, i.e. buying at the top and selling at the bottom. And they're usually drawn to the popular or ultra-high-yielding funds rather than the ones that are actually performing the best.
We certainly see that in some of the ultra-high premium valued funds (funds circled in red above) like the Gabelli Utility fund (GUT), $6.81 current market price, at a jaw-dropping 120% market price premium and the Gabelli Multimedia fund (GGT), $6.30 current market price, at a 56.7% market price premium.
Though GUT and GGT were at some of the highest market price premiums even back in September of 2018 (see first list above), they weren't even close to where they are today at 120% and 56.7% premiums.
What this means to me is that there's a lot of dumb money in CEFs right now, and maybe in the broader markets too. Whether this qualifies as a Peak Insanity moment, I'm not sure, but with the S&P 500 (SPY), $451.32 real time market price, +0.5%, near its year-to-date high as we head into September, just like in 2018, let's call these markets what they are – a Peak Popularity moment, led by the Gabelli fund's GUT and GGT.